My husband has visions of clear turquoise water, bottomless drinks, and me doing my best imitation of Bo Derek's slow motion run  in "10" floating in his head (in that order–alcohol is needed before I mimic Bo post-pregnancy). He knows I won't even consider leaving my main little man for 7 nights, but feels a quick escape to a warm climate would do wonders for our psyche.
It's been a relentlessly long, bitterly cold winter, and we still have 49 days to go until spring. Our teenager has already had 5 snow days (and we just got the call she has yet another one tomorrow). Combine them with her December and February vacations, holidays, and scheduled half days, and it feels like she's a middle school drop-out. I swear she is never in school.
My son's budding social life has taken a drastic hit, too. Story time at the library was canceled today, so we braved the elements to drop off Shepherd's Pie leftovers to my in-laws just to get out of the house (recipe below). We watched the plow trucks clear our street and make our driveway impassable in the process from a prime seat in our bow window when we got home. I can't make this stuff up.
Yes, I could really use a vacation, but feel intense MommyGuilt even entertaining the idea. What do you think on a scale of 1 to 10 (10, of course, being Bo circa 1979)? How would you rate me as a Mommy if I decide to go?
Shepherd's Pie
Ingredients
1 pound lean ground beef (90 percent)
2 teaspoons of olive oil plus 2 pats of butter
1 good sized onion, chopped
3 medium carrots, diced (about 1 1/2 cups)
1/2 pound white mushrooms, sliced
2 garlic cloves
2 teaspoons chopped fresh thyme leaves or 1 teaspoon dried
2 tablespoons all-purpose flour
1 cup beef broth
1 teaspoon Worcestershire
1 teaspoon salt
Freshly ground black pepper, to taste
Paprika, to taste
1 cup frozen peas
1 1/2 pounds Yukon gold potatoes
2/3 cup of milk
4 tablespoons of butter
2 cups of cheddar cheese
Method
In a large nonstick skillet cook the meat over medium heat, stirring occasionally, until brown, about 5 minutes. Transfer the meat to a plate. Drain any fat remaining in the skillet.
Coat the skillet with olive oil and two pats of butter over a medium heat. Add the onions and carrots and cook, covered, until the vegetables begin to soften, about 8 minutes. Raise the heat to moderately-high. Add the mushrooms and thyme and cook, uncovered and stirring occasionally, until the mushrooms are soft and their liquid has evaporated, about 8 minutes longer. Return the meat to the pan. Add the flour and cook, stirring, for 2 minutes. Stir in the broth, Worcestershire, salt and pepper to taste and bring to a simmer being sure to scrape up any brown bits from the bottom of the pan. Stir in the peas. Pour the mixture into a casserole dish.
Boil a pot of salted water. Peel the potatoes and cut into 2-inch pieces. Add in two garlic cloves. Boil the potatoes and garlic until tender, and drain. Return to the pot, and add milk, butter, salt, and pepper, to taste. Mash until desired consistency for mashed potatoes. (Measurements are tough when it comes to mashed potatoes; if you need more milk, add it. If you like less butter, omit some. It's not a perfect science.). Spread the potato mixture on top of the meat, and sprinkle with paprika. Add a layer of cheddar cheese, if desired, over the potatoes (it is good with or without the cheese), and bake in a 350 oven until heated through, about 30 minutes.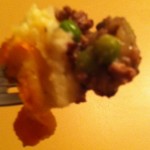 Am I a horrible Mommy for even considering leaving my baby for a 3-night tropical getaway?