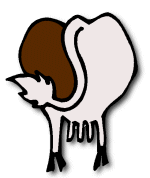 Sometimes G-d works in mysterious ways. I gained one pound at my weekly cattle call. Moo. And I received a flirtatious email from the owner of a porn site complimenting my blog. Boo!
I was slightly frightened when I got an email from a porn czar that he thinks I am a MILF (this is a family friendly blog; look up the meaning on Urban Dictionary if you need to). It was the same level of fear I had stepping on the scale after a Valentine's Day celebration that has yet to end. The fear was intrigue, really. How does a Ron Jeremy wannabe hit on Mommy Dish? Seriously, how do our paths possibly cross in cyberspace? And how can I expect to lose post-pregnancy weight scarfing down wild blueberry pancakes, freshly baked focaccia, and homemade pasta during a Maine getaway?
I take it as a sign that my one pound of flesh is destined for a good place on my body (i.e. not my hips). Do you get the connection? How else could I rectify the porn with the pudge?