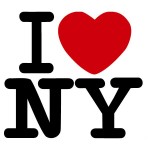 I heart New York. The palpable energy, the unforgettable sights that sear into your brain, the chi- chi department stores, the trendy boutiques, the gourmet restaurants, the incredible people-watching, the feeling I get walking the streets that anything is possible…all made me fall in love with the city as a child. As a Mommy, I now have to add NYC's 24-hour pharmacies to my list.
I embarked on a Mommy-only road trip with my two kids this past weekend. My stepdaughter had an over-the-top 13th Birthday celebration to attend on the Upper East Side, and I wanted to meet my BFF's new baby girl in Brooklyn. Since my husband would pretty much rather endure a medical procedure than drive to NYC and back in one night, I decided to spare him and go alone.
Everything was great when we arrived–I took the kids out for scrumptious NY pizza (the best my stepdaughter ever had, she says) and got her to her friend's house on time to be chauffered via Hummer limo to the party (I am serious!). My son and I went back to the hotel to settle in for a quiet night in anticipation of meeting the baby the next morning–or so I thought.
Alex woke up at 1:00 a.m. crying. I quickly scooped him up, as we were in an unfamiliar environment, and felt he was very hot. I stripped him down to his diaper, drew a cool bath, and dug out the infant's Tylenol I brought just in case–but it wasn't enough to tame a raging fever. My stomach knotted up for one minute–I was in a hotel by myself with an hysterical infant who needed help–but then my brain took over. I was in New York; everything is possible.
I grabbed my iPhone and Googled "24-hour pharmacy that delivers"; my screen lit up with options. I called the closest one and had two bottles of infant's Tylenol, a thermometer, and two waters delivered within a half-hour. It was unbelievable. My son fell asleep next to me shortly thereafter, and I texted my stepdaughter to tell her I would pick her up early to drive back home in time to deliver Alex to his pediatrician by noon.
I had to pay $8.25 in tolls with change (thank G-d for my massive accumulation of quarters at the bottom of my handbag) because I unexpectedly spent all my cash in the middle of the night, but we made it in time for Alex's doctor's appointment.
He has nasty virus that needs to work its way out of his system and he will recover fully. His symptoms will turn our home into the city that never sleeps for a few nights, but that's okay. I heart New York.