Mommy Maven. Every Mommy needs at least one. Maven is derived from the Yiddish word mevin, which means understanding. Tell me, do you know of a Mommy who doesn't need an empathetic friend who lets her brag about her baby and bitch about her stretchmarks in the same sentence?
My Mommy Maven is my best friend Carrie, who had three kids in quick succession before I even had one. Like caffeine, Carrie is an addictive drug who helps me function. I get the withdrawal shakes if we don't communicate for a day or two. Our friendship is unfiltered, unparalleled, and unwavering–she has been steadfastly by my side for 20 years.
As my Mommy Maven, Carrie was the first person to confirm my pregnancy before I peed on the stick. She made her husband lug huge boxes of maternity clothes to the Post Office to ensure my bump would win a "Best Dressed" contest. She talked me through every symptom, every fit of anxiety, and every medical milestone at every hour of the day with her trademark Hallmark style (like a perfect card, she always knows what to say). When I was 8 months' pregnant watching my Mommy as she was wheeled in for another surgery in her ongoing cancer fight, she called me at that very moment, and her voice enveloped me like a much-needed hug.
A Mommy Maven becomes even more important after you deliver. Carrie drove her mini-van–overstuffed with toys, books, and enough clothes to outfit my son for his first year of life–from New Jersey to surprise me at the hospital. She gave me beautiful flowers and a Swarovski baby carriage, and made me a promise that I would not only be as good of a Mommy as she is, but also as my own Mommy is (I told you–she's a walking Hallmark card).
My son has directly benefited from my Mommy Maven, too. Alex has incredible upper-body strength because Carrie was adamant about tummy time from the outset. He's been happily sleeping in his crib since he was three-months-old due to the pep talk she gave me to move him from the bassinet into his own room. He was introduced to his favorite food–pizza–before I thought I could give it to him because she said it was okay. I trust her unconditionally.
Finding a Mommy Maven is one of the greatest gifts you can give yourself during your Mommyhood journey. Look for a Mommy like Carrie–someone with a beautiful soul that radiates positivity who can also deliver a healthy shot of sarcasm to keep it fun. I'd offer her to you, but I am not sharing. I know I am supposed to encourage sharing as a parent, but she's my Mommy Maven…she's my gift.
Do you have a Mommy Maven?
***In honor of my Mommy Maven, I am sharing a dish she passed along to me: Asian Cole Slaw. It's distinctive and delicious–the perfect dish to celebrate spring weather!***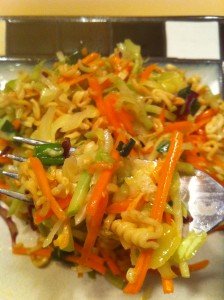 Asian Cole Slaw
Ingredients
2-3 packages of cole slaw mix
6 scallions, chopped
2 packages Oriental style Ramen Noodles
3/4 cup vegetable oil
1/4 cup sesame oil
1/2 cup sugar
1/2 cup apple cider vinegar
1/2 a bag of a small bag of slivered almonds (about 4 oz.)
Mandarin oranges, optional
Sesame seeds, optional
2 tablespoons butter, melted
Method
Preheat oven to 350. Remove Ramen Noodles from packages, and break them up in a baking pan. Add slivered almonds and pour melted butter over the top. Mix together and bake until toasted. Set aside.
Pour coleslaw mix into a large bowl and toss in the scallions. In a separate bowl, whisk together seasoning packets from the Ramen Noodles, vegetable oil, sesame oil, sugar, and apple cider vinegar. Pour over coleslaw and mix together. Let it marinade overnight, or for a minimum of six hours. Toss in Ramen Noodles and slivered almonds just before serving. Add mandarin oranges and sesame seeds, if desired. Enjoy!