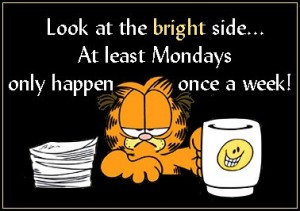 I know I am not alone when I say I detest Mondays, right? Well, Mondays during school vacation week add 10 pounds of water weight to my hatred of the beginning of the work week. Friday seems as far away as me getting into my skinny pre-pregnancy jeans buried deep in an airtight storage container in the corner of my cedar closet.
How am I going to make it through this week?
School vacation week translates into several trips to the mall with giggling teenage girls who often text each other the dirt in the backseat instead of airing it, giving up the rights to my radio during said car rides, and making multiple stops at ATMs for mad money. The carpooling always coincides with rush hour traffic and my son's dinner time because it's much cooler to be seen at night than during the day. Bonus.
While my stepdaughter's nightlife is full speed ahead this week, my son is suddenly the lonely kid on the playground. All of his activities were canceled due to the fact that it's school vacation week. My 11-month-old's entire life is a vacation, so I don't really understand why he needs a designated week, but, apparently, he does.
So, I have a bored infant and teenager all day, every day this week. My son's entertainment program begins at 6:00 a.m., and my stepdaughter's starts between 11:00 a.m. and noon (lucky girl!), but they're both looking to me to orchestrate something good to pass the time.
Vacation week is understandably preoccupying my thoughts, so I had to serve up an easy Rachipe (Rachel Ray recipe) for dinner tonight. Tangy and sweet Sticky Orange Chicken  is quick and delicious, and brought me one meal closer to a Friday night out. Yay me!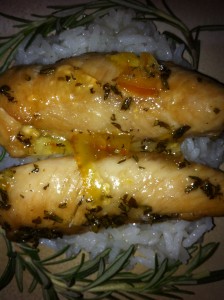 Sticky Orange Chicken
2 tablespoons extra virgin olive oil (EVOO)
4 pieces boneless, skinless chicken breasts (Mommy Dish note: I used chicken tenders instead because I had them on-hand)
2 tablespoons white balsamic or cider vinegar
1/3 cup orange marmalade
1 1/2 cups chicken stock
1 tablespoon fresh rosemary, finely chopped
2 tablespoons fresh thyme, finely chopped
Heat the EVOO in a cast-iron or stainless steel skillet. Add the chicken to the hot pan and cook for 10 minutes, turning once. Transfer the chicken to a plate and deglaze the pan with vinegar. Whisk in the marmalade, stock and herbs. Add the chicken back to the skillet and turn in the sauce. Let thicken for 1-2 minutes, and serve with Jasmine rice or Rachael's Sweet Potatoes with Cider. Visit http://www.rachaelray.com/recipe.php?recipe_id=3023 for the Rachipe.