Remember how I told you a couple of weeks ago I ran out of excuses to skip work-outs? Well, it turns out I am more clever than I thought.
True confession: I ponied up the plastic to join a posh gym and didn't go…until today. And that's despite my public promise to become reacquainted with my inner gym rat. Shame on me.
Sure, I had some pretty good excuses. Taking care of Alex as he battled a virus as ruthless as the British tabloids are about Kate Middleton losing weight before her nerve-wracking nuptials was my main reason (Sidebar: I am stressed everyday and never shed one pound without sacrifice, being the commoner that I am). Staying up all night due to the appearance of another top tooth, running around like a lunatic during school vacation week, never-ending party planning, and cooking for Passover are all excuses in a supporting role. You see? I am good at excuses. Too good for my own good.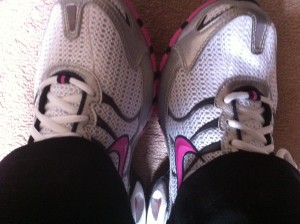 Today, I received a few unexpected hours of babysitting from my mother-in-law. Any Mommy will tell you bonus baby-free hours over and above napping is like winning $50 on a scratch ticket you buy on a whim…a welcome surprise! I could have easily filled my time with work, laundry, or grocery shopping, but decided to break my new Nikes out of the box and Just Do It.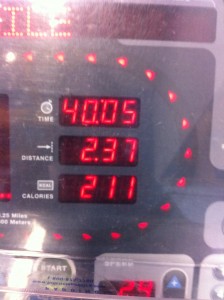 It felt as if my butt was running two paces behind me on the treadmill, but I am proud of myself for going. I clocked 40 minutes for cardio, did some strength training, and drank the fresh lemon water. I feel good.
Dessert tonight will be a low-fat treat to underscore my real commitment to coaxing my inner gym rat out of hiding. My Lemon Yogurt Citrus Cake won't cancel out all of the calories I burned today, so there's really no excuse not to have a small sliver. Don't you think?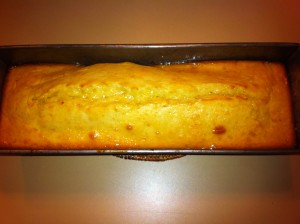 Lemon Yogurt Citrus Cake
1 1/2 cups flour
2 teaspoons baking powder
1/2 salt
1 cup fat-free Greek style yogurt
3/4 cup sugar
3 large eggs, room temperature
2 small lemons, zested and juiced (Mommy Dish note: you can substitute oranges if desired)
1/2 teaspoon vanilla
1/2 cup canola oil
Confectioner's sugar, to taste (optional)
Sift together flour, baking powder, and salt, and set aside. Whisk together yogurt, sugar, eggs, zest, and vanilla in another bowl. Sowly whisk in dry ingredients, and add oil. Pour into a loaf pan prepared with cooking spray and bake 50-60 minutes, until tester is clean. Cool in pan for 10 minutes. Mix lemon juice with confectioner's sugar to taste to make a glaze and pour over cake. This cake is good…for a low-fat cake (I don't remember where I got the recipe, but it's not my own)! Stay tuned for a sinful dessert in my next post.