Ovarian cancer sucks. I hate it so much I'd elevate cellulite to frenemy status in comparison. It's pure evil.
Surgeries, chemotherapy treatments, and doctor's appointments drain an ovarian cancer patient's reserve. Choosing hope over scary statistics tests her psyche. Believe me, I know. I have winced in pain at the infusions, prayed throughout the operations, and slept on stiff chairs in countless waiting areas as my Mom's primary caregiver for the past 9 years. And there was nowhere I'd rather be…until my son was born.
Even though I am a SuperMommy, I don't yet have the ability to split myself in half to be two places at the same time. I have intense DaughterGuilt–which rivals the dreaded MommyGuilt–over missing a few of my brave Mom's doctor's appointments to care for my son, but she is as adamant as I am about protecting him. We both want to shield him from her disease.
Today was a big appointment though. Sadly, her cancer is back (like a stalker ex-boyfriend it never really left) and she needed to go in to discuss her options. I wanted to be there for her as she has always been there for me. This time, I had to take Alex along.
There is nothing funny about cancer. But there is something funny about bringing an innocent, happy, go-lucky infant to a cancer center. The kid had everyone in stitches–the good kind!–all day. He flashed all of the nurses his mismatched toothy grin, flirted with patients as they waited to get their vital signs, and got so excited about playing with my Mom's scarf he shrieked at the top of his lungs. I have never made as many people smile as he did today. Alex intuitively knew he was needed.
When my Mom's oncologist was explaining the cruel side-effects of her upcoming treatment, my son wrapped his tiny hand around her finger, unprompted, at that very moment. My Mom said, "You can take Grammy's hand, but you already have her heart." There was a reason why I had to bring him today. Turns out he was just what the doctor ordered.
***As promised, the Rachipe (Rachael Ray recipe) of the week is the Almond Joy Layer Cupcakes. I made them for Easter, and they were a delicious treat after a long day at the hospital, too. ***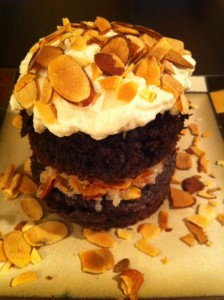 Almond Joy Layer Cupcakes
Ingredients
For the Cake: 1/2 cup natural unsweetened cocoa powder
1 cup lukewarm water, divided
1/2 cup buttermilk
1 1/2 cups cake flour
3/4 teaspoon baking soda
1/4 teaspoon salt
1 cup sugar
1/2 cup light brown sugar
1/2 cup (1 stick) unsalted butter
2 large eggs, at room temp, beaten to blend
For the Coconut-Almond Filling:
1 1/2 cups slivered almonds (reserve 1/2 cup for garnish)
3/4 cup cream
3/4 cups sugar
Pinch salt
2 teaspoons vanilla extract
3 cups sweetened shredded coconut
For the Frosting:
1 cup heavy cream
2 tablespoons confectioner's sugar
1/2 teaspoon almond extract
Preheat oven to 350 degrees. For the cake, prepare 2 cookie sheets by buttering the pans. Whisk cocoa and 1/2 cup lukewarm water in a small bowl. Whisk the remaining 1/2 cup of the lukewarm water with the buttermilk in another small bowl. Sift flour, baking soda and salt into a medium bowl.
Using electric mixer, beat both sugars and butter in large bowl until pale yellow and fluffy (mixture will appear granular), about 5 minutes. With mixer running, gradually add beaten eggs, and then beat until smooth and fluffy, about 15 seconds. Add cocoa mixture; beat to blend. Add flour mixture in 3 additions alternately with buttermilk in 3 additions, beating to blend after each addition. Divide batter among the 2 cookie sheets (about 2 ½ cups batter per pan)
Bake cakes until tester inserted into center comes out clean, turning pans halfway through baking, about 10 minutes. Cool pans completely in pans on racks.
While cake is cooling spread the almonds for the filling on a baking sheet and toast in oven until golden in color. In a saucepan, combine the cream, sugar and pinch of salt, and simmer until sugar dissolved, about 3 minutes. Remove from heat and stir in the vanilla extract and shredded coconut. When cool, fold in the 1 1/2 cups toasted almonds.
For the frosting, in a large bowl, using a mixer whisk the heavy cream on medium speed until soft peaks, about 2 minutes. Add the confectioners' sugar and almond extract, and whisk until smooth and hold firm peaks.
For building the mini layer cake, you will need a 2 1/2-inch round cookie cutter. Each layer of cake will give you 12 rounds, for a total of 24 cake rounds. Top 8 cake rounds with about 1 tablespoon coconut almond filling, then top with another cake round. Top the second layers of each mini cake with about 1 more tablespoon of the coconut-almond filling. Top each mini cake with the last layer and gently press down to even out the filling in the mini cakes. Dollop each mini cake with 2 tablespoons of the frosting, then sprinkle with reserved toasted almond for garnish.
Mommy Dish note: I opted for two layer cupcakes instead of three as a personal preference. They were delectable!