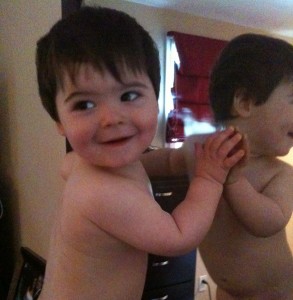 Is it just me, or do Daddies have a unique way of doing everything Mommies wouldn't do–during the time it takes for an environmentally-friendly seven-minute shower?
This morning I found my son standing on our bedroom dresser, stark naked, laughing hysterically at his reflection in the mirror. I almost dropped my towel in shock (I tend to have a firmer grip on it post-pregnancy). If he fell forward, he'd clunk his head on glass; if he fell backward, he'd hopefully fall into my husband's arms instead of the unforgiving wood. Not the safest game, wouldn't you agree?
I stifled my inner worry wart and chuckled right along with my hubby until it was clear Alex was ready for the next act of entertainment. He was diapered, clothed, and moved safely to a carpeted area of our home before I decided to finish getting ready. I have a blink-and-you'll-miss-it way of pampering myself after a rare morning shower–drying my hair to a point that it is still damp, but acceptable for scurrying to Gymboree, followed by a two-minute makeup routine. I try to not look like an overworked, overburdened, and overtired Mommy, even though I feel like one every single day of my life.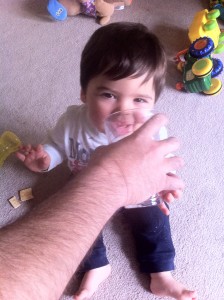 Refreshed, dressed, and ready, I went to get my little man so my husband could go to work. This time, I found Alex drinking sugary CranApple Juice out of a glass (he usually gets organic sugar-free juice in a sippy cup once a day), with half-eaten, empty-calorie crackers strewn all around him. I stumbled on quite the Cinco De Mayo fiesta…if only tortilla chips were substituted for the crackers. Next time, Daddy, next time.
I know I am so fortunate to have a husband who makes a point of parenting in his own special way (nothing is cuter than witnessing him say, "I am going to get you!" to my son who immediately laughs and takes off). He is truly a wonderful Daddy; he adores my kids, and my kids adore him. But sometimes I wish he'd get a little of that Mommy control freak blood running through his veins. You know, the kind that reads baby books, frequents baby boards, and consults baby doctors if there's any question whatsoever. Just a little bit of that would be great. Are you with me on this one?
At least our party house is fitting for Cinco De Mayo–a day to celebrate Mexican heritage and pride (and a good excuse for me to eat delicious Mexican food). In honor of my never-ending diet, I made Texas Caviar…a healthy dish that's nothing short of a fiesta in your mouth. Olé!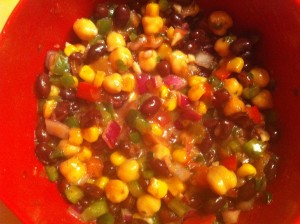 Texas Caviar
Ingredients
1/4 red onion, chopped
1/2 green bell pepper, plus 1/2 red pepper, chopped
1/4 bunch green onions, chopped
1/2-1 jalapeno pepper, de-seeded and chopped (adjust according to your preferred heat level–I use a whole pepper)
1/2 cup cooked corn
4 cloves garlic, chopped
1/4 (8 ounce) bottle Zesty Italian dressing OR Red Wine and Olive Oil dressing–your choice (I mix the two together!)
1/2 can black beans, drained well (Mommy Dish note: you can add all of the beans if you want to up the protein–it will just dilute the spice a bit)
1/2 can chick peas, drained well
1/4 teaspoon ground coriander
1/4 bunch chopped fresh cilantro
Dash of cumin 
Hot sauce, if desired
Method
Mix all ingredients together, pour dressing over it, and mix again. Marinade for several hours or overnight. Mommy Dish note–cherry tomatoes, salsa, or lemon juice are all delectable additions to this dish. It's a fiesta–basically anything goes, and it will be good!