Ah, Memorial Day weekend…the unofficial start of summer BBQ season, and the official start of a delightful game I call "Ignore that Vegetarian." After all, vegetarians and BBQs don't mix, right?
Wrong. Most will have at least one plant-eating party crasher at their BBQ this weekend. The question is, how are you going to feed them? (They do eat, contrary to popular opinion…I dread putting my bathingsuit on for a reason!).
Sure, you can ask your vegetarian to BYOBB (Bring Your Own Boca Burger), sear it next to the hamburgers, serve it up with chips and a pickle, and call it a day. We're used to hauling our own food to functions. Just make sure the drinks are flowing and we won't complain much.
Alternatively, you can embrace your flesh fearing friend. I have a few tasty dishes–Caprese with Balsamic Reduction and Asian Pasta Salad– that will please veggies and non-veggies alike. All you have to do is make them (I have nothing but faith in my Mommy Dish readers).
This Memorial Day weekend, please don't forget your veterans (it's a pet peeve of mine that people think it's all about sun and fun and not honoring their incredible service/sacrifice)…or your vegetarians.
<<<End rant.>>>
Happy Memorial Day! Happy (almost) Summer!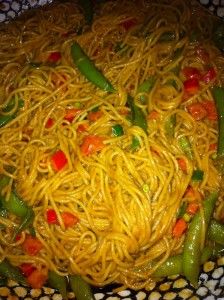 Asian Pasta Salad
1 pound thin spaghetti
1 cup vegetable oil
1/3 cup teriyaki marinade/sauce (I use Ken's Steak House brand)
1/4 cup rice vinegar
1 tablespoon soy sauce
3 tablespoons sesame oil
1 tablespoon honey
2 garlic cloves, minced
1 teaspoon fresh ginger, grated
1 bunch of scallions (5-6), chopped
1 large red bell pepper, chopped
3/4 pound sugar snap peas
3/4 cup smooth peanut butter
Salt and pepper
Cook spaghetti in salted water according to package directions until it's al dente. Add the sugar snap peas into the boiling water during the last few minutes of cooking to save yourself from preparing them separately.
While the pasta is cooking, mix the vegetable oil, vinegar, teriyaki sauce, soy sauce, sesame oil, honey, garlic, ginger, peanut butter, and salt and pepper (to taste) together. Add the red peppers and scallions to the sauce and mix well.
Drain pasta. Put some of the sauce mixture on the bottom of a large serving bowl, add pasta on top, and pour remaining sauce over the pasta. Mix until thoroughly combined. Garnish with toasted sesame seeds or parsley, if desired. Dish can be served immediately or cold (tastes great after it's been in the fridge for a few hours).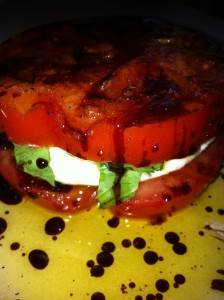 Caprese with Balsamic Reduction
Tomatoes, cut into slices ('tis the season for tomatoes; I can't wait for quality heirlooms!)
Fresh mozzarella, cut into slices
Fresh basil, torn into small pieces
1 cup balsamic vinegar
1/4 cup brown sugar (or to taste)
Good quality olive oil, for drizzling (I personally like a lot of it!)
Bring vinegar to a boil; turn down the heat and let it simmer until it reduces to about halfway. Add brown sugar and simmer some more and becomes sticky. It should stick to a spoon when it's ready.
Meanwhile, layer tomato, cheese, basil, and another slice of tomato. Season with salt and pepper, and drizzle with olive oil and balsamic reduction to taste.