Life is full of beautiful moments. Scoring a pair of designer shoes at half price, losing a pound or two without trying, dishing out a new recipe to rave reviews, finding a good parking space, taking an impromptu road trip to nowhere…they're all small slivers of time that make life worth living. But they're no match for Mommy moments.
Mommy moments are when your child learns something you taught her. It's that moment when you can see the "aha" look on her face before she breaks out into a confident smile. Mommy moments are beautiful moments on speed.
Teenagers get bad raps. Yes, they're text-obsessed Facebook junkies who can cop attitudes when you ask them to unload the dishwasher. They constantly badger you for $20 and a ride to the mall, favor brisk kisses instead of cuddly hugs, and burn out flat irons in weeks. The hair-sprayed exterior can hide the compassionate human being you've spent years molding on some days, but on others you can see your unfiltered reflection in their eyes.
I had a Mommy moment with my teenager this weekend. She spent it volunteering for the National Ovarian Cancer Coalition to cross the obligatory good deed (mitzvah project) off her list for her upcoming Bat Mitzvah. She could have done the bare minimum, sneaking quick texts in-between office tasks, but she pried her phone out of her fingers and forgot about it instead (a first, believe me). She carefully listened to instructions, asked eloquent questions, and attacked all of her assignments with gusto. As she was working I could tell she was intently listening to me discuss my plans for the upcoming Run/Walk to Break the Silence on Ovarian Cancer that I spearhead. Everything clicked. She got it. She finally understood why I donate hours of my time to a cause in honor of my Mom. She felt that intoxicating "pay it forward" feeling that gets me high. She was positively beaming with pride…and I was so proud of my daughter that I could have burst (technically she's my stepdaughter, but we always say there's no step between us).
You'll find the paper she wrote about her experience and will read at her service below (along with a Rachipe–Rachael Ray recipe–for one of her favorite dishes). After you read it you will realize why I am still reeling from the rush of that magical Mommy moment. I love my darling Ashley Rose, and couldn't be more honored to be her Mom…
Ovarian cancer strikes 1 in 55 women. If you look around the room there's 75 people here. Unfortunately, the one person it struck was my grandmother. You would never guess that she has been living with this awful disease for nine years. She is always running around busy. She shopped her heart out for this Bat Mitzvah and makes the best m&m pretzels you'll ever have; better yet she makes my little brother and I laugh like no one else.
Each year there's a walk that takes place in Boston to raise funds and awareness for ovarian cancer. I have been going with my family for the past few years but never decided to sign up for volunteer work until now. In honor of her and all other women fighting the disease, I wanted my mitzvah project to support ovarian cancer. My job was to distribute awareness bookmarks at local libraries that inform readers about signs and symptoms of ovarian cancer, putting volunteer packets together, and attending meetings for the upcoming walk.
The mission of the NOCC is to raise awareness and promote education about ovarian cancer. The Coalition is committed to improving the survival rate and quality of life for women living with ovarian cancer. There is currently no early detection test for this disease. The five-year survival rate for women who are diagnosed in the early stages of ovarian cancer is 90 percent. Sadly, the majority of women are diagnosed late, making treatment and survival very difficult. This is why it is important that the early signs and symptoms of the disease are recognized. It not only affects women but also their friends and family members, like me.
To promote awareness of ovarian cancer, we are giving out teal rubber bracelets at the reception today. They say, "Break the Silence" since the symptoms whisper and people are uninformed. Please join me and wear a bracelet to support an important cause I believe in.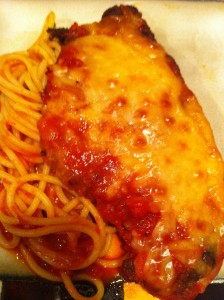 Chicken Parmigana
Ingredients
1 cup flour
2 eggs, lightly beaten
1/2 cup breadcrumbs
1 cup grated Parmigiano-Reggiano, divided
1/4 cup chopped parsley (about a handful)
2 tablespoons chopped oregano (about half a palmful)
Salt and freshly ground black pepper
8 chicken breast cutlets, about 1 1/2 to 2 pounds
5 tablespoons extra-virgin olive oil (EVOO), divided, plus additional
3 to 4 cloves garlic, chopped
1 teaspoon crushed red pepper flakes
1 small, yellow-skinned onion, finely chopped
1 28-ounce can fire-roasted diced tomatoes, such as Muir Glen brand
1 cup chopped fresh basil (about 2 handfuls), plus additional for garnish (if desired–my family doesn't like fresh basil garnish LOL)
1 cup shredded mozzarella
Method
Set up three dishes on your countertop: Fill one with the flour, one with the eggs, and the other with a mixture of the breadcrumbs, half the grated cheese, herbs, salt and pepper.
Place a large skillet over medium-high heat with 3 turns of the pan of EVOO, about 3 tablespoons. While the pan is heating up, season the chicken cutlets with salt and freshly ground black pepper, and coat each one in the flour, then in the egg, and lastly in the cheesy breadcrumbs.
Once the oil is hot, cook the chicken cutlets until golden brown and cooked through, 3-5 minutes per side depending on how thick they are. Cook them in two batches, transferring the cooked cutlets to a paper towel-lined plate while the others, adding more oil to the pan between batches if need be.
While the chicken is cooking, place a medium-size pot on the stove over medium heat. Add 2 tablespoons EVOO, 2 turns of the pan. Add garlic, crushed red pepper flakes and chopped onion. Cook 5-6 minutes, stirring often, until the veggies have softened. Add the tomatoes and heat them through, about 2 minutes. Remove the pot from the heat and stir in the basil, then season the sauce with salt and freshly ground black pepper.
Layer the chicken with the sauce in a casserole dish. Top the casserole with the remaining grated Parmigiano and mozzarella. Brown the chicken parm casserole under the broiler until the cheese has melted and is lightly golden brown, about 3 minutes. Garnish with some chopped basil before serving (if desired).