Am I a bad Mom if I let my teenager skip the second-to-last-day-of-school to take her first parent-free shopping trip a la Sex and The City (sans sex, different city)? Because if I am wrong I don't want to be right!
I am driving a chemom (no, that's not a typo) caravan into Boston biweekly now–indefinitely. My Mom is on a new regimen designed to put her misbehaving cancer cells in a long timeout. Embarking on the journey from suburbia–which is ripe with traffic, bottleneckers, and Massholes–into the city for chemom only is really not fun at all. Adding a couple of teenagers into the mix makes it highly entertaining.
A typical teen, Ashley wanted to start summer a little early. And she had no desire to play hooky at home with her hell-raising toddler of a little brother. No, no, no. She wanted a last hurrah with a friend worthy of a Facebook status update before she goes to camp. I am definitely not cool enough for a post or even a tweet…only her friends are (duh). So, I drove two teenagers and my Mom into the city.
I get my questionable level of zaniness directly from my Mom. Together, we seized the opportunity to raise the sunroof, blast old school Michael Jackson, sing off-key, dance in unison, and thoroughly embarrass Ashley. There's nothing better than two giggling girls in the backseat, especially when you're in on the joke. At least we thought we were in on the joke (please, G-d, I am only 38–please make sure I was in on the joke).
The girls had a blast exploring Newbury Street–a people-watching paradise full of designer shoppes, fashion forward boutiques, and hip restaurants–ALONE while we were at chemom. My Mom's infusion went so well that we decided to treat ourselves to lunch at Stephanie's on Newbury before we met the girls for the trek home. Like I said, Newbury is a street to see and be seen…and there hasn't been a sighting of me there since 2009. I was overdue…even though I know no one is really looking for me anymore!
I ate everything in the sinfully good bread basket plus a crisp salad for good measure, and walked away with Stephanie's recipe for Irish Soda Bread (shared below). Not only did I take my Mom in for a successful treatment and create a memory my teenager will never forget, but I also got a bonus recipe from one of my favorite pre-pregnancy haunts. It was a beautiful Boston adventure for four suburban girls. Though we don't resemble Carrie, Charlotte, Samantha, and Miranda (obviously we're hotter!), we definitely have their love for the city.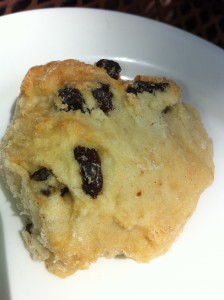 Irish Soda Bread
Ingredients
4 cups flour
1/4 lb. butter
1/2 tablespoon baking powder
1/2 teaspoon baking soda
1 teaspoon salt
1/2 cup sugar
1 egg
1/2 cup buttermilk
1 cup currants
Method:
Place flour, baking powder, baking soda, salt, and sugar into a bowl. Incorporate butter into flour until mixture represents cornmeal. In a separate bowl, add eggs to the buttermilk. Whisk thoroughly and then add to the flour mixture…until liquid is absorbed, but do not overmix. The dough should not be smooth. Shape dough into 1 loaf of into mini scones by scooping one tablespoon on batter onto a baking sheet. Bake in a preheated oven until done–about an hour (make sure you check well beforehand).