Chances are you've supported a farmer or two in Costa Rica. Not that there's anything wrong with that–my brother is a resident Costa Rican jungle boy who could be selling pineapples off of the back of his truck for all I know–but I believe in buying local whenever possible. Especially when it comes to summer produce.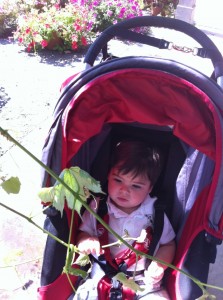 My baby BFF accompanies me to the Farmer's Market every week. He loves running the overflowing vines between his fingers, brushing his toes against the flower boxes, and sampling nature's purest gifts from local farmers who always say "Hi!" back with enthusiasm (Have I told you lately that "Hi!" is Alex's favorite word?!). The vibrant colors capture his attention, the seemingly endless fields stimulate his imagination,  and the abundance of fresh air make him take long naps. An afternoon nap that lasts a couple of hours always does a Mommy good.
I created a deliciously versatile sauce from this week's bounty that would work over pasta, shrimp, freshly grilled vegetables, or chicken. Like the ingredients found in a Farmer's Market, the possibilities are limitless. There's nothing better than Summer in a Sauce Pan.
Summer in a Sauce Pan
Ingredients
10 tomatoes, boiled, peeled, and de-seeded
3-4 cloves of garlic, minced
Fresh spinach (use about 3/4 of a bag)
Extra virgin olive oil
Salt and pepper
Method
Bring a pot of salted water to a boil. Add tomatoes and boil until the skin starts falling off (this only takes a few minutes). Remove tomatoes from the pot, and put them in a strainer to cool. Once cooled, peel the skins off, halve the tomatoes to squeeze out the seeds, and chop them up. Set aside.
Generously coat a sauce pan with EVOO. Add in the garlic and saute for 2-3 minutes, until the oil is infused with flavor and the garlic is soft (not brown). Add spinach and cook until it's wilted–2-3 minutes. Add tomatoes, season with salt and pepper, and let it simmer. Add Parmigiano Reggiano into the pan right before serving, and sprinkle individual helpings with more cheese.