A few researchers launched a massive food fight in an article published by the Journal of the American Medical Association (JAMA) this week, and I have to weigh in. Should extremely obese children be taken away from their parents and placed in foster care?
Um…let me think about that one. Hell no.
Ripping an extremely obese child–technically one who has a Body Mass Index (BMI) in the 99th percentile or higher– away from his/her parents, siblings, and extended family is emotional blackmail. If you lose weight you will be able to go home again. Don't they know many children overeat to feed their feelings? Am I the only one who learned that with my liberal arts college degree?
And what happens after the child loses weight and is returned back to his/her parents' care? Will they be serving up a main course of fast food, TV dinners, snacks, and desserts with a side dish of being sedentary? Fat has some formidible friends these days: physical education funding cuts, fast food, cell phones, vending machines, social media, video games, and the economy (many people working several jobs to make ends meet don't find time to prepare meals). Change needs to come from within the family unit to last. They need help to make the change.
Do we really fear fat so much we're willing to eff with families?
Don't get me wrong; I know diabetes, sleep apnea, high blood pressure, and high cholesterol are very serious issues–especially in children. I also know I would hold the door open for an official removing a child from a home where s/he was malnourished, neglected, or physically/sexually abused. Why is obesity such a grey area for me?
Two million children are clinically obese according to their BMI. Some are victims of genetics, others of lifestyle–but I would argue they are not abused. They're grappling with a problem that's incredibly hard to solve, as it deals with the perfect storm of psychological, physical, and behavioral issues. Telling a 10-year-old to put the donut down because she may have a stroke at 40 is a tough message to deliver. Wouldn't it mean more coming from their parents with the help of doctors and nutritionists instead of their foster family?
What do you think about the food fight going on right now? Should severely obese kids at risk of disease be removed from their homes and placed in foster care?
***Tonight's recipe is a healthy one. Everyone in my family–toddler to teenager to husband–absolutely loves turkey meatballs, and they're half the fat of traditional meatballs. Serve with your multigrain pasta of choice for even more nutritional bang for your buck.***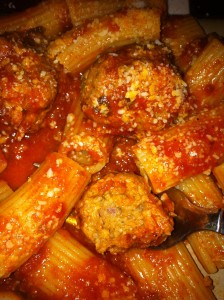 Turkey Meatballs
Ingredients
1 pound ground turkey meat
1 small onion, chopped
3 garlic cloves, minced
1 large egg
1/2 cup dried bread crumbs, Italian style
3 tablespoons ketchup
2 tablespoons chopped fresh Italian parsley leaves
1/2 cup grated Parmesan, plus more for garnish
1 teaspoon salt
1/4 teaspoon fresh ground black pepper
3 tablespoons olive oil
1 jar store-bought marinara sauce, or my Summer in a Sauce Pan recipe would work well, too.
Method
Add the onion, garlic, egg, Parmesan, bread crumbs, ketchup, parsley, salt and pepper to a large bowl and blend. Mix in the turkey. Shape the turkey mixture into meatballs (your preference in terms of size). Place on a large plate.
Heat the olive oil in a heavy large frying pan over medium-high heat. Add the meatballs and saute until browned on all sides, about 5 minutes. Turn off heat. Transfer the meatballs to a plate (I blot with paper towels to absorb excess oil). Return all the meatballs to the pan, and add the marinara sauce. Turn the heat to medium-low and simmer until the flavors blend, 20 minutes minimum. Season the sauce, to taste, with salt and pepper.