Mommyhood takes its toll on your body, doesn't it? Right now, I am sporting bruises on both of my knees that make me look like a professional call girl.
It's hot. Really, really hot.
Never in my wildest pregnancy dreams (which, surprisingly, often centered around CNN's Anderson Cooper) did I ever envision needing makeup to cover up  Pretty Woman knees–just to wear shorts on a hot summer day. But that's exactly what I have to do…because the damn bruises won't heal.
I am sure I am not helping my cause everyday while I give Alex a bath, chase after him during tense situations where I don't have time to stand, or clean the nooks and crannies in the underbelly of his high chair (okay, okay…that's not every day…I need to maintain some level of sanity). As much as I try to protect my knees with funky yoga positions, plush bathroom mats, and an alert internal voice that reminds me to stand the eff up, they're still badly injured.
Isn't it enough I am still sporting some post-pregnancy knee pudge fifteen months after-the-fact? Do I really need to draw attention to it with a matching set of bruises?
Have you endured any unusual injuries during your Mommyhood journey? If so, do you have any suggestions on how to heal black-and-blues? I am running out of cover up.
***To help my knee pudge finally budge, I am making tons of salads. My Heart of Summer Salad capitalizes on my seasonal favorites–tomatoes and basil–and adds in a couple of ingredients you probably don't use everyday: Hearts of Palm and chick peas. If you don't want to make the red wine vinaigrette below, substitute Ken's Steak House's version sold in supermarkets. It's delicious!***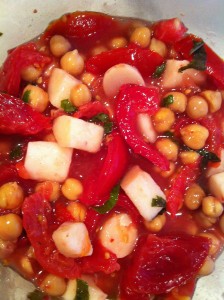 Heart of Summer Salad
6 tomatoes, chopped into larger-sized pieces (see photo)
8-10 basil leaves, chopped
1 can Hearts of Palm
1 can chick peas
1/4 cup red wine vinegar
1 tablespoon Dijon mustard
1 teaspoon sugar or honey
1/2 cup EVOO
Salt and pepper, to taste
Toss tomatoes, basil, Hearts of Palm, and chick peas in a bowl. In a separate bowl, combine red wine vinegar, Dijon mustard, and sugar/honey. Slowly whisk in EVOO until it forms a vinaigrette. Season with salt and pepper. Drizzle over the salad, and toss to combine (pay attention to your preferences–you may want more or less vinaigrette). Serve and enjoy.
Did you enjoy this post? Please support me and vote for Mommy Dish in Parents Magazine's Best Mom Blog (Funniest) competition. Every vote truly matters! I am currently in fourth place :(. Here's the link: http://blog-awards.parents.com/blog-awards/mom_blogs/241-mommy-dish