I missed the earthquake that shook Boston yesterday because I was giving Alex a diaper change at the time. My knees were shaking so much during the swap that I simply didn't notice the Earth trembling under my feet.
Seriously.
I am long past the point of exchanging a pee-soaked diaper for a fresh one with the windows open. I mean, I don't want the neighbors to think I torture my son. Even armed with a best-of-the-best showing of cool non-toys–a spatula, mini-strainer, or sifter–he still screeches in horror. Add to that the flipping over (disastrous when there's rancid poop involved), kicking, flailing, and taking his cries up another notch to nails-on-a-chalkboard level and I am ready to SCREAM!
Instead, I swear up a storm in my head while explaining to him calmly that it's my job as his Mommy to keep his cute little butt sanitary.
I pride myself on my suburb diaper changing skills. I can do it while he's standing up, while he's on the go, while he's contorting his body in any rubber band-like position (oh, to be that flexible again). Really, I am that good. In his fifteen months of life, Alex has never gotten a diaper rash because, again, I have mad skills. But, still, he acts like I am really hurting his feelings almost every time I make the diaper dash. I can't imagine what he'd be like if he had a Mommy who was a little on the slow side. Doesn't he realize how lucky he is that I've got quick hands?
The only relief I have are the times when he's too tired to protest, there's a major change of scenery, or someone else does it. I cherish those diaper changes like a girls' night out margarita. Believe me, they're far too infrequent.
Do you have any advice for making diaper changes a more pleasant experience (besides potty training–he's not ready)? I missed an earthquake, and a hurricane is headed my way!
***Brownies rock almost everyone's world, and my favorite recipe features Ghirardelli chocolate. Shake up your Wednesday night and make a batch!***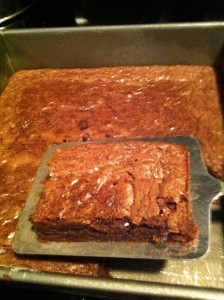 Brownies
Ingredients
4 ounces Ghirardelli semi-sweet chocolate baking bar
1 cup brown sugar, packed
2 large eggs
1/4 teaspoon baking powder
1/2 teaspoon salt
1 stick unsalted butter, cut into pieces
1 teaspoon vanilla
3/4 cup plus 2 tablespoons all-purpose flour
1/3 cup Ghirardelli chocolate chips (optional–my husband prefers them without, and Ashley likes them in there!)
Method
Preheat oven to 350 degrees. Butter and flour an 8 x 8 pan. In a heavy saucepan, melt chocolate bar and butter together over low heat, stirring until smooth. Cool to room temperature. Stir in brown sugar and vanilla. Add eggs, and mix well.
In a bowl, sift together flour, baking powder, and salt. Slowly fold flour mixture into chocolate. Mix well. Stir in chips if you're using them. Pour batter in the pan, and bake for 25-30 minutes (until a tester comes out clean).
Did you vote yet? Please take a minute and help a girl out: http://blog-awards.parents.com/blog-awards/mom_blogs/241-mommy-dish