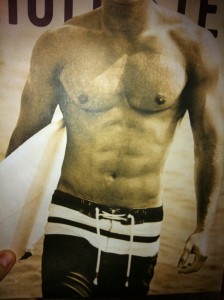 How am I supposed to drag my teenager out of the mall when shopping bags look like this?
Dayuuuuummm!
Ashley is starting High School on Tuesday (hormones galore/I feel ancient), and the heat is on. I am not just referring to the washboard abs, chiseled chests, and big guns draped in barely-there clothing decorating the stores. Or the perfectly symmetrical faces striking come hither poses to entice one into spending more money (hey, works for me). I am talking about the first-day-of-school-outfit.
The anticipation, the butterflies, the pressure. You remember it, don't you?
We spent the day schlepping from store to store, toddler in tow, searching for the perfect outfit to start a new chapter in her life in high fashion. Flattering, trendy, unforgettable. There's nothing like making a grand entrance after a long summer absence in the perfect outfit, nails and toes painted, eyebrows arched, hair styled, makeup expertly applied, and shoes so spanking new she comes home with blisters.
I miss being a teenager so much. These days, I am lucky to leave the house in a shirt I haven't crashed in. Between an insane pack of coyotes howling at 2:00 a.m. (yeah, scary!), Alex's first ear infection, and a group of party crashers–5 new teeth!–invading his mouth all at once, I haven't slept. Shockingly, double vision (partially corrected my an emergency pit stop for a double espresso) served me well today; I was the one who spotted and purchased the perfect outfit.
For the next 24-hours, I have been elevated to SuperMommy status. Alright, alright, maybe it won't last a whole day, but I might as well be whizzing around the living room with a cape (not a broom!) tonight. That feeling makes an expensive shirt worth every penny! Let's collectively pray it feels like fall on Tuesday so she can actually wear it.
Happy back to school shopping, Mommies!
***In anticipation of a full day of shopping, I prepared Mile-High Lasagna before I left. This Rachipe–Rachael Ray recipe–is perfect to serve after a long day at the mall. I popped it in the oven, prepared a salad, and had plenty of time to go over our purchases. Plus, it makes more two pans' worth, so you can freeze one in anticipation of a future shopping spree.***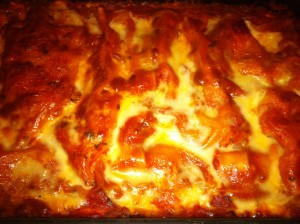 Mile-High Lasagna
Ingredients
2 tablespoons extra virgin olive oil (EVOO)
1 large onion, grated
1 pound ground sirloin
2 to 3 cloves garlic, grated
2 cups beef stock
1 can San Marzano tomatoes (28 ounces)
1 can crushed tomatoes (15 ounces)
3 to 4 basil leaves, torn
Salt and freshly ground black pepper
4 tablespoons butter
4 tablespoons flour
1 quart milk
A few grates fresh nutmeg
2 boxes oven-ready lasagna noodles (use 1 box per loaf pan)
2 cups grated Parmigiano Reggiano cheese, divided
1/2 cup provolone cheese, grated
Parsley, chopped, for garnish (Mommy Dish note: I didn't use any; not worth another trip to the store this time around!)
Method
Preheat oven to 375ºF.
Place a large skillet over medium-low heat with 2 turns of the pan of EVOO, about 2 tablespoons. Cook the onion and the garlic, stirring frequently, until tender, about 10 minutes.
Turn the heat under the skillet up to medium-high and add the beef to the pan. Cook it through, stirring frequently and breaking the meat up with a wooden spoon or potato masher. Add the beef stock, tomatoes, and basil to the pot and season with salt and freshly ground black pepper. Mash the tomatoes up with the potato masher or wooden spoon, bring the sauce up to a bubble, then reduce the heat to low and simmer until thickened, about 5 minutes.
While the red sauce is simmering, place a medium-size pot over medium heat and melt the butter. Sprinkle the flour over the melted butter and cook the mixture for about 1 minute. Whisk the milk slowly into the butter-flour mixture and cook until thickened. Season the white sauce with salt, freshly ground pepper and the nutmeg.
Cover two loaf pans with a layer of foil for easy removal from the pan. Ladle about 1 cup of the red sauce into the bottom of the first lined loaf pan. Put down a layer of lasagna noodles, then top them with about a cup of white sauce and a handful of Parmigiano Reggiano (about 1/4 cup). Continue building the lasagna, alternating layers of noodle, red sauce, noodle, white sauce and cheese, until all the noodles are covered. End the lasagna on a layer of red sauce and top it off with the grated provolone and some Parmigiano-Reggiano. Repeat this process with the other loaf pan and the remaining sauce.
Cover the pans with aluminum foil and bake for 30 minutes. Remove the foil and bake another 15 minutes until the noodles are tender and the cheese is melted and golden brown.
Remove the pans from the oven and let cool for 15-20 minutes to let the lasagna set. Pull the lasagna out of the pans by the edges of the foil, pull the foil down from around the lasagna and cut with a serrated knife. Garnish each slice with fresh parsley.