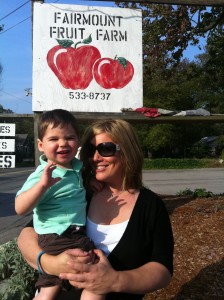 I am a little compulsive. Just a little bit…not a lot, like my husband would mouth if he were looking over my shoulder. A wee bit compulsive. Personally, I think it's kind-of cute.
This morning I decided I had to go apple picking. Today. I have been waiting and waiting and waiting for a crisp autumn day to pile the kids in the car, take a scenic drive on a colorful tree-lined highway, and pull into an apple orchard for an adventure that warranted its own scrapbook I'd never get around to creating (the photos would be stuffed into a special box and shoved under my bed at the very least). We'd purchase our one peck bags at the quaint country store, buy a few waters to keep us hydrated while navigating the hilly countryside, and climb up the trees to get perfectly ripened apples that mere mortals could not reach (apple picking is a skill in New England). Afterwards, we'd stand in the long line for apple cider and homemade apple crisp, find the one open picnic table among a crowd of festive fall-lovers, and indulge in the bounty of the season.
Well, this morning I realized that's just not happening. No matter how long I pretend to be patient.
It doesn't feel like fall at all. As much as I'd love to hide my legs again, it's still shorts weather. It's impossible to take a day off from shaving in 80-degree heat. Our cozy sweaters remain unworn in our closets with the tags attached. There's no vibrant rainbow of leaves delicately falling in the wind, no piles of leaves for Alex to jump in. The A/C is cranking.
The Jewish New Year, Rosh Hashana, begins tomorrow. I serve apples and honey to signify a sweet New Year. I make a mean kugel (noodle pudding) with apples. I had to go apple picking. Today. For religious reasons. Even though it still feels like summer.
I called my Mom and told her I had to find an orchard that was close, flat (strollers and hills don't mix), and filled with apples (it's late in the season due to all of my waiting). Telling her was code for getting her on the case, and it worked. She found the ideal place, just like I knew she would.
We picked Ashley up afterschool and surprised her with apple picking on a Tuesday afternoon. She's been hanging around with me long enough to know it's not uncharacteristic of my compulsive (ahem, cute) personality, and she went along with it with a knowing smile. It's true that the apple doesn't fall far from the tree.
Apple picking wasn't exactly what I envisioned this year, but it was definitely worth the wait.
***I made a quick apple  Rachipe (Rachael Ray recipe) tonight that's beyond easy. I will be posting more apple dishes all this week, so go out and pick some!***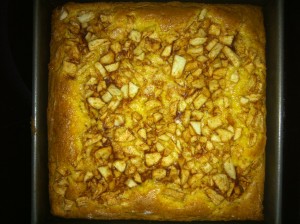 Easy Apple Cake
Ingredients
Box yellow cake mix for a single layer cake, (recommended: Jiffy brand) prepared to package directions
2 tablespoons softened butter
1 McIntosh apple, diced
1/2 teaspoon ground cinnamon
1/4 cup sugar
1 pint butter pecan or rum raisin ice cream
Method
Preheat oven to directions on box. Mix cake mix to directions on box, using 1/2 cup water and 1 egg. Grease a 9 by 9-inch square cake pan or disposable cake pan with butter. Pour in cake batter. Toss apples with cinnamon and sugar and sprinkle on top of cake batter. Bake 20 to 25 minutes. Serve warm cake squares with small scoops of butter pecan or rum raisin ice cream.