Halloween was a trick this year, and I am stuck with lots of treats. Really, a girl who's still recovering from that intoxicating feeling of having her husband trip on himself to fulfill every pregnancy craving should not be surrounded by an overflowing bowl of chocolate (plus unopened bags of temptation begging me to rip them open). I mean, does the superfreak storm–the October Grinch– have to mess up my never-ending diet, too?
For the first time in my life, Halloween was canceled. Seriously. Thankfully, Ashley is simply too cool and Alex has no clue–I can't imagine what it was like for parents of kids who wanted to show off their costumes, trick-or-treat with friends, and rush home to count their loot (children who refuse to clean their rooms will organize Halloween candy with OCD-like precision—and they will never forget the annoying neighbor who hands out raisins or dental floss).
I thought I lived in a pretty tame suburban neighborhood, but it turns out I am surrounded by a bunch of rebels. I was preparing dinner as usual when my doorbell rang. Buzz Lightyear, Woody, Casper the Friendly Ghost, a monkey, and a princess chimed in unison, "Trick or Treat!" with their parents stifling their proud giggles in the background. It was a miracle on our street!
I quickly abandoned the sauce simmering on my stove, suffered through Alex's repeated protests about donning his sheriff hat, slipped on my prisoner costume, and took enough (um, maybe one hundred?) pictures to get one good shot for posterity, and hit the streets.
There's a rumor the people who actually listened to the authorities will be trick-or-treating here on Friday night. I'll make every attempt to save some Halloween candy for them, too (code for Scott–hide the unopened bags, please!).
Hope you had a spooktacular night!
***Am I the only one who reserves one pumpkin to carve on the day of Halloween so I can toast some fresh pumpkin seeds? It's a tradition in
my house, made even sweeter because Alex helped me this year (typical boy loved putting his hands in the pumpkin goop). The spices I use give the pumpkin seeds a little kick–just like my neighbors kicked the Halloween spirit into gear last night!***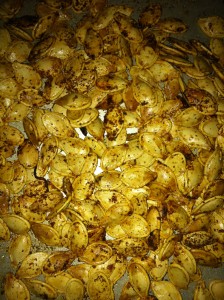 Pumpkin Seeds
Ingredients
Fresh pumpkin seeds, washed and patted dry
Olive oil
Paprika
Garlic powder
Salt and pepper
Method
Preheat oven to 350 degrees. Coat pumpkin seeds with olive oil. Add paprika, garlic powder, salt, and pepper, to taste. Bake for about 10 minutes. Yum!