So what's your strategy when it comes to eating during this time of year? Are you conscious of counting calories or unconscious from inhaling them? Inquiring minds want to know.
Me? I am mainly passed out on the floor with a wee bit of chocolate smudged on the corner of my lip (in some chick flicks it's an irresistible trait that leads to an epic mistletoe smooch, so why should I be ashamed?). I come to every party prepared with dark pink lip gloss to smear over the remnants of my affair with the dessert table. I choose wine over water. Every time. I am a fun girl, okay?
Fun…but not foolish.
Even though I indulge the last few weeks of the year, I am into some self-torture. I hide my own baked goods from myself, and my well-documented case of MommyBrain ensures I can't find them. I make dinners that I don't personally enjoy to save up for a splurge. And I sometimes break out the uncomfortable pants that threaten to leave angry red lines on my belly if I overdo it. Everyone has a pair of  I-feel-so-fat-I-am-going-to-burst pants, right? Validate me. Pretty please?
My goal is to not put on more than the 4.7 pounds I can expect to take off during that I-am-really-going-to-be-a-size-four feeling I get during the first week of dieting. I mean, if it fell off that quick every week, I would be bangin' in no time. But it never does…and I know from 19-months of practice that chasing after the most active toddler on the planet does absolutely nothing for my arse, either.
How is your waistline faring this holiday season?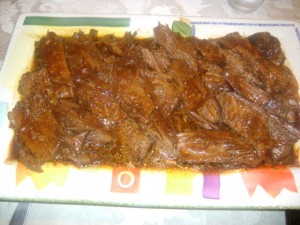 Brisket
(This is one of the dishes I don't eat being the vegetarian that I am, but all my meat eatin' peeps love it. It's adapted from a Sandra Lee recipe with some tweaks).
Ingredients
5 pounds beef brisket
Salt and pepper
2 packets McCormick meatloaf seasoning
1 bottle (12 ounces) beer
4 cups apple cider
1 large onion, sliced
3 cups barbecue sauce
Method
Rinse brisket with cold water and pat dry. Season with salt and pepper and place in foil baking pan. Rub on meatloaf seasoning on both sides and pour over beer. Add enough apple cider to cover brisket more than halfway. Top with sliced onions and cover with heavy-duty aluminum foil.
Preheat oven to 350 degrees. Bake brisket for 2.5-3 hours. Dump out some of the braising liquid (keep enough to coat the bottom of the pan). Mop with barbecue sauce. Turn and mop brisket every 15 minutes for about an hour.
Transfer brisket to cutting board and let rest 10 minutes before slicing. Thinly slice against grain and serve with the pan sauce on the side.