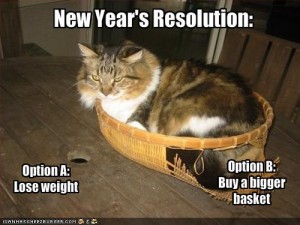 It's been about a week since I made my New Year's resolution to do more with less. Less money, less fat, less excuses. Really, I should've checked myself into resolution rehab instead, but, like a true addict, I simply cannot give them up. I am powerless to the possibilities. New Year! New start! New me!
We'll see.
The Good
I am a wee bit of a spendaholic. Give me some cash and I'll deposit it anywhere but my savings account. Quick. I've been nursing a shopping hangover for my entire adult life quite some time now so I figured I'd give my wristlet the equivalent of some Gatorade. So far, I dyed my hair back to brown (yes, it's that time of year for me anyway, but savings on a full head of highlights each month still counts in my book), and I only had to ask Scott for two $20s after I blew through my self-inflicted allowance. Believe me, this is progress.
Like a true dork who's stuck in the 80s, I splurged on the Rocky IV soundtrack on iTunes to put my workout in the win column (if it pumps me up like it does when I am jumping around my living room watching the film it is $9.99 well spent). And I went to the gym. Twice. That's two more times than I went in the last two months of 2011. Yes, I forgot my headphones both times, making it impossible to tap into my inner Eye of the Tiger, but I'll remember next time. There will be a next time. Roar.
Again, progress.
The Not-So-Good
I haven't officially started my diet yet. I am done with all of my goodbye meals–Mexican, pizza, bread and good-quality olive oil (if I could bathe in it I would)–but I haven't gone in for my cattle call yet. I mean, I need a sitter for the big weigh-in, and I won't have one until Wednesday. That's the only reason why. Less excuses. Eye of the Tiger, baby.
It's happening. Really, it is. Wednesday. This hump day I will deal with my humps and lumps…oh, and my rump, too. Okay, Jennifer Hudson? Stop shoving your 80-pound weight loss in my face during every commercial break. I get it. I am doing it. I am just not singing to images of my post-pregnancy self in a curve-hugging dress yet.
The silver lining on my scale thus far is I've created a few new low-fat dishes that are delicious. My White Bean soup is bathe-worthy, just like my beloved olive oil (and it's cheap to make, too). Roar.
How are you faring with your resolutions?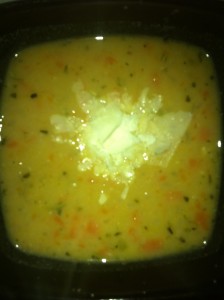 White Bean Soup
(Mommy Dish note: I'd double this recipe if you're making it for your family–Scott and I almost ate this whole thing ourselves. : )
1 large carrot, chopped
1 stalk celery, chopped
2 cloves of garlic, minced
1 can of butter beans, undrained
1 can of cannellini beans, drained
3 cups of vegetable broth
EVOO–enough to coat the pan
1 teaspoon of fresh rosemary, chopped
Salt and pepper, to taste
Parmesan cheese (freshly grated)
Fresh parsley, if desired
Method
In a large saucepan, sauté the carrot, celery, and garlic in olive oil until soft. Add the butter beans, vegetable broth, and rosemary. Simmer until heated thoroughly. Run an immersion blender through the stock until it thickens. Stir in the cannellini beans. Serve topped with freshly grated Parmesan cheese and chopped parsley, if desired.