So, what do you you think about the Queen of Southern Cuisine keeping a little secret, y'all? I am not surprised Paula Deen–a chef who serves up Krispy Kreme Bread Pudding and Twinkie Pie with a side of sweet tea–has type 2 diabetes. Like my Mom used to say when I tried to sell tell her I was late for my curfew because I got stuck behind an 18-wheeler in my little Footloose town…I wasn't born yesterday.
Do I fault Paula for keeping her diagnosis to herself for three years? Nope. She's paid to cackle about her unnatural obsession with butter, make inappropriate pickle jokes, and share her down home dishes with an audience that eats them up (if they wanted healthy choices they'd tune into one of the other chefs on The Food Network). Dealing with a disease like diabetes goes against her brand of high-fat, high-calorie overindulgence…and it's private. Just because she's a public figure doesn't make me entitled to her medical records.
What does make me feel like I've just inhaled a Paula Deen meal is the fact that she only disclosed her condition after she signed an endorsement deal with drugmaker Novo Nordisk. Adding to my need for Pepto Bismol? Her son, Bobby, debuted his new show "Not My Mama's Meals" right before her announcement. He's now makin' bank lightening up his Mom's buttery, button bustin' dishes. This whole debacle feels like an episode of the soap opera "As My Stomach Turns."
Am I the only one who feels a little sick that the whole Deen family seems to be capitalizing on diabetes?
***My Butternut Squash and Black Bean Chili is so healthy it would piss the old Paula off. You get what you give, Ms. Deen. Even though America's former favorite Queen of Southern Cuisine wouldn't serve it at her table, you should. It is beyond delicious!***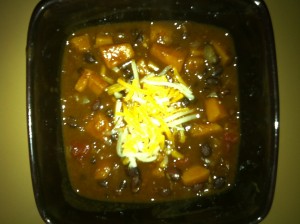 Butternut Squash and Black Bean Chili
Ingredients
2 tablespoons olive oil
2  1/2 cups chopped onions
3 garlic cloves, minced
2 1/2 cups peeled butternut squash, cut into 1/2″ chunks
2 1/2 tablespoons chili powder
2  1/2 teaspoons ground cumin
3 15-ounce cans black beans, rinsed, drained
2  1/2 cups vegetable broth
1  14  1/2-ounce can diced tomatoes in juice
Salt and pepper
Grated cheddar cheese for garnish
Method
Heat oil in heavy large pot over medium-high heat. Add onions and garlic; sauté until tender, about 7 minutes. Add squash; stir 2 minutes. Stir in chili powder and cumin. Stir in beans, broth, and tomatoes with juices; bring to boil. Reduce heat and simmer, uncovered, until squash is tender, about 25-30 minutes. Season to taste with salt and pepper. Ladle chili into bowls and serve with sprinkled cheese.