Pet peeve: When a bunch of people man-handle a pan of lasagna to the point of no recognition–someone steals all of the coveted bubbly brown cheese on the top, a sauce hoarder scrapes the dish dry, and the layers succumb to the pressure of multiple scoops. It's a car crash for cooks…guests can't help but look at it.
Super Bowl Sunday Solution: Lasagna Roll-Ups:. They're self-contained, individual, portable portions of all the ooey, gooey goodness of a pan of lasagna. Trust me on this one…Lasagna Roll-Ups are perfect for a big crowd! Serve with some roasted garlic (recipe below), crusty bread, and olive oil and your fans will be look at your spread…in a good way. Promise.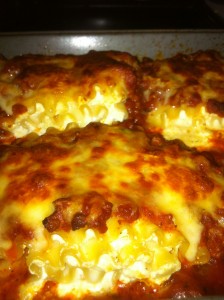 Lasagna Roll-Ups
1 container ricotta cheese
1 bag of shredded mozzarella cheese
1 teaspoon italian seasoning
2 eggs
1/4 cup Parmesan cheese
Lasagna noodles, boiled just short of al dente (they'll cook more in the oven), and drained
Sauce (store bought, or my Turkey Bolognese sauce recipe follows)
Method
Mix all of the cheeses together, reserving some of the mozzarella to sprinkle on top of the Lasagna Roll-ups. Add eggs and Italian seasoning and mix until combined. Set aside.
Cover the bottom of a baking dish with a generous layer of sauce.
Take one lasagna noodle and lay it on a clean surface. Cover it with a nice layer of the cheese mixture, and roll it up. Place in the baking dish, and cover with sauce and mozzarella cheese. Repeat this process until you run out of your cheese mixture. Bake in a 350- degree oven for 30-40 minutes. You can broil the top for one minute to make it golden brown f it doesn't happen in in the oven. Enjoy.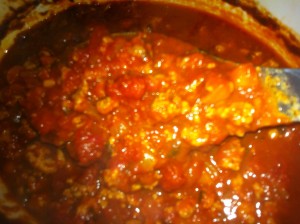 Turkey Bolognese Sauce
(This sauce can simmer all day in the crockpot!)
Ingredients
2 tablespoons olive oil
2 carrots, peeled, finely chopped
2 medium onions, finely chopped
2 cloves garlic, minced
1 pound ground turkey
1/2 cup red wine
1 teaspoon dried Italian seasoining
1 bay leaf
5 cups good-quality strained tomatoes, store-bought tomato sauce, or crushed tomatoes
Salt and pepper, to taste
A few sprigs fresh basil, chopped
1/4 cup Parmesan cheese
Method
Heat olive oil in a sauté pan. Cook onions, carrots, and garlic until translucent. Add turkey, break it up, and cook until it's no longer pink. Transfer into the crockpot.
In the sauté pan, add red wine and cook for one minute or so. Add the tomatoes, Italian seasoning, Parmesan cheese, and basil. Season with salt and pepper to taste. Add sauce to the turkey in the crockpot and mix well. Add bay leaf and simmer on low for 6-8 hours.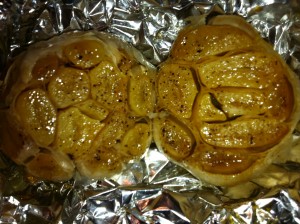 Roasted Garlic
Ingredients
1 head of garlic, with the top cut off, paper still on
Salt and pepper
EVOO
Method
Sprinkle head of garlic with salt and pepper and drizzle generously with EVOO. Wrap in tin foil and bake in a 350-degree oven until it's soft and a golden brown. Yum!