Okay, I have to dish that my quiet suburban town is somehow turning into the Jersey Shore. Who else am I going to tell? Snooki? (She won't take my calls).
Anyway, the stuff my stepdaughter is telling me is beyond the typical teenage antics. I am talking about girls making out with their BFFs at house parties for attention, casual sex (no courting, no first-time-up-the-shirt-but-over-the-bra anxiety, no fear of being the bad girl the other Moms don't want their kids to hang out with). And, yes, they also have really bad Sun-Kist spray tans that make them look like they've been accosted George Hamilton.
I am no prude. At all. I scoured newspapers for movie reviews of the 9:55 p.m. showings so I could extend my curfew in favor of partying in the woods, snuck my boyfriend into the house (and unsuccessfully tried to get him to jump out the window so my Mom wouldn't find out), lied about my whereabouts, and drank before it was legal. I pretty much spent my entire Sophomore year grounded for my superb partying skills, but they were tame compared to what's going on now.
A rare few relationships become "Facebook official," and, even so, they're mostly based on texting sexting. Guys can go incognito, completely under the radar, hiding behind BlackBerry bravado. They don't have to dial the house phone with trembling hands and an unsure voice to ask to speak to their crush; they fire off racy texts behind the safety of their screen. There's little suspense, romance, or build up to the big night of losing one's virginity. No dinner, just plenty of drinks. I've heard of a few girls who gave it up at a party, barely knowing their partner…just to get it out of the way. These boys aren't saving their side-job money to buy jewelry or roses for Valentine's Day (I fondly remember getting those gifts as a teen!) when they can do one-stop shopping–introduction, dating, and sex–in one night.
Real teenage dating is dead. Cause of death is Facebook, Twitter, cell phones, and a daily dose of the Jersey Shore. Yeah, Snooki, you're partially on the hook for this one. It's like the resurgence of the '60s in 2012 in my hometown. Are you seeing the same thing near you? It's so disheartening.
***I am serving up a classy anti-Snooki item for you today: cheddar herb scones. There homemade treats are truly one of my favorite things to make…and eat. Enjoy!***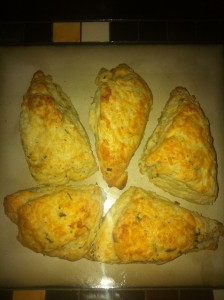 Cheddar Herb Scones
Ingredients
2 cups all-purpose flour
1 tablespoon baking powder
1/2 teaspoon salt
2 tablespoons sugar
5 tablespoons unsalted butter, cold, cut in chunks
1/4 cup cheddar cheese
2 tablespoons Parmesan cheese
1-2 tablespoons fresh herbs (to taste–I use 2), chopped (I use mostly thyme with rosemary mixed in)
1 cup heavy cream, plus more for brushing the scones
Method
Preheat the oven to 400 degrees.
Sift together the dry ingredients; the flour, baking powder, salt, and sugar. Using 2 forks or a pastry blender, cut in the butter to coat the pieces with the flour. The mixture should look like coarse crumbs. Fold the cheeses and herbs into the batter. Make a well in the center and pour in the heavy cream. Fold everything together just to incorporate; do not overwork the dough.
Press the dough out on a lightly floured surface into a rectangle about 12 by 3 by 1 1/4 inches. Cut the rectangle in 1/2 then cut the pieces in 1/2 again, giving you 4 (3-inch) squares. Cut the squares in 1/2 on a diagonal to give you the classic triangle shape. Place the scones on an ungreased cookie sheet and brush the tops with a little heavy cream. Bake for 15 to 20 minutes until brown.