My son is tapping into his inner Chippendales dancer at just 21-months-old. He's now whipping his diaper off like a pair of too-tight cheetah Speedos and throwing it in my crowded living room (I don't know about you but I love toys all over the place). Am I wrong that I don't stuff his diaper with $1 bills or something?
Why won't my son keep his diaper on at all times? What's up Mommy Mavens?
Yeah, I am taking to you.
The issues I am having go beyond a warm bath and Mommyjuice fix; I need your help.
If you're stumped by my Chippendales diaper genie, I've got another one for you: spilled milk. On some days I do want to cry about it. Why won't Alex simply eat his meal, say, "all done," and excuse himself from his booster seat? Why must he insist on throwing every last morsel of food on the floor when he's finished and follow up by heaving his always-faulty-no-matter-which-brand-I-buy sippy cup on top of it?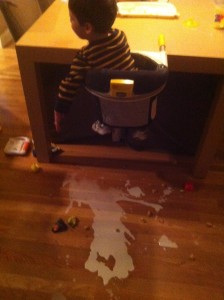 One more issue…and this one hurts. Alex greets little kids his age like a Mayor (saying "hi!" repeatedly) and a Mayor's wife (blowing kisses). My son's got it going on during the introductory period. And then, sometimes, he attacks…chasing, hitting, hair-pulling…and I want to shrivel up and die in embarrassment. I am on him–I swear I am not taking a break to play a fun game of Cheeky Bingo during play dates–but, inevitably, he does something I wish he wouldn't do. It's not all of the time, but it happens enough that I would pay for need tips to handle the toddler aggression phase.
I've got the cutest, sweetest little boy behaving badly during school vacation week. Impeccable timing, Alex James. Two kids full-time who only listen part-time. Yay me!
Help me! Please?
***Today's dish: Banana Crumb Muffins. I know my little buddy loves them because they never end up on the floor. : )***
Banana Crumb Muffins
Ingredients
1 1/2 cups flour
1 teaspoon baking soda
1 teaspoon baking powder
1/2 teaspoon salt
3 bananas, mashed
3/4 cup white sugar
1/3 cup brown sugar, packed
1 egg, slightly beaten
1/3 cup butter, melted
Topping:
2 tablespoons flour
1/8 teaspoon cinnamon
1 tablespoon butter, melted
Method
Preheat the oven to 375 degrees. Lightly grease muffin tins or use muffin cups.
In a bowl, combine the flour, baking soda, banking powder, salt. In another bowl, mix the bananas, egg, brown sugar, white sugar, and butter together. Mix it with the dry ingredients until it's moistened.
Pour batter into the muffin tins.
In another bowl, combine the 2 tablespoons flour and cinnamon together. Cut in the cold butter until crumbles form. Sprinkle mixture on top of the muffins.
Bake muffins for 18-20 minutes, or until a cake tester comes out clean.
***Please keep the votes coming in for Top Mommy Blogs…that little brown box on the top right of your screen. Just click it. We're gaining ground quick! Thanks, loves.***