The Stir
, and just had to throw calorie caution to the wind and make it…for other people. Better on their
hips
lips than mine.
Ooooh…that sounded b*tchy, but given my genuine fear of summer closing in on my non-bathingsuit-ready stomach, I need to pimp out my baked goods so I don't eat them. Hollywood Baked Good Madam…that's me. I am takin' it to the streets until further notice.
Ashley planned a little surprise party for one of her friends over the weekend. Teenagers, Oreo cookies, peanut butter, and brownies do mix–much better than mixed drinks–so I made a double batch. And they inhaled them. It's Monday and they're still tweeting about them. I dished out a showstopper dessert that got a bunch of teens high on chocolate. Today, I am a hero to teens and their parents (chocolate is like a Volvo–it keeps them safe from themselves). Yes, it will be short-lived, but let me enjoy my hero status for one minute, okay?
How could I keep this goody that's beyond easy to make to myself? I couldn't. I just had to share it with you, my loves. Make them…pimp them out if you have to, but definitely try one or a little piece of one. They're worth praying to the skinny G-ds for mercy in exchange (or you could always squeeze in a Zumba class like I did). Yum.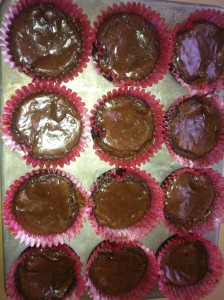 Oreo and Peanut Butter Brownie Cakes

Ingredients

1 box brownie mix, 8×8 inch size
24 Oreo Cookies
1/2 cup creamy peanut butter

Method

Preheat oven to 350 degrees and line a 12 muffin cup baker with paper liners.

Prepare brownie mix according to package directions.

For each cupcake cup spread 1 teaspoon of peanut butter over 2 Oreo cookies and stack them on top of each other.

Place Oreo stacks into the cupcake lined muffin cups.

Spoon 2 tablespoons of brownie batter over each stacked Oreos and let it run down the sides of the cookies. If you have left over brownie batter, bake separately in a separate baker or muffin tin.

Bake cookies and brownies for 18 to 20 minutes, until brownies are cooked through. Let cool completely then serve.

This is a quick and dirty post to fill you in on a quick and dirty dessert. I stumbled on it on