Have you ever had that naked girl dream nightmare? The one where you're standing there in the flesh under fluorescent lights while everyone around you is decked out in haute couture laughing at your post-preggo arse?
It can't be just me whose psyche effs with her that way…putting me in a Stella McCartney dressing room thinking I have the go-ahead for a long overdue shopping spree only to make me the Glamour Don't girl for exposing too much skin?
You know what I mean, don't you? If not, play along (and I hope your psyche makes you blush tonight!).
Anyway, I woke up feeling raw, exposed…and just not myself. I felt around quickly–yup, fully clothed–so that wasn't it. After being sidetracked for awhile caring for everything with a pulse in this household, it dawned on me. My Mom is in Costa Rica visiting my brother, and I am left here, alone, to cook our dishes on Passover and Easter.
That's
it.
I am totally naked. Stop gawking looking.
Ever since I can remember, we've been a tag-team in the kitchen. No one can piss me off like my Mom when I am trying to get food on the table, yet there's no one else I want beside me more when it comes cooking holiday dinners. Some of my most cherished memories involve us chopping onions, side-by-side, crying and laughing at the same time. She taught me everything I know, and when we don't let our egos interfere, we are simply the greatest team ever. In the kitchen, I really am my Mother's daughter. We always serve up love with a smile or sarcasm, or both…depending on the day.
Miss you much today, Mom. It really doesn't feel like a holiday without you here rolling your eyes at me for taking up too much counter space. ; ) Get back here already so I can cover up, please. Geesh.
Happy Passover to all those who celebrate. In honor of my Mom, the recipe for her tzimmes dish is below (adults, teens, and toddlers alike love it because it's sweet!).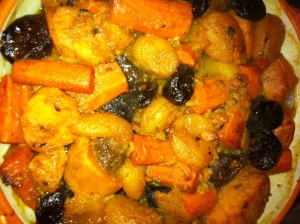 Tzimmes
Ingredients
1 and 1/2 pounds baby carrots
3 yams or sweet potatoes peeled and cut into larger chunks
6 tablespoons butter
1 cup water
1/2 cup brown sugar
1 cup orange juice
8 ounces dried apricots
8 ounces prunes
1 tablespoon cinnamon
In a large saucepan, melt the butter. Add the carrots and yams and cook for 5 minutes. Add the brown sugar, water, and orange juice. Bring to a boil.
Add the rest of the ingredients and lower the heat. Let simmer on low heat for about an hour. (I remove the cover and move the carrots and yams around a few times during the cooking being careful to replace the cover after basting). At the end of the hour, remove the cover and cook for 20 minutes longer.
***If you like the juices thicker, remove the cooked yams, carrots and fruit and allow the sauce to reduce a little longer then add the juice back to the potato mixture.*** Enjoy!