School. A gentler word for daycare, which conjures up scary news reports that replay in my mind at 3:00 a.m. (am I the only one who can't sleep through the night even though her kid does?). School–yeah, let's stick with that term.
I am freaking out. Oh, and I am feeling guilty, too…because I've had a rough few days with my ultimate fighter son. It's like a school bell went off, alerting my newly-minted two-year-old that it is now "part of his development" to throw a massive tantrum in the mall that requires me to carry him out face forward, on his side, so he can't hit, pinch, or pull my hair in protest. Unbelievably, I ran out of quarters to feed the germ-infested, sorry-looking carousel near the food court on a rainy day (my traitor Costanza wallet was deceptively jam-packed with pointless pennies that should be outlawed). Yeah, I have turned into one of those women I used to feel sorry for when I was single, smirking to myself, thinking I will never have a kid like that.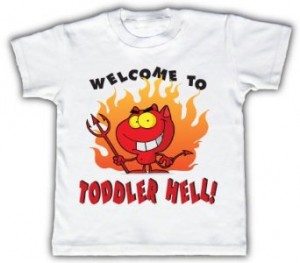 I have a kid like that. I am that woman with a sweaty lip, screaming apologies through Bloomingdale's, while trying to avoid air punches. I consider Alex a part of my cardio regimen; carrying a 30-pound boy from center court to the parking lot makes me feel the burn, let me tell you.
Even though my son can throw a give me an IV of Mommyjuice–stat! decent fit with me, I took him to three different schools–all "the best of the best" (of course they are–I am neurotic news report Mommy who has soundbites of frantic parents pounding on the locked daycare door in a desperate attempt to set their children free echoing in my head)–and he walked in like he owned the joints. Self assured, he pretty much said, "Hey, I am Alex, and I have arrived. Now you can really sing and dance with some enthusiasm. The party has started."
I
know
he's going to love school. He's incredibly social, curious, and has a true zest for learning. And I have been offered a dream gig doing my public relations/marketing/communications guru work twenty minutes from my house for a global firm that's going to let me work part-time to transition my son slowly. It would be hard to pass it up, as I spent a lot of years building a career before becoming a SAHM.
My internal dialogue, which I am so grateful is mostly silent (sometimes I slip and blurt, but that's just me), has been constantly abuzz since I made the decision. I am not going to be there for him every single second. Someone else is going to change his diaper. What if he acts like an American Bad A$$ with the teachers? What if he likes them too much and he showers them with kisses? How is that going to make me feel? How am I going to ever drop him off and leave? Is it the right time, or should I wait? What if he needs his Mommy and I am not there?
I know I am so fortunate that I have been home with Alex these past two years. I saw it all: his first smile, first laugh, first crawl, first step, first run…it was always me on the other end, waiting for him to jump in my arms. I was always the one to congratulate him on an accomplishment, and give him a prideful smile only I can deliver. I was the one who taught him how to speak, how to eat, how to share, how to dance, how to let loose and have fun during our precious years together. I was the one who was there to hold him when he needed a reassuring hug, or kiss him when he puckered his little lips to meet mine. It was just me…and, now, it won't be.
There are many Mommies who put their kids in school long before me. I know I am lucky, believe me, but I am still freaking out at the thought of leaving my baby, even if he's ready. Will I ever truly feel ready?

Sorry I have been posting a little less frequently…life has just gotten in the way. Remember, I am freaking! If you still love me, show it, and give me a click below. Thanks.

There's going to be a seismic shift in my son's life.