nag the sh*t out of
lovingly remind him
for the hundreth time
to break out his "Jewish tool box" and assemble Alex's new 9-million-piece water table).
You don't believe me?
Scott says I have to wear a bikini or a one-piece with a Brazilian-inspired butt line (cheeky, huh?)–my choice. No modest Mommy Miracle Suit with industrial-strength sausage casing, gravity-defying cups, and strategically placed ruffles for our getaway. No, no, no…some of my girly parts will be on display.
Duct tape. Two rolls should do it, right?
There was a time when I was considering posting a shot of me in a bikini on Mommy Dish. I was all high on Zumba–and maybe some hard alcohol (Mommyjuice is too weak for me to consider a public showing of post-preggo flesh)–when I thought of the idea.
And then I remembered Kirstie Alley. She opened her mouth before she was ready to completely shut it (or invest in some duct tape), and wound up strutting her stuff in a bikini with Spanx underneath. It's something I'll never forget, nude Spanx glistening under Oprah's hot television lights. Oh, and she had a wrap, too. Everyone ooooed and ahhhhed, and I didn't get it. Yes, she looked much better, but, really, she needed superhero powers in the form of a customized cape and a glorified girdle to help her cause. So, I figured I'd spare myself the humiliation (you know me well enough without that visual, don't you think?).
Wherever I go, bathing suit season is all the buzz. My hairdresser swears on It Works, wraps and creams that supposedly blast fat (if you've tried it, leave a comment please!). My BFF reduces her carb intake (I have never subscribed to this theory–a calorie is a calorie–but my Brazilian Mommy arse is going to be the butt of the beach jokes in Puerto Rico, so you should probably ignore me). A woman at the playground said she actually had luck buying online from Victoria's Secret this year, which made me smile thinking I will not have to endure the bad fluorescent lights in the dressing rooms. Seriously, why hasn't anyone caught on that trying on bathing suits is trying enough? Give a girl some good lighting, dammit!
What are your summertime tips and tricks? I have been doing well–my baby badge is more like a speed bump now (yay, me!), but I'd like to maximize the time I have left before I have to slip into something uncomfortable.
***It's a rainy, crappy day here, so I made my favorite low-fat Split Pea soup. I love it, and Alex does, too!***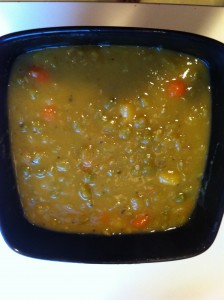 Parker's Split Pea Soup
Courtesy Ina Garten (with a few minor revisions of my own)…give me a click before you make it, please:

Ingredients

1 yellow onion, chopped

2 cloves garlic, minced

1/8 cup good olive oil (enough to thoroughly coat your soup pot)

1/2 teaspoon dried oregano

1-1/2 teaspoons kosher salt

1 teaspoon freshly ground black pepper

2 cups medium-diced carrots (3 to 4 carrots)

1 cup medium-diced red boiling potatoes, unpeeled (3 small)

1 pound dried split green peas

8-10 cups vegetable stock (2 large containers plus one can)

Method

In a 4-quart stockpot on medium heat, saute the onions and garlic with the olive oil, oregano, salt, and pepper until the onions are translucent, 10 to 15 minutes. Add the carrots, potatoes, split peas, and vegetable stock. Bring to a boil, then simmer uncovered for about an hour and a half, or until the peas are soft. Skim off the foam while cooking. Stir frequently to keep the solids from burning on the bottom. Taste for salt and pepper. Serve hot.

One month from today, I'll be lying on a beach in Puerto Rico, kid-free. I am on my way to the hardware store to buy a 30-day supply of duct tape for my mouth (one of my husband's fantasies, I am sure, when I