It is beyond freezing. I don't even bother checking the weather anymore because, guess what? It's f*cking cold. I spend my days scurrying from one heat source to another and avoiding all human contact because the arctic air goes right up everyone's collective as$.
I try to appreciate the natural blush that springs to my cheeks in -20 wind chill, but it doesn't work. Mostly, I've found burying my face in piping hot bowls of homemade soup does. Eat some Butternut Squash Soup and ignore the weather reports in the morning. You'll be happier you did.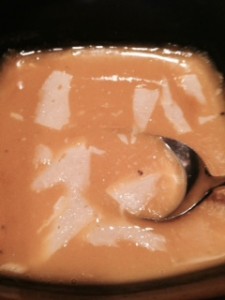 Butternut Squash Soup

Ingredients

3 tablespoons butter
1 small onion, chopped
2 stalks celery, chopped
1 medium potato, cubed
1 butternut squash peeled, seeded, and cubed
1- 1 1/2 containers vegetable stock
1/2 teaspoon cinnamon
1/2 teaspoon cayenne pepper (or to taste)
Salt and freshly ground black pepper, to
taste
Handful of Parmesan cheese, grated
Shavings of Parmesan cheese for garnish

Method

Melt the butter in a large pot, and cook the onion, celery, potato, and squash for 5 minutes, or until lightly browned. Season vegetables with cinnamon, cayenne pepper, salt, and pepper. Pour in enough of the vegetable stock to cover vegetables. Bring to a boil. Reduce heat to low, cover pot, and simmer 40 minutes, or until all vegetables are tender. Toss in Parmesan cheese and adjust seasonings if necessary. Transfer soup to blender and blend until smooth. Add more stock if needed and enjoy!

Why can't the post-baby fat that still clings to my stomach actually do something? Like, I don't know…keep me warm?