I was walking Alex into school today and he said, "Mommy! Look! I see grass! Oh yeah! Oh yeah!" It was like Spider-Man, Lightening McQueen, and sea salt caramels (his favorite—yup, blame me) fell at his feet. He was
that
excited about a little patch of puke-colored grass fighting its way through the frozen tundra that was once his playground. It gave him hope. Until spring arrives, we are passing time this cold ass winter with cooking projects. Alex loves to help me in the kitchen…and I don't even think it's because he is stuck inside! Sometimes he smashes bananas with a fork or with his (clean) hands for banana bread. Other times he purees fresh fruits for homemade popsicles. Operating the standing mixer is also a thrill. He identifies measuring cups and spoons and feels proud of himself when he gets them right. And I always let him sample our creations. Always. Eating a white chocolate chip or two first thing in the morning makes mommyhood fun. It also gives me the stamina to clean up after a kid who manages to get flour on the ceiling!
I am a perfectionist when it comes to baking and he has taught me to relax. The White Chocolate Blueberry Muffins pictured below are blue because smashing some of the blueberries is more fun for the little guy than leaving them whole. I no longer care and I hope you don't either. This Mommy Dish was made with imagination by my little sous chef, Alex. I think some of the blueberries were bad guys he needed to take care of…and he always saves the day!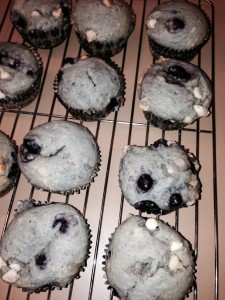 White Chocolate Blueberry Muffins
Ingredients
2 cups all-purpose flour
½ cup sugar
¼ cup packed brown sugar
2½ teaspoons baking powder
½ teaspoon salt
¾ cup milk
1 large egg, beaten
¼ cup butter, melted
1½ cups fresh or frozen blueberries
1 cup white chocolate chips (you can use more if you like…I prefer more of a balanced mix with the blueberries)
Method
Preheat oven to 375. Combine flour, sugars, baking powder, and salt in a large bowl. Stir in butter, milk, and egg. Fold the blueberries and white chocolate chips into the batter. Pour into prepared, paper-lined muffin cups (makes 12-18, depending on the size you're using). Bake for 20-25 minutes, until a tester comes out clean. Let them cool for five minutes and then transfer onto a wire rack. Enjoy!