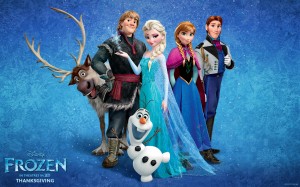 An anonymous Michigan dad feels his wife is "setting his son up to be beat up for the rest of his life" because he's having a
Frozen
-themed birthday party. I think the kid is being hurt more by his chest-thumping dad's stereotypical beliefs than he will ever be by a couple of Disney princesses.
I heard about this story after it aired on Michigan's Mojo in the Morning…on the day my husband came home with the Frozen DVD for our son. I didn't ask him to do it; he has big enough balls to buy a "princess movie" as a surprise for our little boy. He knows I took our three-year-old to see Frozen in theatres—both the regular and sing-a-long versions. And he's smiled through the pain of our off-key rendition of "Let It Go" once or twice (okay, maybe a little more than that but I am a sucker for power ballads).
We are safely on superhero turf for my son's birthday party in May—but that was his decision. If he asked for a Frozen party, he would get one. Here's the top five lessons my son learns by watching Frozen:
1) The opening song of the movie, "Frozen Heart", is all about the flannel…strong, husky men sawing and loading huge chunks of ice. Their deep voices sing in unison. They are focused. They get the job done. This scene gets my boy off his feet as he tries to saw everything in my living room. It gets us one hundred calories closer to bedtime so I am obviously a fan. It teaches him about hard work and teamwork and all that good stuff, too.
2) Elsa sacrificed her own happiness to keep her sister safe. After she accidently zaps Anna with her magic powers during childhood, she lives in isolation, ignoring her sister's repeated requests to play. How hard is that for a kid? My son is looking for me after thirty seconds of alone time. Elsa is the epitome of selflessness and strength. (Sidebar: Alex thinks she's "beautiful"… especially the naughty Ice Queen Elsa with the messy French braid. Help.)
And that voice! Elsa sings about asserting her independence (key lesson for my son in my ongoing quest to pee in peace) with flair. She creates a snow monster to protect her glittering masterpiece of a castle. Monster anything speaks to boys. My son roars at other kids as a method of greeting in the Whole Foods checkout line. Lesson learned here is the snow monster doesn't win…the good guys do…so I have hope Alex will start saying hello again with Frozen on replay.
3) Anna is a spunky, quirky girl with a zest for life. She has a vivid imagination and strong sense of self. When Elsa turns their sunny, idyllic kingdom into a winter wonderland with the spark of her ungloved hand, she runs away in disgrace. Anna sticks up for her sister and hops on her horse to chase after her without hesitation. Screw the winter coat and the planning. Determination in the face of adversity is a lesson for all. So is sacrificing true love's kiss to save your sister's life. Anna does all that and more. She's funny, too.
4) Kristoff is a stereotypical man's man, close-minded Michigan dad. He deals with ice for a living. He can sleep on a pile of hay in the dead of winter without complaining. He can fend off wolves and navigate his way through a blizzard with nothing more than a reindeer named Sven and a sled. That's badass. But he's balanced, too. He doesn't let the one he loves get away. He doesn't get too tripped up on pride to turn around and make things right. He has a genuine smile and he's grateful for life's gifts coming from humble, hobbit-like beginnings. He's heroic and handsome.
5) Olaf is a goofy snowman full of one-liners who just wants to feel the sun on his face. You can basically dismember him and he will pick himself back up and put himself together again. His happiness radiates from the inside. He is helpful, kind, and generous…all good traits for my son to emulate.
So, what do you think about the dad who is upset that his son loves Frozen so much? Would you (or your husband/significant other) hesitate to give your boy a Frozen party if it was his wish?