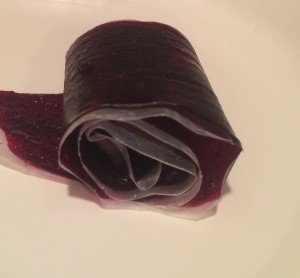 I get up with Alex at 6:30 a.m. every Saturday. Every week I think that will change, that he will sleep later, but it doesn't happen. I have no idea why I don't accept my reality. He remains our resident rooster and he doesn't nap. Get over it, Jodi. You look refreshed only because you invest in great eye cream, not because you sleep.
It is what it is.
My internal dialogue is pretty nasty in the morning. Don't judge.
Anyway, after I have rolled out of bed (maybe creaked is a better word…something in my 41-year-old body usually cracks), I make coffee to transform into a pleasant parent. After proper caffeination, I come up with mommy-and-son cooking project. It's become our thing.
This morning, we made organic fruit roll-ups. I am so wary of all snacks laced with perservatives, pesticides, and chemicals. As a general rule, if I can't read the ingredients on the box I do not buy it. Yup, I am one of those moms. Our fruit roll-ups are delicious with only two ingredients your toddler will be able to pronounce. Bonus.
Fruit Roll-ups
Ingredients
3 cups of berries. I used a mix of blueberries, raspberries, and strawberries…but you can choose any fruit you'd like. Frozen is okay too, just make sure you thaw beforehand.
Honey, to taste
Method
Cut up the fruit and place in a food processor or blender. Blend until smooth. Pour berry mixture into a saucepan and cook on low-to-medium heat for about ten minutes. Drizzle in honey, to taste. It will thicken up. Line a cookie sheet with parchment paper. Coat the parchment paper with the berry mixture evenly with a rubber spatula. Bake in a 170 degree oven for three hours.Cut into strips with a pizza cutter and roll it up. It's a delicious, nutrient-rich snack everyone will love!
<