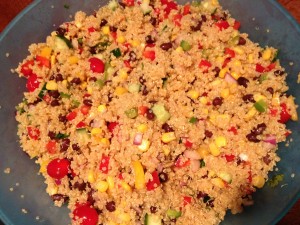 Guaranteed the only place you will find quinoa and crack in the same sentence is right here. Do a quinoa and crack search on Google and Mommy Dish will own it. YES!
Anyway…
Have you ever tried a dish at a party that is so incredibly good it stays with you long after your tenth helping? You may find your mouth watering involuntarily as you recall the moment the succulent dish met your lips. You may fantasize about fresh farm vegetables nestled in protein-packed quinoa, artfully drizzled with a delectable mix of fresh lime juice, cilantro, and EVOO. You may drive yourself insane trying to figure out the ratio of the ingredients to recreate the intense high of food porn. I have been there. I've got you.
Lucky for you, being the side dish slut that I am (with Chef Julie connections), I am about to share a healthy dish that will ensure your July 4th festivities come off with a bang. Quinoa Crack is not wack. It is addictive, but in a OMG-I-actually-freaking-love-a-healthy-vegetarian-dish-that-won't-give-me-sneaky-swimsuit-plumber's-crack-this-summer way. You can thank me later, loves.
Ingredients
3 cups cooked quinoa, cooled
1 can of black beans, rinsed and drained
1 cup of corn, cooked (if possible, use fresh…it is summer!)
2/3 cup red pepper, diced
1/2 red onion, chopped
Handful of grape tomatoes, halved
1 cucumber, chopped
1/4 cup fresh cilantro, chopped
3 limes, juiced
2 tablespoons cumin
2/3 cup of EVOO
Salt and pepper to taste
Method
Mix all ingredients together, adding the lime juice, EVOO, and salt and pepper at the end. Refrigerate overnight to intensify the flavors. Enjoy!