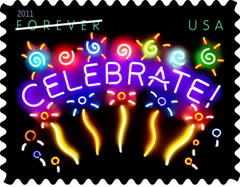 Doesn't it amaze you how much you do for your kids on any given day? It's enough to make me dizzy–no drinks required. I am accustomed to the usual–feeding, clothing, bathing, playing, lunch-making, chauffeuring, tutoring, mentoring, cleaning–but the unusual issues that arise sometimes make me feel like I am running in circles.
Today, I went to several post offices to get the perfect stamp for my stepdaughter's Bat Mitzvah invitations. A side profile of Ronald Reagan simply does not spell party in my neck of the woods, so I was forced to embark on an exhausting door-to-door campaign for hundreds of Celebrate stamps. It took up so much of my time it required a pit stop for overpriced gas.
Once I tracked enough of them down, I stamped, stuffed, and sealed all of the envelopes, and drove back to the closest post office to send them off in style. When I asked the postmaster to hand cancel the envelopes to ensure they arrive looking smashing, he stifled his laughter, informed me they no longer provide that service (no wonder why the US Postal Service is broke), and handed me the device to do it myself. So, I carved out a little spot in the midst of a myriad of pissed off patrons and personally hand canceled all of her invitations.
The only real reward of my crazy day was that I was so busy I skipped lunch and didn't even realize it–which is really unusual. And may be the reason I am feeling dizzy, come to think of it.
It's a good thing my Creamy Apple Squares are really easy to make, even lightheaded. I whip them up after an insane day with the kids to remind my husband I think of him, too (he has a major after-hours sweet tooth). And I have a few calories to spare after skipping lunch, right?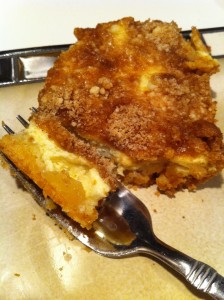 Creamy Apple Squares
Ingredients
1 package of yellow cake mix
1/2 cup butter, softened
1/4 cup firmly packed brown sugar
1/2 teaspoon cinnamon
2 large apples, thinly sliced
1 cup sour cream
1 egg
Method
Combine yellow cake mix and butter and mix until crumbly. Reserve 2/3 cup for the topping. Add brown sugar and cinnamon to reserved topping, mix well, and set aside. Combine sour cream and egg in another bowl and set aside.
Press yellow cake/butter mixture into a crust in an ungreased 9 x 11 glass pan. Cover with a layer of sliced apples. Spread sour cream mixture evenly over the apples. Sprinkle reserved topping all over the sour cream layer. Bake at 350 for about 25 minutes, until top is golden brown.