Last modified on 2012-01-31 01:55:41 GMT. 2 comments. Top.
Pet peeve: When a bunch of people man-handle a pan of lasagna to the point of no recognition–someone steals all of the coveted bubbly brown cheese on the top, a sauce hoarder scrapes the dish dry, and the layers succumb to the pressure of multiple scoops. It's a car crash for cooks…guests can't help but look at it.
Super Bowl Sunday Solution: Lasagna Roll-Ups:. They're self-contained, individual, portable portions of all the ooey, gooey goodness of a pan of lasagna. Trust me on this one…Lasagna Roll-Ups are perfect for a big crowd! Serve with some roasted garlic (recipe below), crusty bread, and olive oil and your fans will be look at your spread…in a good way. Promise.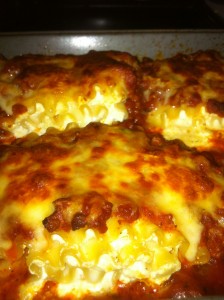 Lasagna Roll-Ups
1 container ricotta cheese
1 bag of shredded mozzarella cheese
1 teaspoon italian seasoning
2 eggs
1/4 cup Parmesan cheese
Lasagna noodles, boiled just short of al dente (they'll cook more in the oven), and drained
Sauce (store bought, or my Turkey Bolognese sauce recipe follows)
Method
Mix all of the cheeses together, reserving some of the mozzarella to sprinkle on top of the Lasagna Roll-ups. Add eggs and Italian seasoning and mix until combined. Set aside.
Cover the bottom of a baking dish with a generous layer of sauce.
Take one lasagna noodle and lay it on a clean surface. Cover it with a nice layer of the cheese mixture, and roll it up. Place in the baking dish, and cover with sauce and mozzarella cheese. Repeat this process until you run out of your cheese mixture. Bake in a 350- degree oven for 30-40 minutes. You can broil the top for one minute to make it golden brown f it doesn't happen in in the oven. Enjoy.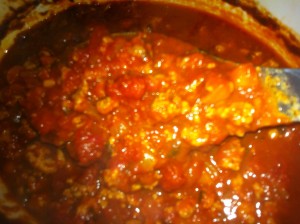 Turkey Bolognese Sauce
(This sauce can simmer all day in the crockpot!)
Ingredients
2 tablespoons olive oil
2 carrots, peeled, finely chopped
2 medium onions, finely chopped
2 cloves garlic, minced
1 pound ground turkey
1/2 cup red wine
1 teaspoon dried Italian seasoining
1 bay leaf
5 cups good-quality strained tomatoes, store-bought tomato sauce, or crushed tomatoes
Salt and pepper, to taste
A few sprigs fresh basil, chopped
1/4 cup Parmesan cheese
Method
Heat olive oil in a sauté pan. Cook onions, carrots, and garlic until translucent. Add turkey, break it up, and cook until it's no longer pink. Transfer into the crockpot.
In the sauté pan, add red wine and cook for one minute or so. Add the tomatoes, Italian seasoning, Parmesan cheese, and basil. Season with salt and pepper to taste. Add sauce to the turkey in the crockpot and mix well. Add bay leaf and simmer on low for 6-8 hours.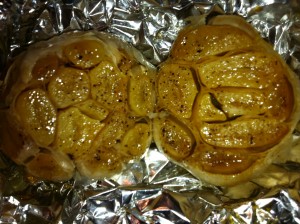 Roasted Garlic
Ingredients
1 head of garlic, with the top cut off, paper still on
Salt and pepper
EVOO
Method
Sprinkle head of garlic with salt and pepper and drizzle generously with EVOO. Wrap in tin foil and bake in a 350-degree oven until it's soft and a golden brown. Yum!
Last modified on 2012-01-30 02:50:43 GMT. 1 comment. Top.
Did you know Super Bowl Sunday is second to only Thanksgiving when it comes to competitive eating (sorry if that term gives you the vision of really skinny guys scarfing down hot dogs with water-logged buns–or is that just me)? People bring it on game day, consuming 1,200 calories on average! What's on your menu?
Trust me, you don't want to eff with fired up football fans. They want food not just worthy of a first down…or even a field goal…they want a touchdown. Actually, more like a TOUCHDOOOOOWN!!!!!!! In a sick way, some of them wouldn't feel right without a trip to the end zone of CVS for some Tums after a full day Super Bowl snacks. Are you ready for your fans?
I got a message from "motherofthree" asking for lots of Super Bowl dishes this week, as she is hosting a "HUGE, HUGE party" and needs some championship worthy ideas. Don't call a time-out, "motherofthree," Chef Julie and I are star quarterbacks (for the couch crowd)! We're going to post a hearty helping of Super Bowl dishes every day leading up to game day. We hope you'll try some of them for your big bash!
First up: Mexican fare that's unforgettable (even after a few drinks). Chile con Queso and Shredded Chicken Soft Tacos are easy to prepare (hey, the tacos are even healthy!), complement each other, and maintain their deliciousness even when they're kept warm for hours. Score.
And don'f forget to submit your best Super Bowl dishes to mommydish@gmail.com! We'll name the winner at the end of the week!
Chile con Queso
Ingredients
2 cups Monterey Jack cheese, shredded
1 cup Mexican blend cheese, shredded
2 tablespoons flour
1 onion, chopped
2 tablespoons butter
1 cup half-and-half
2 4 oz cans of green chiles, drained
Method
Toss together cheeses and flour and set aside. Cook onion in butter until it's soft, and stir in half-and-half. Gradually add in cheese mixture, and stir to combine well. Cook on low heat until warm. Serve with tortilla chips and flour tortillas.
Shredded Chicken Soft Tacos
***Mommy Dish note: double or triple this, depending on the size of your crowd***
Ingredients
1 1/2 cups of good-quality salsa
1 1/2 cups chicken broth
2 boneless chicken breasts
Method
Combine salsa and chicken broth together in a sauce pan and bring to a boil. Add chicken breasts, and lower the heat to simmer. Cook, covered, for 1.5 hours. Remove chicken from the liquid and shred it, using two forks. Add the chicken back into the liquid (Mommy Dish note: I never use all of the liquid because my family prefers less, but some people like more…a happy medium will probably work best). Serve with flour tortillas and all the taco fixins (guacamole, salsa, lettuce, you get the idea).
Last modified on 2012-01-24 15:12:22 GMT. 3 comments. Top.
We're Super Bowl bound, baby!
I say this like I actually did something to contribute to the Patriots' AFC Championship victory. In reality, I fumbled my opportunity to "fan up" for the big game. I didn't slip on a smelly red-and-blue outfit that hasn't been washed all season, do a special Tom Brady Twirl 12 times around my livingroom, and plant my butt in the same exact couch imprint its been in for every win. I mean, I didn't even take the obligatory shot of my son dressed in his "Patriots Future Quarterback" garb and post on it Facebook. I watched the nail biter in-between Alex's pleas to go "night night" (his favorite game is making me fake sleep…it's hard to represent in front of the flatscreen with my eyes closed). Still, miraculously, even with me pulling the fan equivalent of a Billy Cundiff left hook, my boys made it.
We're going to the Super Bowl, baby!
Yes, we. I don't care if you hate the Patriots (How could you?!), or the Giants (that I understand), or football. We're going. You like to cook, right? It's a showdown for us, too!
Last year, I introduced the idea of a Mommy Dish Superbowl Swap, inviting you to share your touchdowns in the kitchen. Reader Kathy Sullivan served up the winning dish…a sinfully delicious Mudd Pie that put me in a chocolate-induced time-out: (http://mommydish.net/2011/02/11/is-cupid-stupid/). I am salivating just thinking about it.
Do you have what it takes to win the trophy this year? Email your latest and greatest Super Bowl dishes to mommydish@gmail.com by January 31. Chef Julie and I will pick the winner (we're collaborating on the dish below–my Caramelized Onion and Mushroom Quesadillas with her Salsa and Guacamole!). I wish I could say I am flying you out to Indianapolis, but, remember, this is a Mommy blog. You get bragging rights. Really, who needs an all-expenses-paid trip when you've got bragging rights on Mommy Dish?!
Game on!
Carmelized Onion and Mushroom Quesadillas with Salsa and Guacamole
Quesadillas
3 tablespoons butter
2 tablespoons plus 1/2 teaspoon EVOO
2-1/2 pounds onions and mushrooms, thinly sliced
Salt and pepper
2 teaspoons sugar
Flour tortillas
Cheddar jack cheese, shredded
Method
In a large cast iron skillet, melt the butter and 2 tablespoons of olive oil over medium-high heat. Add the onions and mushrooms and 1/4 teaspoon each salt and pepper, and cook, stirring constantly, until they begin to soften, about 5 minutes. Stir in the sugar and cook, scraping the browned bits off the bottom of the pan frequently, until the onions and mushrooms are golden brown, about 20 minutes. Set aside.
Add a small amount of oil (about 1/2 teaspoon) and spread it around the bottom of the pan (you could use butter as well). Take one large flour tortilla and place it in the pan. Flip the tortilla over a few times, 10 seconds between flips, to soften.
Add cheese, onions, and mushrooms to taste on one half, fold in half, and cook until cheese is melted and tortilla is golden brown, about 1 to 2 minutes. Repeat for remaining quesadillas. Cut each quesadilla into 4 wedges and serve with salsa and guacamole.
Salsa
Ingredients
5-6 Roma tomatoes, diced
1/2 red onion, very small dice
1/2 red pepper, very small dice
1/2 jalapeño, very small dice (no seeds)
Bunch of cilantro, chopped (to taste)
Juice of one lime
Salt and pepper
Method
Mix all of the ingredients together and store overnight for best flavor. Drain before serving, if needed.
Guacamole
Ingredients
3-4 avocados, mashed
1/4 red onion, very small dice
Juice of one lime
1-2 splashes of Worchesterchire
1-2 splashes of Tobasco
1-2 tablespoons of cilantro, chopped
1 tomato, chopped for garnish
Method
Mix all of the ingredients together. Serve at room temperature.
Last modified on 2013-07-25 21:40:08 GMT. 7 comments. Top.
I lost my crockpot virginity today. What was I saving myself for, anyway?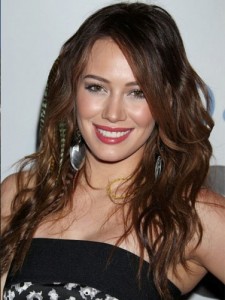 I have cooked thousands of meals from scratch, and have never seriously entertained the idea of a crockpot. Even as crockpot chic ruled the cookbook shelves, I ignored the trend. Crockpots were the equivalent of feather hair extensions in my world–some women flocked to my salon for them while they were in vogue, but I always thought they were for the birds.
That all changed yesterday. My husband and I happened to catch The Rachael Ray Show while both kids were asleep (we drank coffee next to each other with no interruption–what a way to start a New Year!). She was counting down her top ten recipes (affectionately known on Mommy Dish as Rachipes) of 2011, and several of them were crockpot creations! My hubby developed a crockpot crush on a few of them, so I decided to tackle our hot mess of a storage closet to try to locate his crockpot from his single days. His crockpot was topless–shocker–but I improvised and covered it up.
I made Rach's Chicken and Biscuits to rave reviews! Yes, I still had a dirty skillet from browning the chicken, and had to do lots of prep work much earlier in the day…but I felt looked like I really had it together when Scott got home from work tonight. It's official: I am a crockpot convert.
What's your favorite crockpot dish?
Ingredients
4 boneless, skinless chicken breasts, chopped into bite-sized pieces
4 boneless, skinless chicken thighs, chopped into bite-sized pieces
1/2 cup flour plus 3 tablespoons
Salt and pepper
2 tablespoons EVOO – Extra Virgin Olive Oil
1 small butternut squash, peeled and chopped into bite-sized pieces, about 2 cups
3 ribs of celery, chopped
3 carrots, peeled and chopped
1 large onion, chopped
6 leaves of fresh sage, sliced
6 sprigs of thyme, leaves removed and chopped
3 cups chicken broth
1 cup frozen peas, defrosted
2 tablespoons Dijon mustard
2 tablespoons fresh dill, chopped
2 tablespoons parsley, chopped
4 store-bought biscuits
Method
Dredge the chicken pieces in 1/2 cup flour and season with salt and pepper.
Heat EVOO in a large skillet over medium-high heat and brown chicken pieces on all sides.
Place browned chicken, butternut squash, celery, carrots, onion, sage, thyme, 3 tablespoons flour, salt and pepper. Mix to combine then pour in the chicken broth. Cover and cook, undisturbed, 4 hours on high or 6 hours on low.
Just before serving, add in the peas, Dijon, most of the dill and most of the parsley into the slow cooker. Mix to combine and warm the peas through.
To serve, place a biscuit in each bowl, spoon the chicken mixture over the biscuits and top with a little more dill and parsley.
Last modified on 2011-12-18 13:03:15 GMT. 4 comments. Top.
It's beginning to look a lot like…Christmas. Hanukkah. Kwanzaa. No matter what you celebrate, time is not on your side. Sorry if I am slapping you in the face with the reality that the holidays are creeping up on us like a cheap pair of underwear, but that's what I am here for. A little tough love (and a subtle plea to spend some money on your skivvies at your age).
Whether you're a SuperMommy who shopped throughout the year, stashed your gifts in places you won't forget, and are sitting back waiting for the festivities to begin (so not me), or a SlowerMommy who knows she can get it all done the night before if need be (I consider it a personal triumph I sent out holiday cards instead of New Year's cards this year), you have something in common, I bet. You aren't thinking about yourselves. Who has the time, really?
Well, I do. I made time this year. I decided to use my extra long days–thanks to 5:20 a.m. wake-up calls by my resident rooster–wisely by thinking about my Top Five Gifts for Overtired Mommies. Suspend your MommyGuilt for one minute and think about yourself. You can do it. Read the freaking list before you fall asleep, okay?
Below are the items that help me get through my everyday life: 6:00 a.m. chants for "blueberries please" (yes, Alex begs for them every morning politely, and I am constantly searching for organic ones during this off-season), chasing him everywhere (kid's gotten fast…I seriously need to hit the gym), hiding items he shouldn't have, tricking him into giving them up when he finds them, driving to activities, preparing meals, drawing baths, reading stories…you know the deal because you made it, too. Here's my secret stash of stuff that helps me function:
Top Five Gifts for Overtired Mommies
1) Hallelujah for Bra-llelujah! This Spanx invention is giving sexy back, yeah! It's an all-hoisery bra with a front closure designed for maximum comfort and minimum back fat. Even if you're supermodel thin (um, I don't think we can be friends anymore if you are), you can still fall victim to back bulge and it's so not hot. It is pricey ('tis the season for splurging), but worth every penny. Your girls will defy gravity, your back will look smooth, and you'll gain a few minutes of time not wrestling your bra straps into place. This is the only bra I have ever owned that I didn't want to burn.
http://www.spanx.com/product/index.jsp?productId=3769277&cp=3010052&parentPage=family
2) Starbucks K-Cups. I believe I've talked about my genuine love and admiration for the almighty coffee bean many times, and now…just in time for the holidays…industrial strength Starbucks coffee is available for your Keurig. Hello, lover.
http://www.starbucks.com/coffee/k-cup
3) Clinique All About Eyes Serum: It de-puffs. It cools. It brightens. Tired eyes look less sleepy. Really, it's a Mommy's BFF for $26–and it's even better if you store it in the fridge. My husband bought this for me on Mother's Day. (He went to Clinique and showed the sales girl photos of me to fill a big yellow box with goodies I'd like. I am a make-up/skin care junkie, and this was one of my favorite finds.)
http://www.clinique.com/products/1683/Skincare/Eye_Lips/index.tmpl
4) Borghese Exact Match Concealer
I was accosted by a Borghese associate recently, right at the time when Alex was about to freak from too much shopping. He was right there. I knew I had moments to spare. She quickly talked me into this concealer without Alex losing it, and I am so grateful. You can mix and match the colors to find your perfect shade. Mine changes with the day, depending on how much sleep I did–or didn't–get. Love it.
http://www.borghese.com/product_detail.cfm?c=c&pid=492469
5) Andes Creme De Menthe Baking Chips: I was browsing through my second home Target recently and stumbled on Andes Creme De Menthe Baking Chips. Yes, the divine little mints I used to get under my pillow when I had a life and stayed in hotels now come in itty bitty chips. I bought a bag (or two…don't judge), went home, and started baking. I came up with my own version of Thin Mints. Baking de-stresses me; if you're the type who doesn't like to bake, make someone do it and eat my festive cookies! They're so good they'll keep you up! Promise.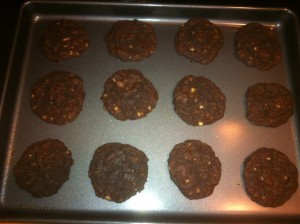 "Thin Mint" Cookies
Ingredients
1 cup unsalted butter, at room temperature
1 cup white sugar
3/4 cup packed brown sugar
2 eggs
1  1/4 unsweetened cocoa powder
1  3/4 cups flour
2 teaspoons baking soda
1 teaspoon vanilla
2 cups Andes Creme De Menthe Baking Chips
Pinch of salt
Method
Preheat oven to 350 degrees. Grease cookie sheets.
In a large bowl, cream together the butter and sugars until light and fluffy. Add in the eggs, one at a time, beating well after each addition. Add the vanilla.
Combine the the cocoa, flour, and baking soda, and gradually stir into the creamed mixture. Fold in the Andes Creme De Menthe Baking Chips. Drop by rounded spoonfuls onto prepared cookie sheets. Bake for about 9-10 minutes (depending on size). Yum!
Last modified on 2012-02-28 15:39:58 GMT. 8 comments. Top.
Scene: a waiting room.
A forty-something-year-old man sits across from me to stroke his ego with some signature smooth talk (why me–the woman with a squirmy toddler, rockin' C-section pouch, and noticeable wedding rings–I have no clue). In the time it takes for me to pop a binky in Alex's mouth (I wish I had one for him), he tells me he's never been married ("I travel too much for business"), owns a successful start up ("I live a very nice life"), and has no kids ("I had a scare or two…but I don't have any that I am aware of ").
I fought off a huge urge to take a shower while searching for the appropriate conversation-ender in my head. No need. My little wing man stepped in…and, believe me, he delivered.
"Dada?!" Alex yelled, at the top of his lungs. "Dada?," he repeated, pointing right at the middle aged Casanova closing in on his Mommy. The rest of the people held hostage in the waiting room looked up from their trashy magazines, curious if a real-life soap opera was about to unfold right in front of their eyes.
"Dada! Dada! Dada!" Alex chanted, while kicking his legs to the beat of his voice. No turning the page on this story, folks.
"Uh, I am not your Dada," Casanova stammered. And then, noticing he had an audience, he continued with confidence, "I think I'd remember your mother."
Shower. Stat.
This was just one of many instances of Alex calling men "Dada." Black, white, short, tall, young, old…he doesn't discriminate (hey, at least I am teaching him well). If he sees a man–any man- he might call him "Dada." And he makes it more dramatic by calling them out on their paternity in a public forum with his pointer finger.
It happens every single day…the only variable is how the men react. Some chuckle, some– like Casanova–make an off-color remark, some run away with their head down fearing I called the authorities, some say "Dada is at work", some tell him any man would be proud to be his "Dada." But there's always a reaction. And I am always ready to end the conversation.
Did your kids go through this phase? When does it end?
***If you make my raisin squares you will never want to stop eating them. I know raisins don't sound sexy, but, believe me, this is a real Casanova dessert.***
Raisin Squares
Ingredients
1 cup unsalted butter or 1 cup shortening (Mommy Dish note: I never use shortening but my original family recipe calls for it)
1 teaspoon baking soda
1 1/2 cups sugar
2 eggs
2 cups flour
1 teaspoon cinnamon
1/2 teaspoon salt
1 cup raisins boiled in 2 cups of water for one minute; retain 1 cup of raisin liquid (and let it cool)
Method
Mix all of the above ingredients together, including the cooled raisin liquid. Pour into a greased jelly roll pan. Bake in a 375 degree oven for 25-30 minutes.
Frosting
1 box of confectioner's sugar
1 tablespoon butter
1 teaspoon vanilla
Milk to thin
Mix all of the above together. Spread over warm raisin squares. Enjoy!
Last modified on 2011-11-23 03:59:27 GMT. 5 comments. Top.
Chef Julie has spoken!
I narrowed the Mommy Dish Side Dish Slut contest down to the final four, but simply couldn't pick a Head 'Ho (uh, winner). It was like choosing children (I am so thankful for all of you). Told you I am easy! Good thing I have Chef Julie to do my dirty work.
I hate to pull a Ryan Seacrest on you and torment you with his signature, "We'll find out who's going home after the break" tease, but that's exactly what I am going to do. I am going to reveal the triumphant trollop of the Mommy Dish Side Dish Slut contest tomorrow. The dishes below are too divine to ignore…and the sluttiest side dish is among them! Can you guess which one it is?
Here's the final four (in no particular order):
1) Twice-Baked Sweet Potatoes
Submitted by Kelly Cushing
Ingredients
6 sweet potatoes, even in size and scrubbed
4 tablespoons brown sugar
4 tablespoons butter, room temperature
4 ounces cream cheese, room temperature
1/2 teaspoon ground cinnamon
1/4 teaspoon ground nutmeg
1/4 teaspoon ground ginger
Salt and freshly ground black pepper
Method
Preheat oven to 375 degrees.
Place sweet potatoes on sheet tray and bake for 1 hour or until soft. Remove from oven and let stand until cool enough to handle.
Split potatoes and remove the flesh to a medium sized bowl, reserving skins. In another bowl, add brown sugar, butter and cream cheese and the all of the spices and mash with a fork or rubber spatula.
Add the butter and cream cheese mixture to the sweet potato flesh and fold in completely. Add the filling back to the potato skins and place on a half sheet tray. Bake for 15 minutes or until golden brown.
2) Butternut Squash and Apple Crisp
Submitted by Kim Checkoway
Ingredients
1 small butternut squash (about 2-21/2 lbs)
2 tart apples
1/2 cup brown sugar, firmly packed
4 tablespoons butter, cold
1 tablespoon flour
1 teaspoon salt
1/4 teaspoon cinnamon
1/4 teaspoon nutmeg
Method
Butter a 2-2 1/2 quart baking dish.  Heat oven to 350. Peel, seed, and cut squash into small pieces (obviously you can buy the squash already cut). Core the apples; peel and cut into thin slices.  Toss squash and apples together. Transfer squash and apple slices to the prepared baking dish.
Combine brown sugar, flour, salt, cinnamon, and nutmeg; cut in butter with fork or pastry cutter until crumbly. Sprinkle crumbs over sliced squash and apples.  Cover tightly with foil and bake at 350 for 50-60 minutes or until squash is tender.  I found it actually took about 75 minutes before it was ready. Enjoy!
3) Cranberry and Pear Relish
Submitted by Jody King
1 (16-ounce) bag fresh cranberries
1 cup water
1 1/2 cups sugar (or to taste)
3 to 4 unripe pears (Bartlett, Anjou, or Comice), peeled and diced
1/4 cup freshly squeezed lemon juice
1/4 teaspoon ground cinnamon
1/4 teaspoon ground allspice
Rinse and pick over the fresh cranberries, discarding stems and imperfect berries.
In a large saucepan, bring the water and sugar to a boil. Add the pears and simmer for 5 minutes. Add the cranberries and bring the mixture to a boil. Cook, stirring, until the berries start to pop, about 5 minutes.
Remove the pan from the heat and add the lemon juice, cinnamon, and allspice. Refrigerate and enjoy!
4) Grilled Acorn Squash with Asiago Cheese
Submitted by Leah Hirschorn
Ingredients
3 acorn squashes, 1 1/4- 1 1/2 pounds each
4 tablespoons unsalted butter
1 tablespoon brown sugar
3 tablespoons finely chopped fresh sage
1 teaspoon granulated onion
1 teaspoon maple syrup
1/2 teaspoon kosher salt
1/4 teaspoon freshly ground black pepper
1/2 cup freshly grated asiago cheese
Method
Light a grill (Leah uses a gas grill). While the grill is heating up, carefully cut each squash in half lengthwise with a large knife. Scoop out and discard seeds and strings.
Melt butter in a small saucepan over medium heat. Add brown sugar, 2 teaspoons of sage, granulated onion, maple syrup, salt, and pepper, and stir to combine. Brush butter mixture all over the exposed flesh of the squash.
Put squash on the grill, not directly over the flame. Place squash, cut side up, on the cool side of the grill. Cover and grill for 30 minutes. Sprinkle cheese all over the exposed flesh of each squash. Cover and grill until very soft when pierced by a knife and cheese is browned, about 30 minutes more. Sprinkle with remaining sage and serve warm.
Last modified on 2011-11-18 02:21:49 GMT. 3 comments. Top.
I am a side dish slut. It's one reason why my husband fell in love with me.
Let me explain.
When Scott and I first started dating, he was on his very best behavior…opening my car door every time, gushing about my "gorgeousness" every day, spoiling me in every way (he bought my cat a toy, okay?). We went out every Saturday night–I once had time to shop for new outfits that showed off a legitimate waistline, get properly primped from head-to-toe, and actually curl my hair in sections–to incredible restaurants. He asked me if I was craving anything before making reservations.
Uh, that's the way to make a foodie's dress fall to the floor!
One night, I told him I wanted to go to Ruth's Chris Steakhouse. He stared at me in disbelief. I had already schooled him on my vegetarianism; he was one of those guys who thought I gathered nuts and berries in the backyard for meals.
"Why would you want to go there?"
"They have delicious side dishes. I have to order a few of them because it's impossible to pick just one!"
He had to take a deep breath to stop himself from blurting out a premature "I love you" to his side dish slut.
Really, it was the beginning of our marriage.
Side dishes have always ruled my Thanksgiving plate. Savory herb stuffing, rich and buttery Yukon Gold mashed potatoes, fresh cranberry sauce infused with citrus, candied sweet potatoes, green beans smothered with cream and crisp onions. And don't even get me started on the desserts. Who needs turkey?
This Thanksgiving, Chef Julie and I are hosting a contest to find a new side dish to add to our tables. Send us your best side dishes–Grandma won't be mad at you for sharing!–by next Tuesday, November 22. The winner will get bragging rights on Mommy Dish (prize enough, don't you think?) plus a $20 gift card. Chef Julie and I will prepare the winning dish together and serve it to our families on Thanksgiving.
Get cookin' Mommies! Email your recipes to mommydish@gmail.com!
***Chef Julie's scrumptious Pumpkin Cheesecake will get you in the mood for a competition! It's a fantastic alternative to traditional pumpkin pie on Thanksgiving.***
Pumpkin Cheesecake
Ingredients
1 1/2 cups crushed gingersnap cookies
1/2 cup finely chopped pecans
1/3 cup butter, melted
3 (8-ounce) packages cream cheese, at room temperature
1 (15-ounce) can pureed pumpkin
3 eggs plus 1 egg yolk
1/4 cup sour cream
1 1/2 cups sugar
1/2 teaspoon ground cinnamon
1/8 teaspoon ground nutmeg
1/8 teaspoon ground cloves
2 tablespoons all-purpose flour
1 teaspoon vanilla extract
Method
Preheat oven to 350 degrees. In a medium bowl, mix together the crushed gingersnap cookies, pecans, and butter. Press into the bottom and about 1 inch up the sides of a 9-inch springform pan (Mommy Dish note: Chef Julie prepared individual cheesecakes for our photo-op). Bake crust for 10 minutes and let it cool.
Beat cream cheese until smooth. Add pumpkin puree, eggs, egg yolk, sour cream, sugar, and spices. Add flour and vanilla. Beat together until well combined.
Pour into crust. Spread out evenly and place into oven for 1 hour. Remove from the oven and let it sit for 15 minutes. Cover with plastic wrap and refrigerate for 4 hours. Top with whipped cream.
Last modified on 2011-11-02 02:14:00 GMT. 8 comments. Top.
Halloween was a trick this year, and I am stuck with lots of treats. Really, a girl who's still recovering from that intoxicating feeling of having her husband trip on himself to fulfill every pregnancy craving should not be surrounded by an overflowing bowl of chocolate (plus unopened bags of temptation begging me to rip them open). I mean, does the superfreak storm–the October Grinch– have to mess up my never-ending diet, too?
For the first time in my life, Halloween was canceled. Seriously. Thankfully, Ashley is simply too cool and Alex has no clue–I can't imagine what it was like for parents of kids who wanted to show off their costumes, trick-or-treat with friends, and rush home to count their loot (children who refuse to clean their rooms will organize Halloween candy with OCD-like precision—and they will never forget the annoying neighbor who hands out raisins or dental floss).
I thought I lived in a pretty tame suburban neighborhood, but it turns out I am surrounded by a bunch of rebels. I was preparing dinner as usual when my doorbell rang. Buzz Lightyear, Woody, Casper the Friendly Ghost, a monkey, and a princess chimed in unison, "Trick or Treat!" with their parents stifling their proud giggles in the background. It was a miracle on our street!
I quickly abandoned the sauce simmering on my stove, suffered through Alex's repeated protests about donning his sheriff hat, slipped on my prisoner costume, and took enough (um, maybe one hundred?) pictures to get one good shot for posterity, and hit the streets.
There's a rumor the people who actually listened to the authorities will be trick-or-treating here on Friday night. I'll make every attempt to save some Halloween candy for them, too (code for Scott–hide the unopened bags, please!).
Hope you had a spooktacular night!
***Am I the only one who reserves one pumpkin to carve on the day of Halloween so I can toast some fresh pumpkin seeds? It's a tradition in
my house, made even sweeter because Alex helped me this year (typical boy loved putting his hands in the pumpkin goop). The spices I use give the pumpkin seeds a little kick–just like my neighbors kicked the Halloween spirit into gear last night!***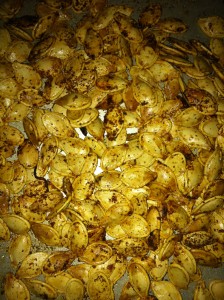 Pumpkin Seeds
Ingredients
Fresh pumpkin seeds, washed and patted dry
Olive oil
Paprika
Garlic powder
Salt and pepper
Method
Preheat oven to 350 degrees. Coat pumpkin seeds with olive oil. Add paprika, garlic powder, salt, and pepper, to taste. Bake for about 10 minutes. Yum!
Last modified on 2011-10-31 02:36:17 GMT. 6 comments. Top.
Once again, I woke up, completely freezing, to the purr of our neighbor's generator in the middle of the night. My ridiculously spoiled cat with anger management issues was nestled in-between Scott and I in a way that I had a sliver of comforter. Instead of risking flesh battling the cat (I swear she has venom in her claws), I fumbled around in the pitch black darkness for an extra blanket, but they were all taken by teenage girls celebrating Ashley's 15th Birthday in our basement.
Ah, the joys of living in New England.
The spooktacular October snowstorm that robbed us of power also scared away a number of adult guests I was planning on for Ashley's birthday party. I spent countless precious post-bedtime hours cooking all of her favorites (homemade dips, panzanella salad, butternut squash lasagna, baked rigatoni, turkey meatballs, yellow cake with vanilla buttercream frosting, chocolate chip cookies). I could feed all of the witches, goblins, and ghosts in my town with leftovers tomorrow–if Halloween is still on, that is.
As if frozen hands and an overstuffed freezer aren't enough, it looks like Halloween is going to be postponed. How can kids in uncomfortable costumes navigate slick roads littered with downed trees and expect candy from people suffering in candlelit homes? Boo! The superfreak storm has the spookiest night of the year shaking in its boots, too.
Mother Nature, are you high or something? I delayed apple picking because it was unseasonably warm, and now I have to postpone Halloween because of freaking snow? Generally, I am not one who whines about the weather, but I have to admit I am feeling a little Freddy Krueger about the current pattern. Get it together, please.
***The cake I prepared for Ashley is simply divine. Moist and buttery, it's one I found and perfected off of the Bakerella site. Don't postpone making this cake…it is so delicious it's downright scary!***
Yellow Cake with Vanilla Buttercream Frosting
Cake Ingredients
1 cup (2 sticks) of butter (room temperature)
2 cups of sugar
4 eggs (room temperature)
3 cups of sifted self-rising flour (White Lily)
1 cup of whole milk (room temperature)
1 teaspoon pure vanilla extract
1/2 teaspoon butter flavoring
Method
Preheat oven to 350 degrees.
Grease and flour (3) 8 inch cake pans. Using a mixer, cream butter until fluffy. Add sugar and continue to cream for about 7 minutes. Add eggs one at a time. Beat well after each egg is added. Add flour and milk (alternating to creamed mixture), beginning and ending with flour. Add vanilla and butter flavoring to mix; until just mixed. Divide batter equally into three cake pans.
Hold each layer about 3 inches above your counter and carefully drop the pans flat onto counter several times to ensure release of any air bubbles. This will help you have a more level cake.Bake for 25 – 30 minutes (depending on your oven) until done. Cool in pans for 5 – 10 minutes. Remove and immediately wrap each layer in plastic wrap to seal in moisture. Cool completely on wire racks.
Once cooled, you are ready to assemble your cake. Here's a little trick to add moisture into your layers:
Combine 1 cup of sugar and 2 cups of water. Bring to boil and boil for approximately 3 minutes. Let cool. Pour liquid into a spray bottle.
Unwrap first layer and using a serrated knife, level off the top of your cake. Place layer onto your dish. Take a straw and poke holes into the layer. Using your spray bottle, spray top of layer several times; enough to give it a little moisture. Be careful – don't add too much. Add a layer of frosting to your bottom layer. Repeat on second and third layers. Frost the sides.
Vanilla Buttercream Frosting Ingredients
1 cup (2 sticks) butter (room temperature)
1 teaspoon pure vanilla extract
1 1b. 10X powdered sugar
1-3 teaspoons milk, half and half or cream
Method
Using a mixer, cream softened butter and vanilla until smooth. Add sugar gradually, allowing butter and sugar to cream together before adding more. If you want your frosting a little creamier, add a teaspoon of milk at a time and beat on high until you get the right texture. Enjoy!
Last modified on 2011-10-27 02:23:41 GMT. 4 comments. Top.
Alex is an American bad a$$.
Don't be fooled by his disarmingly charming smile, his signature dimples, his angelic voice crooning hello on repeat, his willingness to share. If you're pint-sized, he will take you down.
Consider yourself warned.
Hey, kid at Gymboree making a move on the must-have maraca. Back off, son…if you know what's good for you.
Unsuspecting niece visiting from Costa Rica…don't fall for his love in a strangle hold. Run–don't walk–away from an embrace that lasts more than one minute…especially if you're hogging the toys (yelling "¡Es mía!"–"mine" over and over again does not translate well in Alex's world).
I used to be able to relax a little bit and swap stroller squad stories at Gymboree. Ah, those were the days. I'd supervise closely, of course, but I didn't have to rely on multiple personalities to pull off a play date (managing a tense b*tch anticipating an attack on the inside while laughing freely on the outside). Alex is so smart…he works the room with his best flirty material and goes in for a big 'ol baby hug while the Mommies coo about his incredible sweetness. And then he strikes (and Mommy apologizes while fanning herself through a hot flash of humiliation).
Alex is an absolute doll to adults and to kids who are younger than him, but he's going through a little phase of kicking a$$ and forgetting names (he calls them all "baby") at the moment. Besides matching him up against a four-year-old (already on tap for this weekend), do you have any ideas on how to deal with this phase? Mommy needs a time-out!
***So, I am a little distracted by this issue, and needed to make a quick dinner. Mango Chili Chicken is ready in 20 minutes flat, leaving me with plenty of time to mull over my little hooligan's behavior.***
Chili-Mango Chicken
(My husband clipped this recipe out of his Men's Health magazine and asked me to make it. That's love, folks.)
1 pound boneless, skinless chicken breasts (thin), cut into 1/2″ pieces (Mommy Dish note: the original recipe called for chicken thighs; not my family's favorite!)
1 tablespoon cornstarch
1 tablespoon low-sodium soy sauce
1/2 tablespoon sesame oil
1/2 tablespoon peanut or canola oil
1 red onion, chopped
1 tablespoon grated or minced fresh ginger
2 cups sugar snap or snow peas
1 mango, peeled, pitted, and chopped
1 tablespoon chili garlic sauce (preferably sambal oleek)
Black pepper to taste
Method
Combine the chicken, cornstarch, soy sauce, and sesame oil in a mixing bowl and let sit for 10 minutes.
Heat the peanut oil in a wok or large skillet over high heat. Add the onion and ginger and cook for 1 to 2 minutes, until the onion is translucent. Add the sugar snaps and stir-fry for 1 minute, using a metal spatula to keep the vegetables in near-constant motion. Add the chicken, along with its marinade, and stir-fry for about 2 minutes, until the meat begins to brown on the outside. Add the mango, chili sauce, and black pepper and stir-fry for 1 minute longer, until the chicken is cooked through and the mango has softened into a near sauce-like consistency. Serve over brown or white rice.
This one's healthy…only 8 grams of fat per serving! Enjoy!
Last modified on 2011-10-22 19:58:37 GMT. 7 comments. Top.
Do unto others as you would have them do unto you. I am no bible preaching Mommy–far, far (really, really far) from it–but this rule is one I adore.
There's signage all over my doctor's office threatening patients in nice flowery language that tardiness will not be tolerated. Fifteen minutes late and don't let the door smack your tush on the way out. It's ruthless. I've been meaning to find another doctor who understands a car seat wrestling match may set me back a few minutes despite my champion pin-and-win technique, but I haven't done it yet. Shocker.
Despite being slammed by every excuse in the book–a last-minute outfit change due to a faulty sippy cup (they all SUCK!), Masshole traffic in the rain (everyone regresses to student driver status when one drop falls here), and a highly entertaining game of hide-and-seek for an earring Alex yanked out in the parking lot, I made it. Early.
I checked in with a smug look on my face. Yeah, receptionist with a stopwatch not-so-stealthly nestled under your desk, clock that time. Not just on time…early. And I smelled divine, too (sidebar: am I the only one who has to shower before doctor's appointments, not just girly parts doctor's appointments–curious?).
My doctor–with her hoity toity fifteen minute rule–was one hour and fifteen minutes late for my appointment.
I can't get over it.
Sure, she apologized (she could clearly see by my sweaty lip the mad skill it took to entertain a toddler in a white-walled waiting room for effing eternity), but I feel cheated. It was an empty calorie apology–like throwing a half-eaten bag of Cheetos in my face when I am starving for a gourmet meal. "Sorry, sometimes this happens when you book my last appointment of the day."
Listen, lady, I would be far more forgiving if you weren't such a fifteen minute freak. Do unto others…
Am I right, or am I right??
***To serve dinner on time, I pre-made it–using a Rachipe (Rachael Ray recipe) as a base and adapted it for my family's tastebuds. Turkey Shepherd's Pie is flavorful and healthy…a perfect meal-in-one for the fall.***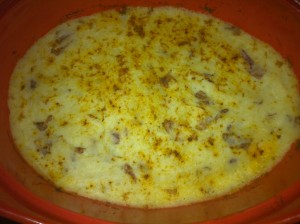 Turkey Shepherd's Pie
Ingredients
4 large Idaho or russet potatoes (2½ to 3 pounds), peeled and cut into chunks (Mommy Dish note: I used red potatoes, skin on, for the extra nutrients)
Salt
2 tablespoons extra-virgin olive oil (EVOO)
2 slices bacon, chopped or snipped with kitchen scissors (Mommy Dish note: I omitted this ingredient)
2 pounds ground turkey or ground turkey breast
Freshly ground pepper
2 onions, chopped
2 carrots, peeled and chopped
2 tablespoons Worcestershire sauce (eyeball it)
2 teaspoons poultry seasoning, such as Bell's
2/3 cup heavy cream or half-and-half (Mommy Dish note: I used half-and-half)
1 large egg, beaten (Mommy Dish note: I omitted this ingredient)
2 tablespoons butter
2 tablespoons snipped or chopped chives
1 cup frozen peas, thawed
1 teaspoon paprika
Method
Place the potatoes in a small, deep pot, cover with water and bring to a boil, covered, over high heat. Salt the water and cook until tender, 12 to 15 minutes.
Meanwhile, heat the EVOO , 2 turns of the pan, in a deep skillet over medium-high heat. Add the bacon and cook until crisp, about 3 minutes, then add the turkey and break it up with a wooden spoon. Season with salt and pepper and cook until browned, about 5 minutes; push it to the side and add the onions and carrots to the center of the skillet. Season with salt and pepper and cook, stirring occasionally, for 5 minutes, then mix everything together. Stir in the Worcestershire sauce and poultry seasoning. Lower the heat to medium and cover the pan with a foil tent to keep in some of the moisture. Cook for 6 to 7 minutes.
Preheat the broiler to high. Drain the potatoes in a colander and return them to the warm pot. Using a pot holder to hold the pot, add 1/3 cup cream, salt and pepper, the egg, butter and chives and smash away with a masher until the potatoes are almost smooth but still a little lumpy.
Remove the foil from the pan and stir in the peas and the remaining 1/3 cup cream. Scrape up any browned bits from the bottom of the pan and turn off the heat. Scrape the turkey mixture into a casserole dish and top with the potatoes. Broil until the top is golden brown. Sprinkle with the paprika.
Last modified on 2011-10-18 01:49:38 GMT. 8 comments. Top.
When I became a stay-at-home Mommy with a freelance twist I started talking to myself. A lot. Where did I put the freaking baby monitor? When did I become the resident maid? No matter how hard I try I simply cannot make friends with my c-section pouch. Who's stealing all the socks in this joint anyway? I'd break my vegetarianism to take a bite out of Alex's adorable cheeks. Only 5 hours until bedtime…I can make it. I heart Mommyjuice.
I can't let you in my head totally…I want you to come back. Truth be told, I am shocked so many of you are still here and care about what I have to say. What's up with you? ; )
Eleven months ago, I launched Mommy Dish to curb my new addiction to chatting myself up. I figured if I could spill it all online it wouldn't be quite as bad. And, surprisingly, you listened. The neighbors don't look at me a little funny anymore–and it's all thanks to you.
The Parents Magazine Best Mom Blog (Funniest) are in…and Mommy Dish came in 3rd out of 104 blogs in my category! Thank you from the bottom of my wine glass for your support. I know this competition was the equivalent to hanging chads in Mommyland–the Error 404 messages, the timed-out servers, the questions about your first born–but you rocked the vote regardless.
I promise I'll keep writing so long as you keep reading. You make me a little less crazy (not the subject of neighborhood gossip), and, for that, I am forever grateful. Cheers!
***I am sharing a few of Chef Julie's dishes to thank you again for your support. You're truly the best!***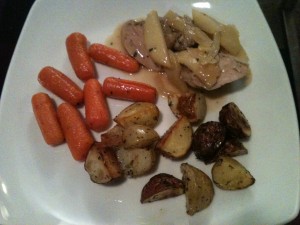 Pork Tenderloin with Apples and Onions
Ingredients
Vegetable oil
1 pork tenderloin (feeds four)
1/2 onion, sliced thin
1 shallot, sliced thin
2 apples, sliced thin–but not too thin
1 tablespoon flour
2 cups apple cider or juice
Fresh chopped herbs such as thyme, parsley, rosemary and/or tarragon, to taste (about 1-2 tablespoons)
1 tablespoon butter
Salt and pepper, to taste
Method
Preheat oven to 375 degrees. Trim the fat and silver skin off of the pork. Put oil in a pan and get it very hot. Salt and pepper the pork generously. Sear the pork tenderloin on both sides to get a nice crust, then put it in the oven for approximately 10 minutes. You can either keep the pork in its pan or transfer it to a baking sheet. Internal temp should be 140-145 degrees. Let rest for at least 10 minutes with a tent of foil over it.
In the same pan, discard the oil and replace with new oil (but keep all of the bits at the bottom). On medium-high heat, add the shallot. Cook for 1 minute. Add the onion and apples. If you're getting color on the onions or apples, turn down the heat. Cook for about 5 minutes until tender, with a bite. Add flour, cook for 1 minute. Add cider. Turn up the heat to a nice simmer. Cook for 1-2 minutes. Add 1-2 tablespoons of the fresh herbs. Turn off the heat and stir in the butter. Slice the pork 1/2 inch thick, put on a platter and pour the sauce over it.
Roasted Carrots
Ingredients
Baby carrots
Fresh thyme and/or parsley
1 tablespoon butter
1 lemon, juiced
Honey (optional)
Preheat oven to 425 degrees. Toss the carrots with oil, salt, and pepper. Cook for 30-45 minutes until fork tender, with a bite. Finish with chopped parsley and/or thyme, a tablespoon of butter and the juice from one lemon. Add honey to taste (optional).
Roasted Potatoes
Ingredients
Potatoes (red bliss, white, purple, or fingerling–or a combination of a little of each works well)
Olive oil–enough to coat potatoes
Fresh herbs, to taste (rosemary, etc.)
Salt and pepper
Quarter the potatoes, fingerlings you would cut in half. If you're cutting them in advance, be sure to keep them in water so they don't turn brown. Toss in oil, salt, pepper and fresh herbs. After 20 minutes in the oven, move them around with a spatula. Cook for approximately 40 minutes, but taste as you go for doneness. Enjoy!
Last modified on 2011-10-05 13:10:09 GMT. 9 comments. Top.
'Tis the Season. Haven't you heard?
I was feeling pretty good about myself at the mall today, starting my search for an insanely cute Halloween costume for Alex 27 days early. In the past, I've relied on the holy trinity of procrastinator enablers: rush Internet orders, Target, and the kindness of strangers (Mommies on Etsy will customize orders quick with a slight tug on their heartstrings). I was there–with my wallet (another miracle; I have better luck finding my keys since I've transitioned from handbag to diaper bag)–ready to sift through racks of costumes. I had no fear I'd find one worthy of the photos I will forever keep of Alex's second Halloween. No pressure…none at all.
Imagine my horror when I was greeted by Santa? Not just Old Saint Nick…ho, ho, ho, oh no…a winter wonderland full of festive Christmas trees decorated with shimmering lights, lush garland, and jewel-toned ornaments; overflowing pots of poinsettias; holiday china outlined with winterberries; and a dizzying array of candy canes.
All I am saying is give candy corn a chance!
I felt compelled to ask one of the associates when Santa and his elves regurgitated their workshop in her store. She said everything went up last week. Did I miss the memo that Christmas now starts in September? I know I am Jewish, but come on.
As a fan of both Halloween (feel free to share costume ideas) and Thanksgiving (the Super Bowl for home cooks), I am feeling a little Grinch-like about spreading the holiday cheer this early…and I grew up celebrating Christmas (my Mom converted to Judaism before I was born and still loves the holiday). Are you with me? Or do you think we'd be even better off cuing the Christmas music in July?
In my silent protest to premature Christmas decorator offenders, I went straight home and made Baked Apples. 'Tis the Season for one of my favorite fall dishes.
Baked Apples
Ingredients
1 teaspoon ground cinnamon
1/4 teaspoon ground nutmeg
1/2 cup sugar
6 same-size McIntosh apples
2 tablespoons butter, cut into 6 teaspoon-size pieces
1 cup apple juice
Method
Preheat oven to 325 degrees.
Combine cinnamon, nutmeg, and sugar in a small bowl. Set aside.
Core apples, making sure not to puncture the bottom of the apples so that the juices will remain. Remove skin from 1/2-inch around top of apples at the opening. Fill each cavity with the cinnamon-sugar mixture. Top each apple with a teaspoon of butter. Place apples in a casserole dish and pour apple juice around them. Cover pan with aluminum foil and bake for approximately 45 minutes to 1 hour. Yum. Top with ice cream if you're feeling indulgent!
Time is running out to vote for Mommy Dish! Please take one minute and vote! Many thanks. http://blog-awards.parents.com/blog-awards/mom_blogs/241-mommy-dish
Last modified on 2011-10-01 00:14:10 GMT. 6 comments. Top.
Am I the only one who feels positively frantic during naptime?
I have a 1-2 hour window (depending on the unpredictability of you know who) and 10-12 hours of work.  Do I tackle my dirty kitchen post rockin' Rosh Hashana celebration?  Take a shower to try to wash that Jewish food smell out of my hair (one must follow the shampoo bottle's ridiculous instructions to lather, rinse, and repeat, believe me)? Draft a proposal for a potential freelance client? Write an essay for class that's due Monday? Fold laundry? Watch last night's episode of Grey's Anatomy? Re-roll the toilet paper that Alex devilishly unrolled while a wayward clump of mascara made me blink one second longer than usual?
What am I supposed to choose when there's so much to choose from?
I can't stand when people tell me that a Mommy rests while her baby sleeps. Really? Naptime makes me feel as anxious as when I leave my cell phone in the produce section of the supermarket (yeah, I've done that once or twice, maybe three times…at least I have proof I feed my kids fruits and vegetables!). By the time a clear chore winner in my internal tug-of-war is announced Alex wakes up or Ashley gets home from school. I never get long stretches of free time, but I always have a lot of things to do.
How do you prioritize your precious naptime minutes? Does naptime make you run around like crazy, too?
Oven-Roasted Turkey Breast with Leeks and Cornbread Stuffing (Served at Rosh Hashana dinner last night!)
Ingredients
4 whole leeks, white part only, roots trimmed and cut into rings
3 tablespoons unsalted butter
2 tablespoons EVOO
Leaves from 4 fresh thyme sprigs
Kosher salt and freshly ground black pepper
4 cups crumbled cornbread, store-bought
1 cup chicken stock
1 two-and-one-half pound turkey breast, butterflied
Method
Preheat oven to 400 degrees F
Fill a large bowl with water and add the leeks, swish around with your hands to get the sand out from in between the layers. In a large saute pan over medium heat, add 1 tablespoon each of butter and olive oil. Add the leeks, sprinkle with the thyme, salt, and pepper and cook for about 10 minutes, turning every now and then, until the leeks are softened but not colored. Remove the leeks from heat to cool.
In a large bowl combine the leeks, cornbread, and chicken stock, and season with salt and pepper.
Use a sharp, thin knife to cut down the length of the turkey cutting the breast parallel to the board, almost in half just stopping short of the outside edge. Open out the 2 halves as if you were opening a book. Now you've got a large piece of meat that will cook evenly and is thin enough to roll. Place 2 cups of the stuffing inside each of the breasts and then fold the turkey back over. ***I asked the meat man at Whole Foods to do this for me and he did…don't be afraid to ask if you don't want to do it.***
Place the remaining stuffing in a small baking dish and cook alongside the turkey.
Tie in 4 places with kitchen twine and season with salt and pepper.
Heat the remaining 2 tablespoons of butter and 1 tablespoon of olive oil in a roasting pan over medium-high heat. Put the turkey in the roasting pan and sear all over. Transfer the pan to the oven and roastfor about 55 minutes (internal temperature should reach 160 degrees F on an instant-read thermometer). Take the turkey out of the oven and let it rest for 5 to 10 minutes, then cut crosswise into slices.
This dish was slightly modified from Tyler Florence's original recipe. Happy New Year (if you celebrate); otherwise, Happy Friday!
Last modified on 2011-09-28 03:57:55 GMT. 8 comments. Top.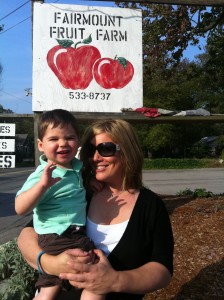 I am a little compulsive. Just a little bit…not a lot, like my husband would mouth if he were looking over my shoulder. A wee bit compulsive. Personally, I think it's kind-of cute.
This morning I decided I had to go apple picking. Today. I have been waiting and waiting and waiting for a crisp autumn day to pile the kids in the car, take a scenic drive on a colorful tree-lined highway, and pull into an apple orchard for an adventure that warranted its own scrapbook I'd never get around to creating (the photos would be stuffed into a special box and shoved under my bed at the very least). We'd purchase our one peck bags at the quaint country store, buy a few waters to keep us hydrated while navigating the hilly countryside, and climb up the trees to get perfectly ripened apples that mere mortals could not reach (apple picking is a skill in New England). Afterwards, we'd stand in the long line for apple cider and homemade apple crisp, find the one open picnic table among a crowd of festive fall-lovers, and indulge in the bounty of the season.
Well, this morning I realized that's just not happening. No matter how long I pretend to be patient.
It doesn't feel like fall at all. As much as I'd love to hide my legs again, it's still shorts weather. It's impossible to take a day off from shaving in 80-degree heat. Our cozy sweaters remain unworn in our closets with the tags attached. There's no vibrant rainbow of leaves delicately falling in the wind, no piles of leaves for Alex to jump in. The A/C is cranking.
The Jewish New Year, Rosh Hashana, begins tomorrow. I serve apples and honey to signify a sweet New Year. I make a mean kugel (noodle pudding) with apples. I had to go apple picking. Today. For religious reasons. Even though it still feels like summer.
I called my Mom and told her I had to find an orchard that was close, flat (strollers and hills don't mix), and filled with apples (it's late in the season due to all of my waiting). Telling her was code for getting her on the case, and it worked. She found the ideal place, just like I knew she would.
We picked Ashley up afterschool and surprised her with apple picking on a Tuesday afternoon. She's been hanging around with me long enough to know it's not uncharacteristic of my compulsive (ahem, cute) personality, and she went along with it with a knowing smile. It's true that the apple doesn't fall far from the tree.
Apple picking wasn't exactly what I envisioned this year, but it was definitely worth the wait.
***I made a quick apple  Rachipe (Rachael Ray recipe) tonight that's beyond easy. I will be posting more apple dishes all this week, so go out and pick some!***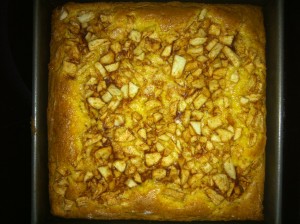 Easy Apple Cake
Ingredients
Box yellow cake mix for a single layer cake, (recommended: Jiffy brand) prepared to package directions
2 tablespoons softened butter
1 McIntosh apple, diced
1/2 teaspoon ground cinnamon
1/4 cup sugar
1 pint butter pecan or rum raisin ice cream
Method
Preheat oven to directions on box. Mix cake mix to directions on box, using 1/2 cup water and 1 egg. Grease a 9 by 9-inch square cake pan or disposable cake pan with butter. Pour in cake batter. Toss apples with cinnamon and sugar and sprinkle on top of cake batter. Bake 20 to 25 minutes. Serve warm cake squares with small scoops of butter pecan or rum raisin ice cream.
Last modified on 2011-09-22 02:46:06 GMT. 17 comments. Top.
Alex's eardrum ruptured!
Tear my heart (and hair) out, please.
Nine traumatic visits to the doctor, three rounds of stomach-shaking oral antibiotics, and three shots in the legs that left tell-tale bruises in the span of one month did absolutely nothing. I would be really pissed if I wasn't so devastated.
I failed to protect my baby.
It happened while I was the lone cheerleader at the only gas station in town that employs people who pump gas for customers (sidebar rant because I am in a raw mood: Why must we fuel our tanks, bag our groceries, return our shopping carts, and check ourselves out at stores and still pay the same amount of money?). I was looking at the new (insanely adorable) picture of Alex I chose as wallpaper for my iPhone when I heard a whimper from the backseat. It wasn't a loud cry, but it was enough for me to drop my cell into the annoying crevice between my seat and the center console, unbuckle my seatbelt, and climb into the backseat to check on Alex.
His right ear was bloody again. Tears of heartache and frustration sprang to the corners of my eyes, but I suppressed them and delivered the most lovingly genuine I promise you will get better smile to my son that has ever crossed my face.
I have to help him. It's my job, my life's mission, the reason why I am his Mommy. I am his protector, his voice, his warm soft washcloth through the pain. I have to help my baby.
By now, I can officially add Pediatrician Stalker as job experience on my resume. I know how to circumvent the automated system in one second flat, offer the specifics needed to pull up his chart on the computer unprompted, and identify the nurses by their voices alone (names are for novices). I got an emergency appointment for an hour later–during dinnertime, of course–and the doctor confirmed what I already knew with my Mommy M.D. Perforated eardrum.
Sounds scary, doesn't it?
My pediatrician saw the fear in my eyes and heard the exasperation in my voice during my follow up (badgering) questions. Did it hurt? Will this affect his hearing? Does he need tubes?  Where do we go from here?
We've been elevated to Ears, Nose, and Throat (ENT)–the gurus at Children's Hospital Boston are expecting us in the morning. Before my pediatrician turned us over to the specialists, she tried to reassure me I did everything in my power to prevent this, that it won't affect Alex's hearing, and that it will likely heal on its own in a couple of months. Most importantly, she said Alex finally experienced a profound sense of relief, which made me well up inside. Still, I am so disappointed in myself. Did I miss something? How could this happen under my watch? I feel like such a failure.
I am so sorry, Alex. I love you more than I love myself, and, I promise, help is on the way, baby.
***I am done with chocolate, for now, but wanted something sweet to counteract the sour in my life. My Oatmeal Raisin Cookies are a treat I look forward to making every fall. There's something about oatmeal that reminds me of this time of year.***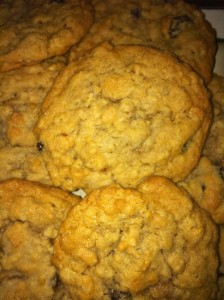 Oatmeal Raisin Cookies
Ingredients
3 eggs, well beaten
1 cup raisins
1 teaspoon vanilla
1 cup butter
1 cup brown sugar
1 cup white sugar
2 1/2 cups flour
1 teaspoon salt
1 teaspoon cinnamon
2 teaspoons baking soda
2 cups oatmeal
Method
This is a crucial first step that makes the cookie: combine eggs, raisins, and vanilla and let stand for one hour. Don't skip it–it's well worth it
Cream together butter and sugars. Add flour, salt, cinnamon, and baking soda and mix well. Blend in egg-raisin mixture and oatmeal. Drop by heaping teaspoons onto ungreased cookie sheet, and bake in a 350 oven for 10-12 minutes or until lightly browned. Yum.
Last modified on 2011-09-20 12:25:30 GMT. 4 comments. Top.
Do you ever feel like you've lost yourself in the Mommy Hood?
I literally do nothing for myself from morning until night…And then I get up with my resident rooster and start all over again. Day after day after day.
Jodi? Jodi who? Have you seen her? (Don't be alarmed I am talking to and looking for myself. It's okay. Promise.)
Today, I carefully wiped Alex's breakfast out of my hair (flinging a spoonful of blueberry yogurt at me makes him giggle), artfully reapplied my makeup over the remnants of yesterday's face (come on, who washes it off every single night?), and slid (okay, stuffed) myself into freshly laundered clothing as I was about leave my house to keep them stain-free. I wanted to represent…or at least blend in with the students at the "Jumpstart Your Novel" writing class in Boston. And I did. Sort-of.
There were just a few frazzled Mommy signs on display. The strap on my cute peep-toed shoes with perfect-sized bows snapped while I was (illegally) crossing the street, so I hobbled into the classroom ten minutes late. I was unshowered because Alex refused his morning nap. And, yes, I peeked at my cell phone more than most during the class looking for texts from The A Team. Otherwise, I was just like all of the other self-indulgent egocentric people who openly cheat on their children to fuel their own dreams of being published authors with adoring readers and beach houses.
What is wrong with me? I complain that I have absolutely no "me" time, and then feel guilty when I actually do something for myself. Do you have that same internal conflict?
***I was pressed for time to make dinner tonight–I was gone for 5 hours with my class and commute–so I made an easy and scrumptious Vegetable Stir Fry with Rice. Meatless Monday! Enjoy!***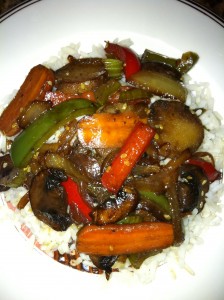 Vegetable Stir Fry with Rice
Ingredients
3-4 tablespoons peanut oil
4 cloves of garlic, minced
2 stalks of celery, chopped
1 large onion, chopped
1/2 red pepper, sliced into strips
1/2 green pepper, sliced into strips
5 large mushrooms, sliced
A handful (about 6) baby carrots, cut lengthwise and sliced
1 can of water chestnuts, drained
3-4 tablespoons Kikoman Teriyaki sauce (or to taste)
1 tablespoon Gravy Master (or to taste)
Sesame seeds, optional
White rice
Method
Cook white rice according to package instructions. Meanwhile, coat a sauté pan with peanut oil, and cook onions until translucent. Add garlic, celery, red pepper, green pepper, mushrooms, and carrots and cook until crisp-tender. Add water chestnuts, Kikoman, and Gravy Master, and cook until the flavors infuse into the vegetables, about 5 minutes. Toss in sesame seeds. Serve over rice.
Last modified on 2011-09-16 14:39:58 GMT. 4 comments. Top.
Pediatricians always supply lollipops to hysterical kids on their way out the door, but what about Mommies? I know parting martinis are completely out of the question, but chocolate would work. Yes, some Hershey Kisses would help heal a Mommy's boo-boo, too.
I am now taking Alex in for a painful shot that has to penetrate the cute fat folds of his precious little leg every other day. Ouch.
The third antibiotic was another epic failure. Alex's ear infection rages on despite the rapid succession of germ-killers opening fire on it for weeks on end. All of my chasing, bribing, and begging him to open his mouth just enough for me to squirt the antibiotics in without initiating a gag
reflex was for nothing. He's still suffering, now with diarrhea up his back, a BRAT diet, Gymboree withdrawal, and Post Traumatic Stress Disorder from visiting the doctor's office too often. Oh, and an evil Mommy for holding him down while the pediatrician injects him with a big needle, too.
Chocolate! Does anyone have any chocolate? I prefer dark with almonds, okay?
I know there are kids much sicker than Alex, that it's just an ear infection that will eventually clear up (eat, pray, love is my mantra until then), but that doesn't make it any easier. The only thing I've done to alleviate some stress is simplify my dishes this week (see below–dinner in no time!). Oh, and buy myself some kisses. A little chocolate love never hurts.
Four Ingredient Chicken
Ingredients
Salad dressing (either Italian or Honey Mustard)
Chicken breasts
Cornflake crumbs
Butter, melted (a few tablespoons)
Method
Marinate chicken in your dressing of choice for at least a half-hour. Pour cornflake crumbs on a plate and coat the chicken thoroughly. Place in a pan and drizzle with butter. Bake in a 350 oven for about a half-hour, or until the chicken is done (depending on the thickness of the breast; I buy thin-sliced).
Easy, right?
Pair with my twice-baked sweet potato if you have a little time (link below), and fresh green beans. Enjoy.
http://mommydish.net/2011/03/04/and-were-off/
Thank you for all of your emails about Alex's ear infection. I received so many well wishes and good advice from readers who have gone through similar situations with their kids. I truly appreciate you caring about my life and my son…and for reading my blog. Please don't forget to vote for it, too:
http://blog-awards.parents.com/blog-awards/mom_blogs/241-mommy-dish
Last modified on 2011-09-07 04:03:42 GMT. 8 comments. Top.
Am I the only Mommy who is a complete and total sucker for her kids?
Let's recap the past 48-hours.
Last night, I was bamboozled into hosting a "night-before-the-biggest-day-of-my-teenage-life" sleepover complete with a nervous gigglefest, last-minute wardrobe consult, new episode of Keeping Up with the Kardashians, and homemade birthday cake. On the very first school night.
I wrote the playbook on playing parents. And, despite a textbook case of Mommybrain, I haven't forgotten one fake-out. Ashley returned home from getting her mandatory back to school mani/pedi yesterday with a classic divide-and-conquer maneuver, asking Scott and I separately if her BFF could sleepover. She knew I'd be the one to tackle my husband into submission if necessary.
How good will I feel when Ashley recounts her first day of High School with a smile on her face someday because I inconvenienced myself a little bit (okay, a lot) on a Monday night? I am an absolute sucker for making memories.
And my son? At 15-months-old he already plays me like a favorite lovey. All he has to do is whimper when he is not feeling well and I create a makeshift bed from couch cushions (if the initial cry is before midnight) or camp out crib side on the bare floor to cater to his every need. I don't simply listen to him on my baby monitor from the comfort of my king-sized bed under my cozy covers. Oh no, no, no. A sleepover in Alex's room was required the night before the teenager sleepover.
What's the big deal if my neck doesn't move for a week afterwards? Who cares if I lay there wide awake with Lionel Ritchie's "All Night Long" on instant replay in my head (I tend to gravitate towards 80s hits in the wee hours of the morning)? So what if I spend more money on K-cups than the average alcoholic does on bar tabs? All Alex has to do is turn over in his sleep and I am there with open arms, a sippy cup, and Children's Advil. I am a sucker for first ear infections.
Really, I am just a sucker for my kids. Are you a sucker for yours? Fess up, Mommies.
***Ashley's BFF celebrated her 15th Birthday over the weekend so I had to surprise her with a cake. I prepared a chocolate cake–my favorite recipe from Ina Garten–and drizzled it with my own icing. The cake did not last 24-hours in my house.***
Chocolate Bundt Cake with Vanilla Drizzle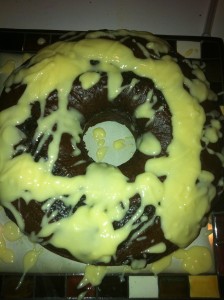 Cake Ingredients
Butter, for greasing the pan
1 3/4 cups flour, plus more for the pan
2 cups sugar
3/4 cups good cocoa powder
2 teaspoons baking soda
1 teaspoon baking powder
1 teaspoon kosher salt
1 cup buttermilk, shaken
1/2 cup vegetable oil
2 extra-large eggs, at room temperature
1 teaspoon pure vanilla extract
1 cup freshly brewed hot coffee
Icing ingredients
1 stick of butter softened
Confectioner's sugar, to taste (start out with 3-4 tablespoons and add to your desired level of sweetness)
1 teaspoon good-quality vanilla
Milk–just a little bit to thin it out
Method
Combine the first three ingredients together using a whisk. Taste for sweetness and add more sugar, if desired. Add milk to thin it out. Set aside.
Method
Preheat the oven to 350 degrees F. Butter and flour a bundt pan.
Sift the flour, sugar, cocoa, baking soda, baking powder, and salt into the bowl of an electric mixer fitted with a paddle attachment and mix on low speed until combined. In another bowl, combine the buttermilk, oil, eggs, and vanilla. With the mixer on low speed, slowly add the wet ingredients to the dry. With mixer still on low, add the coffee and stir just to combine, scraping the bottom of the bowl with a rubber spatula. Pour the batter into the prepared pan and bake for 45-50 minutes, until a cake tester comes out clean. Cool in the pan for 30 minutes, then transfer onto a cooling rack and cool completely.
Drizzle with icing. Enjoy!
Last modified on 2011-09-04 14:51:14 GMT. 6 comments. Top.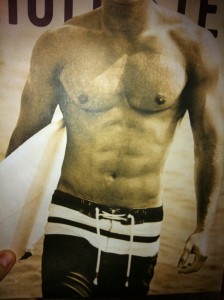 How am I supposed to drag my teenager out of the mall when shopping bags look like this?
Dayuuuuummm!
Ashley is starting High School on Tuesday (hormones galore/I feel ancient), and the heat is on. I am not just referring to the washboard abs, chiseled chests, and big guns draped in barely-there clothing decorating the stores. Or the perfectly symmetrical faces striking come hither poses to entice one into spending more money (hey, works for me). I am talking about the first-day-of-school-outfit.
The anticipation, the butterflies, the pressure. You remember it, don't you?
We spent the day schlepping from store to store, toddler in tow, searching for the perfect outfit to start a new chapter in her life in high fashion. Flattering, trendy, unforgettable. There's nothing like making a grand entrance after a long summer absence in the perfect outfit, nails and toes painted, eyebrows arched, hair styled, makeup expertly applied, and shoes so spanking new she comes home with blisters.
I miss being a teenager so much. These days, I am lucky to leave the house in a shirt I haven't crashed in. Between an insane pack of coyotes howling at 2:00 a.m. (yeah, scary!), Alex's first ear infection, and a group of party crashers–5 new teeth!–invading his mouth all at once, I haven't slept. Shockingly, double vision (partially corrected my an emergency pit stop for a double espresso) served me well today; I was the one who spotted and purchased the perfect outfit.
For the next 24-hours, I have been elevated to SuperMommy status. Alright, alright, maybe it won't last a whole day, but I might as well be whizzing around the living room with a cape (not a broom!) tonight. That feeling makes an expensive shirt worth every penny! Let's collectively pray it feels like fall on Tuesday so she can actually wear it.
Happy back to school shopping, Mommies!
***In anticipation of a full day of shopping, I prepared Mile-High Lasagna before I left. This Rachipe–Rachael Ray recipe–is perfect to serve after a long day at the mall. I popped it in the oven, prepared a salad, and had plenty of time to go over our purchases. Plus, it makes more two pans' worth, so you can freeze one in anticipation of a future shopping spree.***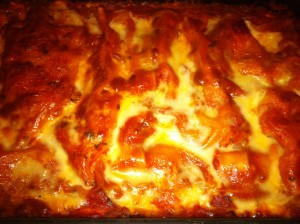 Mile-High Lasagna
Ingredients
2 tablespoons extra virgin olive oil (EVOO)
1 large onion, grated
1 pound ground sirloin
2 to 3 cloves garlic, grated
2 cups beef stock
1 can San Marzano tomatoes (28 ounces)
1 can crushed tomatoes (15 ounces)
3 to 4 basil leaves, torn
Salt and freshly ground black pepper
4 tablespoons butter
4 tablespoons flour
1 quart milk
A few grates fresh nutmeg
2 boxes oven-ready lasagna noodles (use 1 box per loaf pan)
2 cups grated Parmigiano Reggiano cheese, divided
1/2 cup provolone cheese, grated
Parsley, chopped, for garnish (Mommy Dish note: I didn't use any; not worth another trip to the store this time around!)
Method
Preheat oven to 375ºF.
Place a large skillet over medium-low heat with 2 turns of the pan of EVOO, about 2 tablespoons. Cook the onion and the garlic, stirring frequently, until tender, about 10 minutes.
Turn the heat under the skillet up to medium-high and add the beef to the pan. Cook it through, stirring frequently and breaking the meat up with a wooden spoon or potato masher. Add the beef stock, tomatoes, and basil to the pot and season with salt and freshly ground black pepper. Mash the tomatoes up with the potato masher or wooden spoon, bring the sauce up to a bubble, then reduce the heat to low and simmer until thickened, about 5 minutes.
While the red sauce is simmering, place a medium-size pot over medium heat and melt the butter. Sprinkle the flour over the melted butter and cook the mixture for about 1 minute. Whisk the milk slowly into the butter-flour mixture and cook until thickened. Season the white sauce with salt, freshly ground pepper and the nutmeg.
Cover two loaf pans with a layer of foil for easy removal from the pan. Ladle about 1 cup of the red sauce into the bottom of the first lined loaf pan. Put down a layer of lasagna noodles, then top them with about a cup of white sauce and a handful of Parmigiano Reggiano (about 1/4 cup). Continue building the lasagna, alternating layers of noodle, red sauce, noodle, white sauce and cheese, until all the noodles are covered. End the lasagna on a layer of red sauce and top it off with the grated provolone and some Parmigiano-Reggiano. Repeat this process with the other loaf pan and the remaining sauce.
Cover the pans with aluminum foil and bake for 30 minutes. Remove the foil and bake another 15 minutes until the noodles are tender and the cheese is melted and golden brown.
Remove the pans from the oven and let cool for 15-20 minutes to let the lasagna set. Pull the lasagna out of the pans by the edges of the foil, pull the foil down from around the lasagna and cut with a serrated knife. Garnish each slice with fresh parsley.
Last modified on 2011-08-25 23:49:22 GMT. 6 comments. Top.
I missed the earthquake that shook Boston yesterday because I was giving Alex a diaper change at the time. My knees were shaking so much during the swap that I simply didn't notice the Earth trembling under my feet.
Seriously.
I am long past the point of exchanging a pee-soaked diaper for a fresh one with the windows open. I mean, I don't want the neighbors to think I torture my son. Even armed with a best-of-the-best showing of cool non-toys–a spatula, mini-strainer, or sifter–he still screeches in horror. Add to that the flipping over (disastrous when there's rancid poop involved), kicking, flailing, and taking his cries up another notch to nails-on-a-chalkboard level and I am ready to SCREAM!
Instead, I swear up a storm in my head while explaining to him calmly that it's my job as his Mommy to keep his cute little butt sanitary.
I pride myself on my suburb diaper changing skills. I can do it while he's standing up, while he's on the go, while he's contorting his body in any rubber band-like position (oh, to be that flexible again). Really, I am that good. In his fifteen months of life, Alex has never gotten a diaper rash because, again, I have mad skills. But, still, he acts like I am really hurting his feelings almost every time I make the diaper dash. I can't imagine what he'd be like if he had a Mommy who was a little on the slow side. Doesn't he realize how lucky he is that I've got quick hands?
The only relief I have are the times when he's too tired to protest, there's a major change of scenery, or someone else does it. I cherish those diaper changes like a girls' night out margarita. Believe me, they're far too infrequent.
Do you have any advice for making diaper changes a more pleasant experience (besides potty training–he's not ready)? I missed an earthquake, and a hurricane is headed my way!
***Brownies rock almost everyone's world, and my favorite recipe features Ghirardelli chocolate. Shake up your Wednesday night and make a batch!***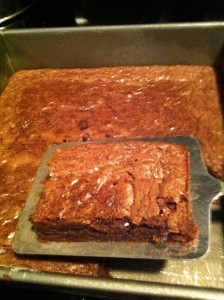 Brownies
Ingredients
4 ounces Ghirardelli semi-sweet chocolate baking bar
1 cup brown sugar, packed
2 large eggs
1/4 teaspoon baking powder
1/2 teaspoon salt
1 stick unsalted butter, cut into pieces
1 teaspoon vanilla
3/4 cup plus 2 tablespoons all-purpose flour
1/3 cup Ghirardelli chocolate chips (optional–my husband prefers them without, and Ashley likes them in there!)
Method
Preheat oven to 350 degrees. Butter and flour an 8 x 8 pan. In a heavy saucepan, melt chocolate bar and butter together over low heat, stirring until smooth. Cool to room temperature. Stir in brown sugar and vanilla. Add eggs, and mix well.
In a bowl, sift together flour, baking powder, and salt. Slowly fold flour mixture into chocolate. Mix well. Stir in chips if you're using them. Pour batter in the pan, and bake for 25-30 minutes (until a tester comes out clean).
Did you vote yet? Please take a minute and help a girl out: http://blog-awards.parents.com/blog-awards/mom_blogs/241-mommy-dish
Last modified on 2011-08-22 19:27:35 GMT. 6 comments. Top.
Ssshhhhhh…I've been keeping a secret. I only do it in the cloak of night because I haven't hit my stride–not yet, anyway.
I am running again. Really.
Pre-baby, running was no big deal, but post-baby I feel like people should line my driveway to congratulate me Boston Marathon-style. A few paper cups of water to stay hydrated, some signs of encouragement (even one "Jodi Rocks!" would suffice), a rush of cheers to get me across the finish line. Yeah, that would keep an out-of-shape Mommy on-track.
Instead, I grab a Gatorade from our 90s chic refrigerator that was downgraded to the garage, pretend the crickets are my fan base, and take the fact that I can run a little longer without feeling like I am going to keel over as a good sign.
And it's working…mostly because I have a running buddy.
After I put Alex to bed, baby preparation for the next day is complete, and the dinner dishes are washed and loaded, Ashley joins me for a run several nights a week. We talk as long as we can breathe (we get a lot of gossiping in at the beginning, truth be told), set distance goals, and sprint at the end to show our strength before our cool down lap (where we can resume gossiping where we left off). We're building our endurance under the street lights of our safe neighborhood–where no one is watching. No one, except for the two of us–and we will keep each other going.
How long did it take you to get your stamina back post-pregnancy, or are you still working on it?
***In recognition of our new commitment to running, I am sharing Chef Julie's delectable Tilapia with Corn Puree and Mushroom Risotto dishes. Who says healthy can't be sinfully good?***
Tilapia with Corn Puree and Mushroom Risotto
Tilapia Ingredients
Tilapia (one piece per person)
1 tablespoon butter
2 tablespoons olive oil
Salt and pepper (or use cajun seasoning if you prefer)
Method
Season tilapia with salt and pepper or cajun seasoning on both sides. Pan sear in olive oil and butter, 3-4 minutes on each side. Tilapia cooks quickly and easily. You can tell when it's done if there's resistance when you touch the fish; if it's soft to the touch it needs more time.
Chef Julie's Tilapia Tip:
– Cook in olive oil because it can handle the heat, and butter because it adds more flavor.
Corn Puree Ingredients
2-3 ears of corn
Low-fat milk
Salt and pepper
Method
Cut the corn off the cob and put in a sauce pan. In addition, use some force with the back of your knife to get the extra corn and juice off the cob over the pan. Cover completely with milk. Put on a medium-low heat and simmer for 10-15 minutes, until corn is cooked. Puree mixture in a blender until smooth, and season with salt and pepper to taste. You can used canned corn or frozen corn if you have to. This sauce also works great with chicken.
Put a bed of corn puree on a plate, and lay the tilapia on top of it for a nice presentation.
Mushroom Risotto (with corn and peas)
1/2 cup arborio rice
1 tablespoon olive oil
1 tablespoon butter
1/4 onion, small dice
8 crimini or button mushrooms, sliced
2 ounces white wine
1 container low-sodium chicken or vegetable stock
3 tablespoons Parmesan cheese
1 tablespoon fresh thyme, chopped
Salt and pepper
Method
Heat chicken or vegetable stock in a sauce pan. Don't boil; jet get it hot, and turn off the heat. Add oil and butter to a large sauté pan on medium heat. Add onions, garlic, and a pinch of salt. Sweat onions slowly until they're translucent (3-5 minutes); lower the heat if you have to. Add mushrooms. Cook on medium-high heat to soften, about 3 minutes. Add rice. Cook about 2 minutes to toast, and make sure each piece is covered in the oil/butter mixture. Add white wine and keep stirring until it's evaporated. Add in a ladleful of stock. Keep it at a nice simmer–don't boil–and stir constantly. When liquid is absorbed, add in another ladle of stock. Continue repetition until rice is cooked and creamy, about 15-20 minutes. When finished add a tablespoon of butter, Parmesan cheese, and thyme, plus salt and pepper to taste.
Chef Julie's Tips:
– Make sure you constantly stir the risotto to keep it creamy. If you don't stir, it will stick to the pan.
– You can add any vegetables you want; just do so halfway through the cooking process. Corn, peas, roasted butternut squash, zucchini, summer squash, asparagus, lemon juice and zest work well with this dish.
– If you use asparagus, put in the ends of the stalk you cut off into the stock to intensify the asparagus flavor.
– If you like saffron, you can add it into stock as well.
– You can use chicken instead of mushrooms.
Did you enjoy this post? Please support me and vote for Mommy Dish in Parents Magazine's Best Mom Blog (Funniest) competition. Every vote truly matters! I am currently in third place :(. Here's the link: http://blog-awards.parents.com/blog-awards/mom_blogs/241-mommy-dish
Last modified on 2011-08-22 14:56:07 GMT. 10 comments. Top.
Mommyhood takes its toll on your body, doesn't it? Right now, I am sporting bruises on both of my knees that make me look like a professional call girl.
It's hot. Really, really hot.
Never in my wildest pregnancy dreams (which, surprisingly, often centered around CNN's Anderson Cooper) did I ever envision needing makeup to cover up  Pretty Woman knees–just to wear shorts on a hot summer day. But that's exactly what I have to do…because the damn bruises won't heal.
I am sure I am not helping my cause everyday while I give Alex a bath, chase after him during tense situations where I don't have time to stand, or clean the nooks and crannies in the underbelly of his high chair (okay, okay…that's not every day…I need to maintain some level of sanity). As much as I try to protect my knees with funky yoga positions, plush bathroom mats, and an alert internal voice that reminds me to stand the eff up, they're still badly injured.
Isn't it enough I am still sporting some post-pregnancy knee pudge fifteen months after-the-fact? Do I really need to draw attention to it with a matching set of bruises?
Have you endured any unusual injuries during your Mommyhood journey? If so, do you have any suggestions on how to heal black-and-blues? I am running out of cover up.
***To help my knee pudge finally budge, I am making tons of salads. My Heart of Summer Salad capitalizes on my seasonal favorites–tomatoes and basil–and adds in a couple of ingredients you probably don't use everyday: Hearts of Palm and chick peas. If you don't want to make the red wine vinaigrette below, substitute Ken's Steak House's version sold in supermarkets. It's delicious!***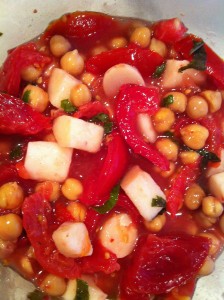 Heart of Summer Salad
6 tomatoes, chopped into larger-sized pieces (see photo)
8-10 basil leaves, chopped
1 can Hearts of Palm
1 can chick peas
1/4 cup red wine vinegar
1 tablespoon Dijon mustard
1 teaspoon sugar or honey
1/2 cup EVOO
Salt and pepper, to taste
Toss tomatoes, basil, Hearts of Palm, and chick peas in a bowl. In a separate bowl, combine red wine vinegar, Dijon mustard, and sugar/honey. Slowly whisk in EVOO until it forms a vinaigrette. Season with salt and pepper. Drizzle over the salad, and toss to combine (pay attention to your preferences–you may want more or less vinaigrette). Serve and enjoy.
Did you enjoy this post? Please support me and vote for Mommy Dish in Parents Magazine's Best Mom Blog (Funniest) competition. Every vote truly matters! I am currently in fourth place :(. Here's the link: http://blog-awards.parents.com/blog-awards/mom_blogs/241-mommy-dish
Last modified on 2011-08-14 02:35:46 GMT. 10 comments. Top.
This week, my life deteriorated into a bad episode of The Jerry Springer Show. Ugly things keep rearing their heads behind the black curtain. Surprise!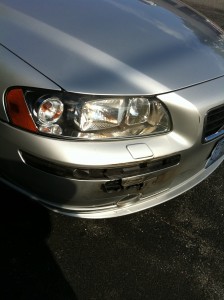 I left you with Alex's poison scare. That's enough excitement for a 24-hour period, don't you think? Nope. That afternoon, the front end of my car got clipped by a crazy a$$ lunatic driving too fast for a narrow road. Post crash, he lunged out of his pick-up truck with his pants falling down (a show you'd pay to skip, believe me), arms flailing, and screaming profanities that would make Kathy Griffin blush. A modern day Clark Kent appeared out of nowhere and protected me from the unstable crackerjack until the cops arrived. I was just trying to do something nice–going out of my way to get my Mom's favorite pizza (we've been shacking up there all week because our hardwood installers start their days at 11:00 a.m.)–and I was slapped with a $500 deductible.
The freak's license said he was born on April 1, 1940. I should have known the joke was on me. All week.
My beloved Ashley came home from camp the next day. Wonderful news, if she, in fact, arrived alone. She joins us on the heels of a LICE EPIDEMIC at her camp.
Say it with me: Eeeeeeeeeeeeeeeeewwwwwwwwwwwww!
I am itching just writing about it.
Ashley was one of two in her bunk who did not get the creepy crawlers, but that doesn't mean they didn't sneak into her suitcases. We quarantined seven weeks worth of clothes in our garage overnight until we could drive the SUV to the Laundromat and wash them in ultra-sudsy, boiling hot water.
Nasty.
Today, I went to our second property (the remnants of my past life) to do a last-minute chore before home inspection. We're finally closing on August 29 after taking a bath–sorry, lice on the brain—financially, while it sat on the market, vacant, for more than one year. Alex and Ashley waited in the car while I ran in.
Ran is the operative word because the door was busted open!
I walked in to an enraged teenager's wet dream. Doors were left unhinged. Several cans of paint were splattered on the floor, washing machine, and built-in storage shelves. Walls in two rooms showcased failed anger management punch and kick marks. Marlboro reds, cheap vodka, and beer cans littered rooms. This–in a sleepy suburban town–TWO WEEKS before closing–on a day I spent volunteering for the National Ovarian Cancer Coalition. Hello, Karma? It's me, Jodi.
Mommyjuice. Stat. Actually, does anyone deliver anything stronger? Don't mind the house that looks vacant–we're here–just all of our furniture is tucked in bedrooms, the garage, and the ghetto fabulous 1-800-PACKRAT storage unit in our driveway because our floors aren't dry enough yet. I am here…and I am still standing. Barely.
Have you had a week like this?
The only good thing that happened this week was Mommy Dish was nominated for a Best Mom Blog (Funniest) Award from Parents Magazine. It was like a ray of sunshine making its way through the apocalypse. My dear readers, if you have laughed with me (or at me–I'll take what I can get), even once, please do me a personal favor and vote. I want to win this thing, but I can't do it without you. If I have to pull the bad luck card, I will. Help me turn my luck around–in the two minutes it takes to vote–right here:
http://blog-awards.parents.com/blog-awards/mom_blogs/241-mommy-dish
***I did manage to make Ashley's favorite little candy treats for her homecoming. I plan on scarfing some down after the week I've had, too. Sorry, Ashley Rose.***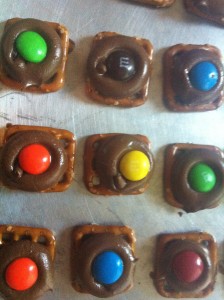 Love on a Pretzel
1 bag Snyders of Hanover Snaps
1 bag Chocolate M & Ms
1 bag Hershey Kisses
Preheat oven to 325 degrees. Line pretzels on a cookie sheet and top with Hershey Kisses. Place in the oven for a minute or so, until the chocolate softens. Take them out of the oven and press an M & M in the center of each one. Place in the refrigerator to set for about 30 minutes. Love on a pretzel!
Last modified on GMT. 0 comments. Top.
Last modified on 2011-08-14 02:07:00 GMT. 10 comments. Top.
Am I the only Mommy who knows she's a total buzzkill?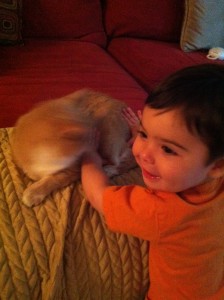 Hide-and-seek under the new curtains? We don't do that, Alex. Bust a move in the bathtub? We don't do that, Alex. Yank the tail of the unsuspecting family cat with anger management issues? We don't do that, Alex.
Boy, oh boy, do I wish I could say the word "NO!" But we don't do that.
It's hard being Mommy Downer with a "no" handicap.
Alex understood the word "no" early on. He listened at first, and I always praised him for not biting an electrical cord, shattering our flat-screen, or yanking my earring through my flesh. But then he adopted this little sh*t eating grin especially reserved for "no" occasions. He'd make eye contact, smirk defiantly, and ignore me altogether. "No" for him was like a gym membership for me–easy to overlook.
So, I consulted my Mommy Mavens, read several Internet articles, dusted off some baby books…and decided to eliminate the word "no." Was it easy to do? No, no, no, no, no. Like an addict, I've relapsed quite a bit. Mostly, I substitute we don't do that for "no", and explain why we don't do that, but it's a constant challenge. It's like choosing a frozen Lean Cuisine pizza over a fresh Neapolitan pizza over and over and over again. Sure, we don't do that provides the substance needed, but it's not nearly as satisfying as "no."
Reasoning with a toddler, showing him empathy, and delivering the "no" message in a we don't do that sort of way is the route to take, I am told. A "no" free zone–except for extreme emergencies–ensures the word carries weight when it's needed, and helps protect Mommies from toddlers who adopt "no" as their favorite word. Am I right about this one? I'd welcome a "no" if it means I could start saying it again!
Here's one dish you will not want to say "no" to: Vegetarian Stuffed Peppers. They're incredibly healthy–stuffed with protein-packed quinoa and a medley of fresh vegetables–and hearty enough for a meal. Both of my boys loved them. Yes!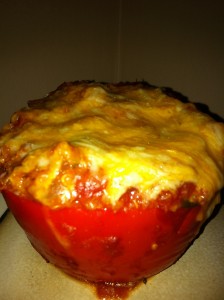 Vegetarian Stuffed Peppers
Ingredients
1 cup quinoa
2 cups water
4 large red or green peppers (I prefer red)
1 zucchini, grated
1 package pre-sliced mushrooms, chopped
1 onion, chopped
2 garlic cloves, minced
1 28-ounce can of crushed tomatoes with basil
1 teaspoon Italian seasoning
1 palmful of Parmesan cheese
About 2 cups shredded mozzarella and cheddar cheese
EVOO
Salt and pepper, to taste
Preheat oven to 325 degrees. Cook quinoa according to package directions. Steam hollowed out peppers in salted water until soft (but not overcooked!), and set aside.
Coat a large saute pan with EVOO, and cook onion, garlic, mushrooms, and zucchini until vegetables soften and onion turns translucent–about 10 minutes. Add Italian seasoning and a little more than half the can of tomatoes. Fold in quinoa. Toss in a hearty handful of Parmesan, and season generously with salt and pepper.
Cover the bottom of a baking pan with some of the remaining crushed tomatoes, and thin it out with some water. Line peppers up and fill them with the vegetable/quinoa mixture. Drizzle the top with more crushed tomatoes, and bake until almost done–about 45 minutes. Take them out of the oven, cover the tops with mozzarella and cheddar cheese, and return to the oven until melted. Serve immediately.
Last modified on 2011-08-05 12:27:22 GMT. 12 comments. Top.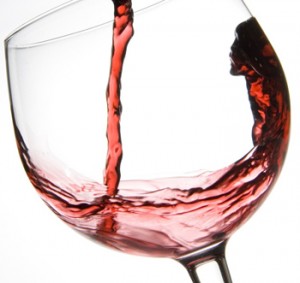 "Do you ever get a break?" asked a fellow Mommy at Alex's Gymboree class today, looking at me with sympathetic eyes as my son, once again, escaped my grasp and made a mad dash for a red ball across the room (her daughter was sitting peacefully on her lap at the time). "He's so active! You look like you need a cocktail."
Uh, yeah. What gave it away? My smeared eyeliner? Sweaty lip? Hanging bra strap? Keeping up with my insanely active toddler is so exhausting it could drive me to drink–but I wouldn't feel comfortable having a glass of Mommyjuice during Mommy hours–not yet, anyway.
Apparently, Mommy Mixers–playdates that feature cocktails–are all the rage. I haven't received an invite to Mommy-and-Me Happy Hour just yet, but don't keep me off the guest list. I am not against the idea–so long as no one gets drunk, drives, or makes dumb decisions. Just because I am not talented enough to balance a wine glass in one hand and my squirmy son in the other doesn't mean it can't be done. Some Mommies can likely enjoy one drink, hors d'oeuvres, and adult conversation while their children play…I am just not one of them.
A story on Good Morning America (link below) about Mommy and Me Happy Hours this week ignited a firestorm of controversy. Some believe they're a great way to keep stressed out Mommies drenched in spit up and sippy cups sane. They argue Mommies are master multitaskers who are responsible for their children every day, and are capable of enjoying some adult time while kids enjoy playtime. Others feel alcohol and kids never mix–that it sets a bad example to drink in front of kids (even though most don't think twice when they see a Dad enjoying a beer at the ball game or in the front yard while watching the children), and that it could lead to trouble.
How do you feel about Mommy Mixers? Have you been to one?  Would you go to one?
Here's the link to the GMA story: http://abcnews.go.com/US/moms-enjoy-cocktail-parties-kids-play-dates/story?id=14208921
If I were invited to a Mommy Mixer, I'd bring a Panzanella Salad. It's a dish everyone can agree on!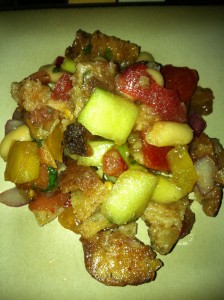 Panzanella Salad
Ingredients
Bread mixture:
Rustic day-old Italian bread, cut into bite-sized pieces
1/3 cup good-quality olive oil
Salt and pepper, to taste
2 cloves garlic, minced
Salad mixture:
3-4 large heirloom tomatoes, cut into pieces (use different colors to add color to the dish)
1/2 red onion, chopped
1/2 seedless cucumber, chopped
1/4 cup basil leaves, shredded
1/2- 2/3 can cannelini beans, drained
1/4 cup olive oil
2 tablespoons balsamic vinegar
Method
Preheat oven to 400 degrees. Place bread in a bowl, and toss with 1/3 cup olive oil, garlic, salt, and pepper. Place on a baking sheet and bake until crisp–about 10 minutes. Set bread mixture aside.
Combine tomatoes, cucumber, cannelini beans, basil, and red onion. Add 1/4 cup olive oil and 2 tablespoons of balsamic vinegar. Let it sit in the fridge for a little while–20 minutes–so the juices have time to blend together. Toss in the bread and mix thoroughly. Let it sit for a few minutes (so the bread can soak up the excess liquid), and serve.
Last modified on 2011-07-29 01:57:08 GMT. 24 comments. Top.
Tonight's the kind of night I wish I was married to a woman. No, I am not feeling saucy…I chopped my hair off today. And I want to analyze my thought process, replay the moment the locks fell, and chat about my new (fingers crossed) chic coif. Again, and again, and again. Is it sexy or Momesque? Cutting-edge or cringe-worthy? A 'do or a don't? You see why I wish I was cuddling up to a chick tonight?
My husband is better than most. I texted him from my hairdresser's today, and gave him two options: something old, or something new. He encouraged me to cut (I like a man who's up for a little adventure), and told me I was a smoking hot MILF when he came home from work.
And then he watched the news.
What? I mean, does he not realize how big of a deal it is to adopt a ponytail that's the size of a stubbed pinky toe? Sensing my disappointment over the lack of conversation completely centered around my haircut, he did throw me a "Who's that new girl?" while I was making dinner (during a commercial). He tried, but he's estrogen deficient.
Perhaps I wouldn't feel the gravitational girl pull if Ashley was home. Tonight I really miss my teenager at camp! No doubt she would break out the flat iron, hold the mirror up so I could see the back (which is now shorter than the front!), and talk tresses for hours if that's what I needed.
My new cut demanded a new Rachipe (Rachael Ray recipe). I caught her show during naptime the other day and simply had to try this dish. She transforms stale bread into a fresh meal…something old for something new. No scissors required.
Stale Bread Lasagna with Mushroom Sauce
Ingredients
EVOO – Extra Virgin Olive Oil, for drizzling or softened butter
10 to 12 slices white bread 1-inch thick (stale is not only fine but preferred)
3 tablespoons EVOO – Extra Virgin Olive Oil
1 1/2 pounds chopped crimini mushrooms (you can substitute meat if you wish)
1 onion, finely chopped
1 rib celery, finely chopped
1 carrot, peeled and finely chopped
3 to 4 cloves garlic, finely chopped
Salt and pepper
1 bay leaf
1/4 cup tomato paste
A few grates of nutmeg
A pinch of cloves
2 cups vegetable stock (you can use chicken)
1 cup whole milk
1/2 pound Fontina Val D'Aosta cheese or other easy-melting Italian cheese
1 cup grated Parmigiano-Reggiano or Grana Padano
Method
Grease a casserole dish with EVOO or butter and preheat oven to 400ºF. Arrange bread slices in a casserole dish in a tight-fitting layer.
Meanwhile, heat 3 tablespoons EVOO, a couple of turns of the pan, in a saucepot over medium-high heat. Add mushrooms and brown well. Add onion, celery, carrot, and garlic, and season with salt, pepper, and bay leaf. Cook to soften then add tomato paste, nutmeg, and cloves. Stir in stock and bring to a bubble. Add milk and simmer 30 minutes to thicken.
Spoon sauce over bread and top with cheese. Bake 30 minutes until cheese is melted and brown. Serve in shallow bowls with sauteed kale or dark greens salad alongside.
Last modified on 2011-07-26 01:14:46 GMT. 4 comments. Top.
To borrow a line from the classic TV show Cheers, "Sometimes you want to go where everybody knows your name." In college, it was a bar or two (or three); now, it's Target, Whole Foods, and Hannaford Supermarket. Yeah, I am cool.
It's so bad that employees from all my favorite places to stalk have nicknames for Alex. At Target, the customer service manager, smiling widely with a Crest Whitestrips set of super white chompers on full display (hey, I'd take advantage of the discount, too), calls him a "ray of sunshine." How's my little ray of sunshine today?
Lucky him…today, he got not one, but two rays of Alex–because I suffer from a very bad case of Mommy Brain.
I was simultaneously steering the cart, playing with Elmo–Alex's Bono, Elvis, and Mick Jagger rolled into one fabulous fur ball, chatting with my BFF in New Jersey, and looking for a baby gift. Keeping all my Target balls in the air–no dropped cell phone, no crashing into unsuspecting shoppers, no toddler sticky fingers (keep your eyes on your carts, Mommies)–I maneuvered in and out of the toy aisle with ease, and located everything I wanted to purchase. I zipped through checkout, unloaded the bags into my car, and took off for the post office to mail them.
It wasn't until I was about to pull into the parking lot that I realized I bought everything for a girl, not a boy…and I have no idea why. I've known my friend is having a boy for months (I blogged about it, and I even know his name)! Mommy Brain strikes again.
Since giving birth, I have stopped talking mid-sentence, completely forgetting what I wanted to say. I have put oatmeal in the refrigerator, and milk in the cabinet. I have ordered a much-needed venti soy latte from Starbucks, paid the cashier, and driven off without my cup of caffeine courage. I have gone to Target to return something to the shiny-toothed customer service manager, and forgotten it at home or misplaced the receipt who knows where (FYI–Target has a $70.00 per year limit of items one is allowed to return by showing one's driver's license, and I have already far exceeded that amount because Alex is so stinkin' cute…or he feels bad I am such a hot mess…whatever).
I am convinced I pushed out IQ points when I had my son. Or I burned as many brain cells as a pothead during my two-day labor haze. Or both. Sometimes I feel the pressure of a pop quiz when someone asks what day it is. It's not normal.
One thing I don't forget–only because I write everything down–are my dishes. Tonight I made baked scallops, and my husband–What's his name?— said they were delicious. At least that's what I think he said.
Do you have any examples of Mommy Brain?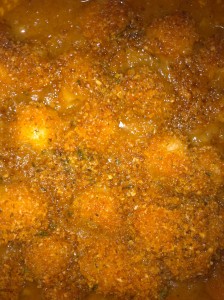 Baked Scallops
Juice of 1/2 lemon
1/2 cup of white wine
4 tablespoons butter
1 1/2 pounds bay scallops
1/2 teaspoon paprika
1/2 cup Italian breadcrumbs
1/4 cup parmesan cheese
1 teaspoon fresh parsley, chopped, plus more for garnish–if desired
3 cloves garlic, minced
Salt and pepper, to taste
Preheat oven to 400 degrees. Place 3 tablespoons of butter, white wine, and lemon juice in a baking dish. Heat in the oven until melted.
Saute garlic in 1 tablespoon of butter; set aside. Mix breadcrumbs, paprika, parmesan cheese, parsley, salt, and pepper in a bowl. Add the garlic that was sauteed in butter to the mix, and work through (make sure they're no lumps).
Place scallops on the bed of liquids in a layer, and top generously with breadcrumb mixture. Bake for about 20 minutes. Don't forget to serve!
Last modified on 2011-07-22 22:13:44 GMT. 8 comments. Top.
Why do so many people in New England b*itch about the weather? Is there something in the 12 glasses of water we're supposed to drink on a wicked hot day?
Yes, it's a scorcher. A natural sauna, if you will. One hundred degree days smack you in the face when you step outside…but they don't make you fall on your face. Remember the hell winter we endured? Personally, I'd rather be a little sweaty than slipping and shivering (if I could literally freeze my butt off, I'd reconsider my stance, but I digress).
Today is likely one for the record books, and the unrelenting heat can make sleeping uncomfortable. Boo hoo. I know I'll drift off to dreamland just fine because there's definitely no snow day tomorrow. I don't miss being snowed in with an infant who's bored to tears and a teenager in Facebook withdrawal because the power's out. By the eighth snow day I was a complete insomniac wondering what in-home entertainment I could possibly offer to two crazy cooped up kids. I'll have no problem cranking the A/C, kicking off my sheets, and hitting my warm pillow tonight.
There's nothing like a heatwave when you compare it to a blizzard. Swimsuits vs. snowsuits? Beach days vs. school delays? Healthy glow vs. peed on snow?
Case closed.
Since we're all sweating out a few extra calories–another bonus of a summer heatwave–I'm making one of Chef Julie's no-bake desserts (even I will admit it's not the best night to turn the oven on if you can help it). Nothing like a cool treat to beat the heat, whether you're a weather whiner or not.
***Pregnant women, the elderly, people without A/C, and pets with fur coats are entitled to complain about the hot weather. Everyone else…please stop whining. : )***
Summer Trifle
Ingredients
1 pound cake, store bought
1 container strawberries
1 container blueberries
1 container Cool Whip
Method
Alternate the pound cake, cool whip, and berries in layers. Use pound cake, not sponge cake. You can use light cool whip or sugar-free to shave some calories off the dessert and it will still turn out delicious. Also feel free to use your berries of choice berries (raspberries, blackberries, etc.). Have fun with the top layer, and make it pretty. This is a great dessert to make with your kids.
Last modified on 2011-07-20 02:37:36 GMT. 6 comments. Top.
T

his evening, Alex tipped the cat's water dish over, emptied the contents of the only non-baby-proofed drawer in the kitchen, and made an impossible tippy-toed grab for an open bag of yogurt snacks and flung them everywhere. This occurred in a 20-second span–no exaggeration–following his mess hall of a dinner. Does turkey meatloaf, peas, and rice all over his clothes, in the deep crevices of his highchair, and under the stove sound like a chore or what?
Am I the only Mommy who feels like she's losing the cleaning battle?
Broom in hand, I am constantly making the rounds. It's almost like my secret lover at this point (sadly, I get those Swiffer commercials that give brooms personalities and decent singing voices). I sweep, sweep, and sweep some more and it makes absolutely no difference. I am no match for my little man.
Sometimes I am guilty of tapping into my inner June Cleaver, trying to deliver a clean house, bathed child, and home-cooked dinner before my husband gets home. All I can say is I pray there are no hidden cameras in any of Alex's teddy bears, because my mad dash before 6:15 p.m. should not be witnessed. If I open the dishwasher, Alex darts over and tries to climb in. If I start picking up his toys, he hightails it to the wine bar to pull a bottle out (he's ignored our "Alex, we don't do that" warnings one million times so it will soon meet the same fate as our coffee table). If I try to prep the kitchen for our dinner he inevitably finds the a computer cord, banned toy, or tiny piece of paper and pops it in his mouth. It's hopeless.
Some days I just spray some cleaner that makes the house smell like freshly-squeezed lemons, take off my bra, put on a white t-shirt, and call it a day. Who am I kidding? Most days that's exactly what I do (when in doubt boobs distract). If the house is a real horror show (it's rare–I am really not that bad), I can always accidentally spill a little water on myself, too. I am not above acting like a desperate housewife at times.
At least I get some brownie points for creativity–and for using naptime to prepare a homemade dinner every night (one of my hubby's favorite appetizers–besides my wet t-shirt contest–is below).
I honestly try really hard on the home-front–but feel like it's so difficult to keep up with my 14-month-old's messes during the day. Mommies who have white-glove clean homes must suffer from Obsessive Compulsive Disorder, be heavily medicated, or have some secret system for getting it all done (please enlighten me if that's the case). There's no other explanation!
Do you have any tips for keeping on top of your house with a toddler (and a teenager–though I am on sabbatical from her during her summer camp stint)? I am feeling like a dirty girl at the moment.

Bruchetta
Ingredients
6 tomatoes (I prefer vine-ripened)
1/4 cup fresh basil, stems removed and chopped
1/4 cup good quality olive oil (Mommy Dish note: I always keep two bottles of olive oil in my house; a less expensive one for cooking, and quality one for use as an ingredient in dishes.)
3 cloves garlic, minced
1/4 teaspoon salt, or more to taste
1/4 teaspoon freshly ground black pepper, or more to taste
1 French baguette
Mozzarella cheese, if desired
Method
Set oven to broiler setting. Slice bruchetta and lay slices out on a cookie sheet. Toast on one side until golden brown, about 2-3 minutes.
Combine all the rest of the ingredients together in a bowl. Scoop out a heaping spoonful and cover each slice of bruchetta. If desired, you can top with cheese and pop it back in the oven (we prefer it au natural).
Last modified on 2011-07-18 01:07:39 GMT. 4 comments. Top.
A few researchers launched a massive food fight in an article published by the Journal of the American Medical Association (JAMA) this week, and I have to weigh in. Should extremely obese children be taken away from their parents and placed in foster care?
Um…let me think about that one. Hell no.
Ripping an extremely obese child–technically one who has a Body Mass Index (BMI) in the 99th percentile or higher– away from his/her parents, siblings, and extended family is emotional blackmail. If you lose weight you will be able to go home again. Don't they know many children overeat to feed their feelings? Am I the only one who learned that with my liberal arts college degree?
And what happens after the child loses weight and is returned back to his/her parents' care? Will they be serving up a main course of fast food, TV dinners, snacks, and desserts with a side dish of being sedentary? Fat has some formidible friends these days: physical education funding cuts, fast food, cell phones, vending machines, social media, video games, and the economy (many people working several jobs to make ends meet don't find time to prepare meals). Change needs to come from within the family unit to last. They need help to make the change.
Do we really fear fat so much we're willing to eff with families?
Don't get me wrong; I know diabetes, sleep apnea, high blood pressure, and high cholesterol are very serious issues–especially in children. I also know I would hold the door open for an official removing a child from a home where s/he was malnourished, neglected, or physically/sexually abused. Why is obesity such a grey area for me?
Two million children are clinically obese according to their BMI. Some are victims of genetics, others of lifestyle–but I would argue they are not abused. They're grappling with a problem that's incredibly hard to solve, as it deals with the perfect storm of psychological, physical, and behavioral issues. Telling a 10-year-old to put the donut down because she may have a stroke at 40 is a tough message to deliver. Wouldn't it mean more coming from their parents with the help of doctors and nutritionists instead of their foster family?
What do you think about the food fight going on right now? Should severely obese kids at risk of disease be removed from their homes and placed in foster care?
***Tonight's recipe is a healthy one. Everyone in my family–toddler to teenager to husband–absolutely loves turkey meatballs, and they're half the fat of traditional meatballs. Serve with your multigrain pasta of choice for even more nutritional bang for your buck.***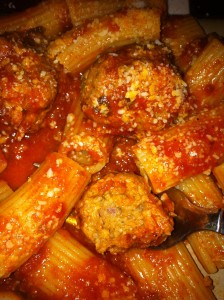 Turkey Meatballs
Ingredients
1 pound ground turkey meat
1 small onion, chopped
3 garlic cloves, minced
1 large egg
1/2 cup dried bread crumbs, Italian style
3 tablespoons ketchup
2 tablespoons chopped fresh Italian parsley leaves
1/2 cup grated Parmesan, plus more for garnish
1 teaspoon salt
1/4 teaspoon fresh ground black pepper
3 tablespoons olive oil
1 jar store-bought marinara sauce, or my Summer in a Sauce Pan recipe would work well, too.
Method
Add the onion, garlic, egg, Parmesan, bread crumbs, ketchup, parsley, salt and pepper to a large bowl and blend. Mix in the turkey. Shape the turkey mixture into meatballs (your preference in terms of size). Place on a large plate.
Heat the olive oil in a heavy large frying pan over medium-high heat. Add the meatballs and saute until browned on all sides, about 5 minutes. Turn off heat. Transfer the meatballs to a plate (I blot with paper towels to absorb excess oil). Return all the meatballs to the pan, and add the marinara sauce. Turn the heat to medium-low and simmer until the flavors blend, 20 minutes minimum. Season the sauce, to taste, with salt and pepper.
Last modified on 2011-07-14 13:31:20 GMT. 19 comments. Top.
Can you recall that Momicidal feeling watching your husband sleep soundly (or snore loudly) while you lay there, wide awake, in a pregnancy panic?  The endless questions, coupled with multiple urges to pee after midnight, are a form of No Doz. Do I really remember how to change a diaper from my babysitting days? What am I supposed to do with a little defenseless baby? Did I pick the right colors for the nursery? Is my water going to break in the produce section of the supermarket? What do I pack in my hospital bag? Am I going to be a good Mommy?
The nervous excitement of impending Mommyhood is enough to drive any Mom-to-be to the sundae bar. My friend Kim–7 months pregnant with a baby boy– is eating ice cream before bed and sleeping in 2-to-3-hour increments every night. I remember loudly scraping the sides of my bowl to quiet the doubts in my brain all too well.
Today, I drove into Boston to give Kim a booster seat of confidence–Alex James– over lunch. I hoped my son would be on his best behavior–i.e. no high-pitched screams to scare patrons mid-bite, no spontaneous hunger strike, no breakdancing to try to wiggle out of his seat–so Kim would leave with that intoxicating I've got this feeling instead of I don't think I can do this doubt. And, once again, my little wing man delivered.
Besides a new lettuce fetish that prompted him to lift a leaf or two off her plate, Alex was incredible. He couldn't take his eyes off of her (I don't blame him, really–she's one of those annoyingly perfect pregnant women who looks like herself except with a beautiful baby bump), and they spent the entire meal talking, playing, and flirting. If Alex were a little older I would have felt like the third wheel. They connected.
Whether she realized it or not, it was clear Kim's a natural Mommy–she questioned if Alex could eat the lettuce he shoplifted off of her plate, worried about him choking on a bottle cap, and reached for new toys when she could see he was getting bored. She laughed genuinely, smiled warmly, and loved freely–all while rubbing her own belly from time to time. Kimmy, you've got this. Put your ice cream spoon down (or if you still have a craving try the dish below). You know just what to do.
Pregnancy Panic Cure-All
Ingredients
1 boxed chocolate cake, prepared to package directions
Vanilla ice cream
Shredded coconut
Slivered almonds
Whipped cream
Method
Preheat over to 350. Place a serving of shredded coconut and slivered almonds on a cookie sheet and bake until toasted (golden brown).  Set aside.
Crumble chocolate cake and press into an individual bowl. Add a layer of ice cream, and sprinkle with coconut and almonds. Add another layer of cake and top with whipped cream. Garnish with toasted almonds and coconut. You'll forget all of your troubles!
Last modified on 2011-07-09 12:26:14 GMT. 2 comments. Top.
Chances are you've supported a farmer or two in Costa Rica. Not that there's anything wrong with that–my brother is a resident Costa Rican jungle boy who could be selling pineapples off of the back of his truck for all I know–but I believe in buying local whenever possible. Especially when it comes to summer produce.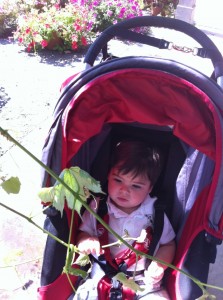 My baby BFF accompanies me to the Farmer's Market every week. He loves running the overflowing vines between his fingers, brushing his toes against the flower boxes, and sampling nature's purest gifts from local farmers who always say "Hi!" back with enthusiasm (Have I told you lately that "Hi!" is Alex's favorite word?!). The vibrant colors capture his attention, the seemingly endless fields stimulate his imagination,  and the abundance of fresh air make him take long naps. An afternoon nap that lasts a couple of hours always does a Mommy good.
I created a deliciously versatile sauce from this week's bounty that would work over pasta, shrimp, freshly grilled vegetables, or chicken. Like the ingredients found in a Farmer's Market, the possibilities are limitless. There's nothing better than Summer in a Sauce Pan.
Summer in a Sauce Pan
Ingredients
10 tomatoes, boiled, peeled, and de-seeded
3-4 cloves of garlic, minced
Fresh spinach (use about 3/4 of a bag)
Extra virgin olive oil
Salt and pepper
Method
Bring a pot of salted water to a boil. Add tomatoes and boil until the skin starts falling off (this only takes a few minutes). Remove tomatoes from the pot, and put them in a strainer to cool. Once cooled, peel the skins off, halve the tomatoes to squeeze out the seeds, and chop them up. Set aside.
Generously coat a sauce pan with EVOO. Add in the garlic and saute for 2-3 minutes, until the oil is infused with flavor and the garlic is soft (not brown). Add spinach and cook until it's wilted–2-3 minutes. Add tomatoes, season with salt and pepper, and let it simmer. Add Parmigiano Reggiano into the pan right before serving, and sprinkle individual helpings with more cheese.
Last modified on 2013-07-26 11:22:07 GMT. 12 comments. Top.
The Prosecutor had me at 31 days. As a Mommy, if my toddler went missing for 31 seconds I'd be pounding on the police station door in hysterics…not drinking with wild abandon, indulging in some girl-on-girl action, and marking my mayhem with a new Bella Vita ("good/beautiful life") tattoo. The sinister home computer searches, questionable car smell, and tangled web of lies only bolster the core 31 days argument.
Thirty-one days to report a sweet, innocent, doe-eyed little girl missing? And her Mommy wasn't even the one who finally made the call to authorities? Guilty. Beyond any reasonable doubt. Ask any Mommy and she will tell you it's true.
I was preparing a special birthday dinner for my beloved father-in-law (new Rachipe below) when I heard the Casey Anthony verdict. Stunned, I sat in disbelief for one moment, but shock quickly turned into rage. This is OJ Simpson, take two. It would be an insult to call the jury one of my peers. First the hanging chads, and now a Not Guilty verdict for a child-killer? Shame on you, Florida.
My anger at Casey Anthony and the legal system was soon interrupted by the sound of my baby monitor. Alex was saying "Hi!"–his unique way of alerting me naptime is over. He wanted his Mommy. Tears started streaming down my face when I scooped him out of his crib, hugged him tight, and rested his head on my shoulder. All I could think was every child deserves a Mommy who would never hurt him. I am not a perfect Mommy, but I would give my life to protect my baby.
Caylee, I am heartsick that the last moments of your life must have been ones of sheer terror, as you were hurt by the hands you were meant to hold. I will never forget your story, or your smile…and I will pray your Mommy pays for her unforgivable crime somehow, some way, someday.
How do you feel about the verdict?
Summer Corn Fettucini
Extra virgin olive oil (EVOO), for drizzling
6 slices smoky bacon, chopped (Mommy Dish note: I omitted the bacon in the dish, and served it on the side instead to cut fat and be vegetarian-friendly)
6 ears corn on the cob, shucked
3 shallots, finely chopped
1 small red bell pepper, seeded and chopped
Freshly ground black pepper
1 cup half-and-half (Mommy Dish note: I used half-and-half)
1/2 up chicken stock or dry white wine (Mommy Dish note: I used vegetable stock)
2 tablespoons fresh thyme leaves, chopped
A few dashes of hot sauce or 1-2 pinches cayenne pepper
1 cup grated Parmigiano Reggiano or Pecorino Romano cheese, divided (Mommy Dish note: I used Parmigiano Reggiano) 1/2 cup sweet basil leaves, or 1/4 cup tarragon leaves (Mommy Dish note: I used basil)
Method

Bring a large pot of water to boil over medium heat. Salt the water, add the pasta and cook to al dente.

Meanwhile, heat a large skillet with a drizzle of EVOO over medium to medium-high heat. Add the bacon and cook for a few minutes until rendered and crisp (if using bacon).

Put a small bowl inverted into a large bowl, steady the corn cobs on the smaller bowl and scrape the ears. Add three-quarters of the scraped corn and any corn liquid to the pan with the bacon. Add the shallots and red pepper and liberally season with salt and pepper, to taste. Cook until the vegetables are tender, 5-6 minutes.

Add the remaining corn and half-and-half to a food processor and puree until smooth.

Pour the stock or wine into the corn and vegetables and simmer over low heat for a minute to reduce. Stir in the thyme and corn-cream mixture and cook for 3-4 minutes, stirring frequently, to thicken. Add the hot sauce or cayenne and season with salt and pepper, to taste.

Drain the pasta and add it to a large serving bowl. Pour in the sauce, add a couple of handfuls of cheese, about 1/2 cup, and toss. Top with torn basil or chopped tarragon and pass the remaining cheese at the table.
Last modified on 2011-07-02 17:01:24 GMT. 6 comments. Top.
Mommyhood has made me a closet hoarder. Why do I find it impossible to bid farewell to my son's stuff?
I mean it's just stuff. But it's his stuff.
I recently got to the point where I couldn't access Alex's closet without regressing back to the schoolyard game of of tug of war–and it required all of my strength. I would open and close his closet in secret, beating the door into submission inch-by-inch, and wade through bags and bags and bags of clothing before I could find what I needed. Everything was fine until my husband stumbled upon me sweating from exhaustion mid-struggle, swearing under my breath at the damn closet door.  Now I know what it feels like to be forced out of the closet. He staged an intervention right then and there.
"What's going on here?," he said.
Uh-oh. Game over.
I am not one who holds on to much at all. I can't stand clutter. But when it comes to the sweet newborn onesies I can't believe Alex once wore, adorable ensembles lovingly selected with him in mind, personalized holiday outfits, and teeny tiny jean jackets that seem impossible to stitch I can't let them go. It just feels like it's too soon.
Knowing me, my husband was gentle when dealing with this issue. I mean I didn't come out of the overstuffed closet on my own terms! I was sneaky about my new hoarder tendancies, ensuring Alex's drawers were neatly stocked so he never had to open the closet. He knew what he was up against.
Scott convinced me to remove the bags and bags and bags of outgrown clothing to make the closet functional again, and transported them into our room. I tried to go through it to save an outfit or two from each stage of Alex's life (newborn, 0-3 months, 3-6 months, etc.) but quickly got overwhelmed with memories. It's just too hard. He could see it in my eyes.
This July 4th will indeed go off with a bang. In addition to taking Alex to the beach for the first time and making some July 4th favorites (I am not hoarding those dishes; see below), we are declaring our independence and putting all of his old clothes in storage. I wish I could donate them to a family in need (I don't have a pregnant friend who wants them), but I am still a closet hoarder when it comes to my precious baby boy. Are you the same way? Or am I the only one who can't seem to let go of stuff?
Independence Day Pasta Salad
This pasta salad is perfect for Independence Day because one batch can serve both meat-eaters and vegetarians (just add the Genoa salami to the meat-eater's portion). Freedom of choice is what this holiday is all about!
1 package penne pasta
1 can kalamata olives, chopped
12 ounces roasted red peppers
1 clove garlic, minced
1 ball of fresh mozzarella cheese, cubed (you can also use regular mozzarella; I personally like how the fresh mozzarella breaks up and resembles chunks of feta in this dish)
5 Roma tomatoes, chopped
1/4 pound Genoa salami, cut into small pieces
Italian dressing, to taste
Freshly ground black pepper, to taste
Boil the pasta in salted water, according to package directions, until it's al dente. Let it cool. Toss with all of the ingredients, and thoroughly cover with Italian dressing (make sure you mix it through to ensure it's enough and everything is coated). Refrigerate before serving.
Last modified on 2011-06-29 12:51:50 GMT. 9 comments. Top.
I pulled into the medical center parking lot fully prepared for any DramaMama scene. Children's Benadryl, a lovey, a fresh slice of whole wheat bread, and a jar of peanut butter posed next to each other, red carpet ready. My little star was safely nestled in his car seat, due for a snack. It was time for peanut shudder to lose its A-list status.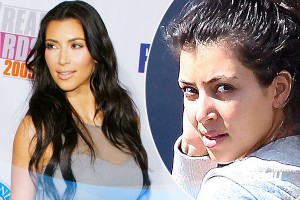 Peanut butter has been the equivalent of psychotic paparazzi–annoying, unrelenting, scary as hell– in my Mommy world. Like some stars caught with no makeup, potential peanut poison is downright scary. There's nothing more important to me than keeping my little peanut safe.
I was all set to wait another year or two–until The American Academy of Pediatrics changed its longstanding policy of avoiding nuts until the age of 3. New research indicates that waiting too long may increase a child's risk of developing a peanut allergy, and says it can be safely introduced as early as six-months-old (if the child has no family history or indication of any allergy). I figured I'd capitalize on a routine doctor's appointment by giving my son his first taste of peanut butter in the parking lot–just in case of an emergency.
Overly dramatic? Yes. Worthy of an Oscar for Lead Actress in a Petrified Peanut Butter Performance? Perhaps. Do I care? No.
Alex took a bite of his peanut butter-smeared bread readily. I carefully watched for any cues of an issue–hives, rash, trouble breathing–but all he wanted to do was chew and screw. He was completely fine–and wanted out of his car seat as usual. Goodbye peanut shudder, hello peanut butter.
In celebration of my peanut butter high, I made Chef Julie's No-Bake Peanut Butter Pie. Like most celebs, it's rich, airy, and light. Unlike most celebs, it's camera-ready in no time. Bring on the peanut parade of paparazzi.
No-Bake Peanut Butter Pie
Ingredients
1 8 oz. package of cream cheese, room temperature
16 oz Cool Whip
1 cup milk
1 1/4 cups peanut butter
1 1/2 cups Confectioner's sugar
2 ready-made pie shells (Oreo or chocolate)
Reese's peanut butter cups (chopped–a hearty handful of the small ones, or to taste)
Method
In a bowl, beat together the cream cheese and sugar. Add the peanut butter and milk; blend until smooth. Add the Cool Whip and blend until smooth and fluffy. Fold in the peanut butter cups. Add to the pie shells evenly and then sprinkle some crushed peanut butter cups on top. Cover and freeze before serving.
Last modified on 2011-06-23 09:15:00 GMT. 3 comments. Top.
My son is getting his molars and has a temperature. He's been screaming all day. I almost amputated the tip of my finger in his stroller, smacked myself in the face with my keychain, tripped over the door, and was in the car with said screamer going to pick up my daughter and my car is dead. Got Manishewitz?
No, that didn't happen to me (you must know by now sweet Jewish wine is not a strong enough Mommyjuice selection for my tastebuds), but it was a direct plea from one of my friends. So, I did what anyone in the Mommy Sisterhood would do: I orchestrated a covert operation to give her a much deserved after dinner buzz (new Rachael Ray Rachipe below). Dressed in head-to-toe black, I left the comfort of my Mommymobile and ran in flip-flops through the torrential downpour (hey, I can't get everything right) to hand deliver a bottle of the sweet stuff. I scurried away unnoticed–hysterically laughing at myself as I splashed through the puddles–covered by the darkness of night. (I hope her neighbors didn't see me; they might think this overtired Mommy does a little too much talking and laughing to herself, but I digress.)
I sent my friend a text message alerting her to look on her doorstep a short time later. Of course she was thrilled with her surprise! She texted me back and said she'll meet me at Gymboree tomorrow if she's not too hungover. Mission accomplished.
Let's face it: We're all one molar away from mayhem. Please, Mommies, remember this tale, and pay it forward. You don't know when the day will come that you desperately need Mommyjuice but you're stranded in suburbia with a screaming son. There's absolutely no store on Earth that would deliver Manishewitz on demand. That's what the Mommy Sisterhood is for…and that's no secret.
Meatloaf Muffins with Barbecue Sauce
Ingredients
Preheat oven to 450 degrees F.
Put ground beef into a big bowl. Put onion and celery into a food processor. Cut the bell pepper in half, rip out the seeds, and throw them into your garbage bowl. Cut the pepper into a few pieces and add to the food processor. Pulse the processor blades to finely chop the vegetables into very small pieces then add them to the meat bowl. Add egg, beaten with milk, bread crumbs, and grill seasoning to the bowl. Next, mix together the smoky barbecue sauce, the salsa, and the Worcestershire sauce. Pour half the sauce mixture into the bowl with the meatloaf mix. Mix the meatloaf together. Brush a 12-muffin tin (1/2-cup each) with vegetable oil or extra-virgin olive oil. Use an ice cream scoop to help you fill meat into a each tin. Top each meat loaf with a spoonful of extra sauce. Bake about 20 minutes. Cut open 1 muffin to test that the middle is cooked through.
Last modified on 2011-06-16 13:17:54 GMT. 8 comments. Top.
My husband is taking me to see my boyfriend on Friday, and it's technically his weekend. How lucky am I?
I've dropped more than a few (ahem, 9 million) hints I want to see Michael Bublé live. Poor guy probably thinks if he didn't get me tickets I'd force him to listen to his CD on automatic replay as punishment. There's just something about that Canadian crooner that makes me swoon, and his voice has the power to stop my son mid-freakout, too. He must soothe Alex because I was nothing short of Bublé's b*tch while he was in the womb.
When I was overly emotional due to a combination of pregnancy hormones and an unrelenting sugar high, Michael Bublé's song "Haven't Met You Yet" was in heavy rotation. Yes, he wrote it for his hot girlfriend, who is now his wife (I can share, I guess–I'll take my husband's lead), but the lyrics made me think of my growing baby boy.
I might have to wait,    ***Mommy Dish note: Remember, I got pregnant at age 37!!***
I'll never give up.
I guess it's half timing,
And the other half's luck.
Wherever you are.
Whenever it's right.
You'll come out of nowhere and into my life.
And I know that we can be so amazing.
And, baby, your love is gonna change me.
And now I can see every possibility.
And you'll make me work so we can work to work it out.
And I promise you, kid, I'll give so much more than I get.
I just haven't met you yet.

Every single time I heard that song I required complete and utter silence, fanned my face with exaggeration, and burst into tears before it was half over. I am sure the sight of me blubbering away with my burgeoning belly bouncing up and down was so annoying, but I had a pregnant pass and I chose to use it. Over and over and over. Now, my Bublé binges are just plain annoying to most everyone…except for Alex.
The fact that my husband bought tickets is proof–on par with his wedding band–that he's completely smitten. Sure, he knows his music gets me in the mood, but it's still pretty selfless to share his babe with Bublé on his weekend. And he will get a sweet guilty treat tonight in recognition of his sacrifice.
Father's Day delight features a nutty homemade crust smothered with a host of cool ingredients perfect for my pre-Bublé guiltfest (pudding, whipped topping…you get the idea). It's so good…and so easy to personalize. Much to Alex's delight, I dipped his hand into the top layer to capture his handprint and accentuated it with Snickers shavings (leftover from the candy bar featured at Ashley's Bat Mitzvah). I know Daddy will love it…almost as much as I am going to love my double-date on Friday night.
Father's Day Delight
Crust:
2 sticks of butter
2 cups flour
2 cups walnuts or pecans (I prefer walnuts)
Melt butter, mix in flour and nuts, and press into a 9 x 11 glass pan to form a crust. Bake in a 350 oven for 30 minutes. Let it cool.
1st Layer (mix all ingredients together):
8 oz cream cheese, softened
8 oz Cool Whip
1 cup powdered sugar
2nd Layer (beat together until pudding consistency forms):
1 package instant vanilla pudding
1 package instant chocolate pudding
3 cups milk
Topping
One layer of Cool Whip and sprinkle with chocolate or Snickers shavings (remember a handprint for Father's Day!).
Last modified on 2014-01-17 03:21:02 GMT. 7 comments. Top.
Life is full of beautiful moments. Scoring a pair of designer shoes at half price, losing a pound or two without trying, dishing out a new recipe to rave reviews, finding a good parking space, taking an impromptu road trip to nowhere…they're all small slivers of time that make life worth living. But they're no match for mommy moments.
Mommy moments are when your child learns something you taught her. It's that moment when you can see the "aha" look on her face before she breaks out into a confident smile. Mommy moments are beautiful moments on speed.
Teenagers get bad raps. Yes, they're text-obsessed Facebook junkies who can cop attitudes when you ask them to unload the dishwasher. They constantly badger you for $20 and a ride to the mall, favor brisk kisses instead of cuddly hugs, and burn out flat irons in weeks. The hair-sprayed exterior can hide the compassionate human being you've spent years molding on some days, but on others you can see your unfiltered reflection in their eyes.
I had a mommy moment with my teenager this weekend. She spent it volunteering for the National Ovarian Cancer Coalition to cross the obligatory good deed (mitzvah project) off her list for her upcoming Bat Mitzvah. She could have done the bare minimum, sneaking quick texts in-between office tasks, but she pried her phone out of her fingers and forgot about it instead (a first, believe me). She carefully listened to instructions, asked eloquent questions, and attacked all of her assignments with gusto. As she was working I could tell she was intently listening to me discuss my plans for the upcoming Run/Walk to Break the Silence on Ovarian Cancer that I spearhead. Everything clicked. She got it. She finally understood why I donate hours of my time to a cause in honor of my mom. She felt that intoxicating "pay it forward" feeling that gets me high. She was positively beaming with pride…and I was so proud of my daughter that I could have burst (technically she's my stepdaughter, but we always say there's no step between us).
You'll find the paper she wrote about her experience and will read at her service below (along with a Rachipe–Rachael Ray recipe–for one of her favorite dishes). After you read it you will realize why I am still reeling from the rush of that magical mommy moment. I love my darling Ashley Rose, and couldn't be more honored to be her mom…
Ovarian cancer strikes 1 in 55 women. If you look around the room there's 75 people here. Unfortunately, the one person it struck was my grandmother. You would never guess that she has been living with this awful disease for nine years. She is always running around busy. She shopped her heart out for this Bat Mitzvah and makes the best m&m pretzels you'll ever have; better yet she makes my little brother and I laugh like no one else.
Each year there's a walk that takes place in Boston to raise funds and awareness for ovarian cancer. I have been going with my family for the past few years but never decided to sign up for volunteer work until now. In honor of her and all other women fighting the disease, I wanted my mitzvah project to support ovarian cancer. My job was to distribute awareness bookmarks at local libraries that inform readers about signs and symptoms of ovarian cancer, putting volunteer packets together, and attending meetings for the upcoming walk.
The mission of the NOCC is to raise awareness and promote education about ovarian cancer. The Coalition is committed to improving the survival rate and quality of life for women living with ovarian cancer. There is currently no early detection test for this disease. The five-year survival rate for women who are diagnosed in the early stages of ovarian cancer is 90 percent. Sadly, the majority of women are diagnosed late, making treatment and survival very difficult. This is why it is important that the early signs and symptoms of the disease are recognized. It not only affects women but also their friends and family members, like me.
To promote awareness of ovarian cancer, we are giving out teal rubber bracelets at the reception today. They say, "Break the Silence" since the symptoms whisper and people are uninformed. Please join me and wear a bracelet to support an important cause I believe in.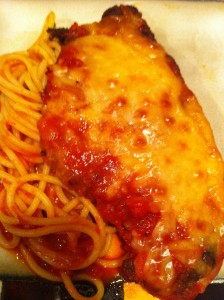 Chicken Parmigana
Ingredients
1 cup flour
2 eggs, lightly beaten
1/2 cup breadcrumbs
1 cup grated Parmigiano-Reggiano, divided
1/4 cup chopped parsley (about a handful)
2 tablespoons chopped oregano (about half a palmful)
Salt and freshly ground black pepper
8 chicken breast cutlets, about 1 1/2 to 2 pounds
5 tablespoons extra-virgin olive oil (EVOO), divided, plus additional
3 to 4 cloves garlic, chopped
1 teaspoon crushed red pepper flakes
1 small, yellow-skinned onion, finely chopped
1 28-ounce can fire-roasted diced tomatoes, such as Muir Glen brand
1 cup chopped fresh basil (about 2 handfuls), plus additional for garnish (if desired–my family doesn't like fresh basil garnish LOL)
1 cup shredded mozzarella
Method
Set up three dishes on your countertop: Fill one with the flour, one with the eggs, and the other with a mixture of the breadcrumbs, half the grated cheese, herbs, salt and pepper.
Place a large skillet over medium-high heat with 3 turns of the pan of EVOO, about 3 tablespoons. While the pan is heating up, season the chicken cutlets with salt and freshly ground black pepper, and coat each one in the flour, then in the egg, and lastly in the cheesy breadcrumbs.
Once the oil is hot, cook the chicken cutlets until golden brown and cooked through, 3-5 minutes per side depending on how thick they are. Cook them in two batches, transferring the cooked cutlets to a paper towel-lined plate while the others, adding more oil to the pan between batches if need be.
While the chicken is cooking, place a medium-size pot on the stove over medium heat. Add 2 tablespoons EVOO, 2 turns of the pan. Add garlic, crushed red pepper flakes and chopped onion. Cook 5-6 minutes, stirring often, until the veggies have softened. Add the tomatoes and heat them through, about 2 minutes. Remove the pot from the heat and stir in the basil, then season the sauce with salt and freshly ground black pepper.
Layer the chicken with the sauce in a casserole dish. Top the casserole with the remaining grated Parmigiano and mozzarella. Brown the chicken parm casserole under the broiler until the cheese has melted and is lightly golden brown, about 3 minutes. Garnish with some chopped basil before serving (if desired).
Last modified on 2011-06-01 11:59:34 GMT. 4 comments. Top.
Is it possible my son was born with a toddler alarm secretly embedded in his head? His baby days are over. I am already dealing with the good, the bad, and the ugly of toddlerhood…less than 2 weeks after The Big One.
The Good:
My little man's got game. He has always been a huge flirt, but he's suddenly figured out how to woo the ladies wherever we go. He says, "hi!" and waves to everyone, but gives a special "you've got it going on" head tilt to the pretty ones. He maintains eye contact, babbles his signature sweet talk, and closes with an irresistible grin. Each and every one of them are powerless to his charms. My never-ending trips to the grocery store are his match.com, and he gets nothing but winks.
Alex is oozing confidence on the home front, too. He's taking his first steps unassisted, pulling to stand on any surface, toy, or person, and climbing over anything in his way in breakneck speed. According to hard core baby-proofing standards, we're living in nothing short of a frat house, so I am always within arm's length. It's exhausting.
He adopted a British accent only when he calls my Mom's dog by his name ("Beau"). It's so stinkin' cute.
He has a sophisticated palatte that savors table food. He eats his fruits and vegetables without a whimper. He can handle sizable chunks of food with no drama. He's McDreamy for Mommy Dish (tomorrow he will try my homemade blueberry muffins–recipe below!).
The bad:
Alex is in the process of consolidating his usual two naps into one afternoon nap. No more morning nap for Mommy and coffee prices are on the rise. I am screwed.
He thinks the word "No" is funny. It used to stop him in his tracks, but now it cues his laughter soundtrack. If I switch it up and say, "We don't do that, Alex," completely straight-faced, that makes him giggle, too. I told you he's a player.
Even though he's a boy, I like him to look put together. The outfit is stylish, the Baby Bieber hair is tight, and his beautiful face is crumb-free (even if I have to wipe my way through a temper tantrum while singing the ABCs). But now he's ruining my presentation by pulling off one sock and/or shoe in his car seat, his stroller, his high chair–anywhere. I had to give up today and wheel him around Nordstroms with one bare foot because he wouldn't have it any other way. Non-Mommy fashionistas shot me looks of disgust; little do they know they'd be no match for a mighty toddler, either.
The ugly:
I am afraid I might have the playground picker on my hands. He's constantly shoving his pointer finger up his nose. And if I try to tell him, "no" he shoves it even deeper. Yeah, it's ugly–too ugly to give you a visual. Welcome to toddlerhood!
Bakery Style Blueberry Muffins
2/3 cup vegetable oil
2/3 cup milk (you can substitute buttermilk if you happen to have it on hand)
2 eggs
3 cups flour
1 1/2 cups sugar
1 teaspoon salt
4 teaspoons baking powder
1 teaspoon vanilla
2 1/4 cups fresh blueberries ( do not use frozen blueberries, and make sure the fresh blueberries taste good by themselves; biggest mistake you can make is using tart blueberries).
Crumb Topping:
1/2 cup white or brown sugar (your preference–both are good)
1/3 cup all-purpose flour
1/4 cup butter, cubed
1 1/2 teaspoons ground cinnamon
Method
Preheat oven to 400 degrees F. Grease oversized muffin cups or line with muffin liners. Combine flour, 3/4 sugar, salt and, baking powder. Combine vegetable oil, egg, and milk in another bowl, and add to dry mixture. Fold in blueberries. Fill muffin cups right to the top, and sprinkle heavily with crumb topping.
Crumb topping: Mix together 1/2 cup sugar, 1/3 cup flour, 1/4 cup butter, and 1 1/2 teaspoons cinnamon. Mix with a fork or your hands, and generously sprinkle over muffins before baking. Bake for 20 to 25 minutes, or until done.
Last modified on 2011-05-30 01:06:42 GMT. 7 comments. Top.
Ah, Memorial Day weekend…the unofficial start of summer BBQ season, and the official start of a delightful game I call "Ignore that Vegetarian." After all, vegetarians and BBQs don't mix, right?
Wrong. Most will have at least one plant-eating party crasher at their BBQ this weekend. The question is, how are you going to feed them? (They do eat, contrary to popular opinion…I dread putting my bathingsuit on for a reason!).
Sure, you can ask your vegetarian to BYOBB (Bring Your Own Boca Burger), sear it next to the hamburgers, serve it up with chips and a pickle, and call it a day. We're used to hauling our own food to functions. Just make sure the drinks are flowing and we won't complain much.
Alternatively, you can embrace your flesh fearing friend. I have a few tasty dishes–Caprese with Balsamic Reduction and Asian Pasta Salad– that will please veggies and non-veggies alike. All you have to do is make them (I have nothing but faith in my Mommy Dish readers).
This Memorial Day weekend, please don't forget your veterans (it's a pet peeve of mine that people think it's all about sun and fun and not honoring their incredible service/sacrifice)…or your vegetarians.
<<<End rant.>>>
Happy Memorial Day! Happy (almost) Summer!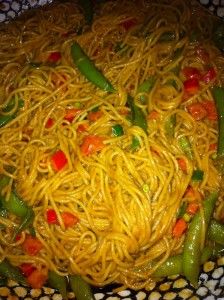 Asian Pasta Salad
1 pound thin spaghetti
1 cup vegetable oil
1/3 cup teriyaki marinade/sauce (I use Ken's Steak House brand)
1/4 cup rice vinegar
1 tablespoon soy sauce
3 tablespoons sesame oil
1 tablespoon honey
2 garlic cloves, minced
1 teaspoon fresh ginger, grated
1 bunch of scallions (5-6), chopped
1 large red bell pepper, chopped
3/4 pound sugar snap peas
3/4 cup smooth peanut butter
Salt and pepper
Cook spaghetti in salted water according to package directions until it's al dente. Add the sugar snap peas into the boiling water during the last few minutes of cooking to save yourself from preparing them separately.
While the pasta is cooking, mix the vegetable oil, vinegar, teriyaki sauce, soy sauce, sesame oil, honey, garlic, ginger, peanut butter, and salt and pepper (to taste) together. Add the red peppers and scallions to the sauce and mix well.
Drain pasta. Put some of the sauce mixture on the bottom of a large serving bowl, add pasta on top, and pour remaining sauce over the pasta. Mix until thoroughly combined. Garnish with toasted sesame seeds or parsley, if desired. Dish can be served immediately or cold (tastes great after it's been in the fridge for a few hours).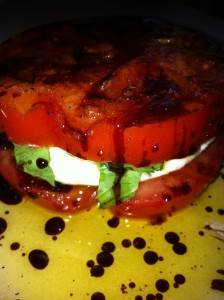 Caprese with Balsamic Reduction
Tomatoes, cut into slices ('tis the season for tomatoes; I can't wait for quality heirlooms!)
Fresh mozzarella, cut into slices
Fresh basil, torn into small pieces
1 cup balsamic vinegar
1/4 cup brown sugar (or to taste)
Good quality olive oil, for drizzling (I personally like a lot of it!)
Bring vinegar to a boil; turn down the heat and let it simmer until it reduces to about halfway. Add brown sugar and simmer some more and becomes sticky. It should stick to a spoon when it's ready.
Meanwhile, layer tomato, cheese, basil, and another slice of tomato. Season with salt and pepper, and drizzle with olive oil and balsamic reduction to taste.
Last modified on 2011-05-26 00:37:15 GMT. 8 comments. Top.
I cheated last night. I feel guilty, dirty, and, surprisingly, good about it.
My clandestine affair began after I put the baby to bed at 7:15 p.m. I quickly changed out of my milk spattered yoga pants, spruced myself up (Mommy code: applied mascara and lip gloss), and tried to tame the butterflies in my stomach as I kissed my hubby and teenager goodbye. I proceeded to my car, took a long look at myself in the rear-view mirror, and gave myself the necessary pep talk to turn the ignition key. I knew what I was about to do.
I stepped out on my hairdresser. And she has no idea I broke the vows of our longtime exclusive relationship–yet (Mommy Dish note: she is unaware of my blog, so, don't worry,  she won't find out about it here).
Like all Mommies, I am completely booked 24/7. My absence–even for a few hours–requires a lot of forethought, preparation, and planning. I can't simply escape when I feel like I am going to pull my over-processed roots out. My family is always taken care of before I even think about myself. It just goes with the Momager description, doesn't it?
I have been quietly seething for awhile now. No, I am not passive aggressive, nor am I afraid of confrontation. My kid-packed schedule makes me inclined to live with lackluster results. And I am fiercely loyal, too. A one-two punch for complacency…until the major mess up right before Alex's 1st Birthday party.
It's much easier to change my hair color than my post-pregnancy pouch, so I pretty much color my hair every season. Winter welcomes rich, dark chocolaty brown tones, and spring begins the warm up to my annual summer blonde ambition tour. I went in to my stylist asking for a light brown with blonde highlights to make the usual transition. After four hours in her chair, I left with a tug-of-war between orange and brown hair. And that's following the Elvis-like color I reluctantly sported all winter. I have complained (nicely–because I consider her a friend) for several months and wasted too many precious hours in her color correction chair. Now my 1st Birthday party pictures are tainted by my carrot top. Enough is enough.
I know I shouldn't have cheated. I should be forthright and tell her why I have to dump her (my new colorist needs two appointments to correct my hot mess of hair), but the thought of it tears me up. How do you break up with a hairdresser you really like as a person and once liked as a stylist?
I prepared this week's Rachipe (Rachael Ray recipe) in anticipation of my color correction (like I said, my family comes first). Stuffed shells are an easy make-ahead dish to pop in the oven before heading out the door to step out on your unsuspecting scissor spouse. You can trust me on this one–even though I am a cheater.
Stuffed Shells
Bring a large pot of water to a boil. Salt water and add pasta. Cook shells 12 to 15 minutes, they should be softened but still undercooked at the center. Drain pasta and cool.
Combine ricotta, 1/2 of the diced mozzarella, a couple of handfuls of Parmigiano and 1/2 of the Asiago. Add parsley to the cheeses and stir to combine. Mommy Dish note: I often sneak some spinach in to the cheese mixture.
To a small saucepot over moderate heat add oil, garlic, and onions. Saute onions and garlic 5 minutes. Add tomatoes and season sauce with salt and pepper. Simmer sauce 5 minutes and stir in basil leaves.
Pour a little sauce into the bottom of a shallow medium sized casserole dish. Fill shells with rounded spoonfuls of cheese mixture and arrange them seam side down in a casserole dish or pan. Top shells with remaining sauce and remaining mozzarella and Asiago cheeses. Place shells in very hot oven or 8 inches from hot broiler and cook 6 to 8 minutes to melt cheeses and bubble sauce.
Last modified on 2011-05-24 07:36:17 GMT. 8 comments. Top.
I am an unapologetic home cook. I tugged at my Mom's apron strings as a young girl, eager to mimic her style. And she taught me how to cook, bake, and curse "Mom's G-d Damn Pie Crust" when it didn't come out right. I learned from one of cooking's unsung heroes–but I am no chef.
Sometimes when I shake the ingredients in my sauté pan they shimmy on out to the burner. My knife skills are laughable compared to the pros. Truth be told I consider myself lucky I still have all 10 fingers after all these years!
Even though I know I can "bring it" in the kitchen–what I lack in skill I make up for in passion, instinct, and creativity–I have always dreamed of upping my game. You know, being one of those real chefs in crisp white uniforms who effortlessly chop an onion in one seamless motion and don't end up looking like they just succumbed to a really emotional chick flick? I want to rock a real chef hat without mascara running down my face. I have a dream.
Reality check is I am a Mommy who has to get dinner on the table first, so my culinary school aspirations are on hold. What's a girl to do in the meantime? Stalk a real chef I was friends with in High School for tips and tricks of the trade, of course.
Meet Chef Julie Alperin. Post-divorce, she ditched her ho-hum corporate career in favor of Le Cordon Bleu culinary school in her 30s–and she thrived! She is currently a cook at the Harvard Club of Boston–and now she's a resource for Mommy Dish. Chef Julie is going to share some of her favorite Mommy-friendly recipes every month, and I am going to prepare them. I am (kind of) living my dream, baby!
Balsamic Chicken with Mashed Potatoes
4 boneless chicken breasts
salt and pepper
1/4 cup flour
3 garlic cloves, minced
3/4 cup chicken stock
2 tablespoons olive oil
3 tablespoons white wine
1/4 cup balsamic vinegar
8 oz. fresh mushrooms, sliced
Rinse chicken and pat dry. Season with salt and pepper. Dredge chicken in flour and shake off excess. Cook in oil over medium-high heat for 3 minutes. Add garlic. Turn chicken over and add mushrooms. Cook for 3 more minutes occasionally shaking the pan. Add balsamic vinegar, chicken broth, and wine. Cook, covered, over medium-low for 10 minutes turning the chicken occasionally.
Mashed Potatoes
3-4 pounds of potatoes (I used Yukon Gold, but Red Bliss or Russet fine, too)
2 cups of half-and-half or milk (I used milk)
1/2 stick of butter
salt and pepper
Put the potatoes in a large pot, add two tablespoons of salt, and cover with cold water. Bring to a boil and cook until fork tender–about 15-20 minutes. In a separate saucepan, heat the milk and butter. Drain potatoes well and return them to their pot. Slowly add milk/butter mixture to the potatoes and mash to your desired consistency. Season with salt and pepper.
Chef Julie's Tips:
1) Heat the water and potatoes together. Don't put them into boiling water.
2) Add salt to the water before boiling.
3) Make sure you warm the milk/butter mixture; never add it cold to warm potatoes.
4) Mashed potatoes can easily be spruced up by adding your favorite condiments–caramelized onions, roasted garlic, chives, cheddar cheese, and sour cream all work well (to name a few).
Last modified on 2011-05-17 23:59:00 GMT. 14 comments. Top.
Everyone in my house is downright cranky. The culprit? Rain, rain, and more cold rain spitting on what's supposed to be spring.
The heat is back on, the extra blankets are out of storage, and the Keurig is churning out hot chocolates. It would be a cozy scene–if it wasn't almost Memorial Day. Unhappy May!
I am usually one who sees the beauty of dancing in the rain, but I have reached the point in my rain shower shuffle that I am going to fall flat on my face out of frustration. I mean, I am not a contestant on Dancing with the Stars. Where's the sun? Is this my personal punishment for buying Chanel sunglasses instead of a Mother-of-the-Bat-Mitzvah-girl dress?
My son's first birthday is on Thursday. The cute spring outfit I bought him will remain in his closet, and we will be cooped up somewhere in celebration. He has his first sugar rush–a piece of birthday cake–to look forward to smashing his face in to, but not much else. I have to figure out how to mark this milestone in style on yet another rainy Thursday. Add that to my never-ending to-do list.
At least I have food to lighten my family's mood. I am serving up an easy one-bowl banana bread as a surprise dessert tonight. This version is not my great grandmother's; hers is a little more involved (I will share it in a future post–when I have the time and ingredients to make it!). But tonight's special treat does the trick–the pale yellow color of reminds me of that big circle in the sky that's currently in hiding, and it will put a much-needed smile on my loved ones' faces.
Beat the Blues Banana Bread
Ingredients
3 large bananas, well mashed
1 egg
1 stick of butter, melted
1 1/2 cups flour
1 cup sugar
1 teaspoon salt
1 teaspoon baking soda
Method
Combine all of the ingredients in a large bowl. Mix well. Pour into a prepared loaf pan and bake in a 350 oven for approximately 45 minutes. Enjoy!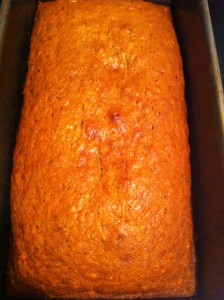 Last modified on 2011-05-14 00:26:20 GMT. 10 comments. Top.
While I am generally a master multitasker, I can be a procrastinator extraordinaire when it comes to certain things. First on my list of delay tactics? Pressure purchases.
I need a dress. Not just any dress…a Mother-of -the-Bat-Mitzvah-girl dress. And I need it to somehow flatter my new silhouette, which features c-section pudge that won't budge despite my superficial struggle with diet and exercise. I have procrastinated myself into a position where I have to buy off the rack, and I have less than one month until Ashley's Bat Mitzvah.
Stupid, stupid me.
I carved a couple hours out of my kid-packed schedule to make a first attempt at finding the perfect dress last night. No love for Mama at the bridal shoppe where we located Ashley's dream dress, or another one I stumbled on en-route to the mall. I failed miserably at a trifecta of upscale department stores, sweating under the hot fluorescent dressing room lights while wiggling in and out of unflattering frocks. I am starting to panic about this pressure purchase, to be honest.
I managed to find a pretty safety dress at the sixth store I visited, but it goes against the grain. It's a subtle gold (a color I have never worn–but it's Mother-of-the-Bat-Mitzvah-girl friendly), and looks okay on a body I am not used to. I didn't get that giddy "I found the dress" feeling, so I somehow wound up at the Chanel sunglasses counter buying a new pair of hot shades that gave me that jolt of happiness. Delay tactics. I pulled the old bait and switch on myself.
Mommies, do you have any advice for making my pressure purchase post-pregnancy? I am eating a healthy homemade yogurt parfait this morning to give me a jump-start on another go-round of dress shopping, but I need more help than that, please.
Ingredients
Strawberries
Blueberries
Fat-free vanilla yogurt
Kashi Go Lean Crunch cereal (a much healthier option in lieu of granola–it's low-fat with 9 grams of protein per serving)
Layer yogurt, Kashi cereal, strawberries, and blueberries, and repeat. Enjoy a healthy start to your day!
Last modified on 2011-05-11 10:34:29 GMT. 12 comments. Top.
Do you know what annoys me even more than my nail polish chipping as I open my car door after one of my now quarterly manicures?  Meddlers. Nosy, opinionated buttinskies. Especially those who are unrelated.
I was out to lunch with my main little man narrowly avoiding stray pieces of grilled cheese when a woman interrupted our dodgeball game. I was expecting a welcome "He's adorable!" delay, but got Mommyslapped instead.
"Let me tell you something," she said, oozing snarkiness. "I have never known a baby who starved to death when offered food on a regular basis. Don't you think he's had enough?"
Excuse me?
I am a liberal, peace-loving vegetarian. I believe in the inherent goodness of most human beings. I can readily deal with my own Mommy Meddlers (to their credit, they're pretty tame, but I have certainly been told to watch for signs of choking once or twice). However, this woman–a complete stranger who stuck her pointy nose in my lunch business–really pissed me off.
I dug deep for restraint before I responded to try to blow her off in a politically correct way. Just then Alex voluntarily took a bite of his sandwich and smiled. Sweet revenge. He even said "num num"–a sound he makes when he's really enjoying his food–while he was chewing. I love that kid. What a wingman!
I am guilty of giving her my best "I told you so" look, but otherwise channeled my annoyance into a rambling text message to one of my Mommy Mavens. She completely agreed with my take. What do you think? Do Mommy Meddlers irritate you, too?
That woman will never be invited over my house for this week's Rachipe (Rachael Ray recipe). Spaghetti and Meatballs are a classic comfort food that can have a calming effect after an encounter with a Mommy Meddler (especially when paired with Mommyjuice). Mangia! 
Spaghetti and Meatballs
Ingredients
1 pound spaghetti
Salt, for pasta water
Meatballs:
1 1/4 pounds ground sirloin
2 teaspoons Worcestershire sauce, eyeball it
1 egg, beaten
1/2 cup Italian bread crumbs, a couple of handfuls
1/4 cup grated Parmesan, Parmigiano-Reggiano or Romano cheese
2 cloves garlic, chopped
Salt and pepper
Sauce:
2 tablespoons extra-virgin olive oil, 2 turns of the pan
1/2 teaspoon crushed red pepper flakes
4 cloves garlic, crushed or chopped
1 small onion, finely chopped
1 cup beef stock, available on soup aisle in market in small paper boxes (Mommy Dish note: I omit the beef stock so I can reserve some of the sauce for myself and keep it vegetarian)
1 (28-ounce) can crushed tomatoes (Mommy Dish note: I prefer San Marzano tomatoes)
A handful chopped flat-leaf parsley
10 leaves fresh basil leaves, torn or thinly sliced
Grated cheese, such as Parmigiano-Reggiano or Romano, for passing at table
Crusty bread or garlic bread, for passing at the table
Directions
Preheat oven to 425 degrees F.
Place a large pot of water on to boil for spaghetti. When it boils, add salt and pasta and cook to al dente.
Mix beef and Worcestershire, egg, bread crumbs, cheese, garlic, salt and pepper. Roll meat into 1 1/2 inch medium-sized meatballs and place on nonstick cookie sheet or a cookie sheet greased with extra-virgin olive oil. Bake balls 10 to 12 minutes, until no longer pink.
Heat a deep skillet or medium pot over moderate heat. Add oil, crushed pepper, garlic and finely chopped onion. Saute 5 to 7 minutes, until onion bits are soft. Add beef stock (if you're using it), crushed tomatoes, and herbs. Bring to a simmer and cook for about 10 minutes.
Toss hot, drained pasta with a few ladles of the sauce and grated cheese. Turn meatballs in remaining sauce. Place pasta on dinner plates and top with meatballs and sauce and extra grated cheese. Serve with bread or garlic bread (and some good chianti!)
Last modified on 2011-05-09 02:11:45 GMT. 6 comments. Top.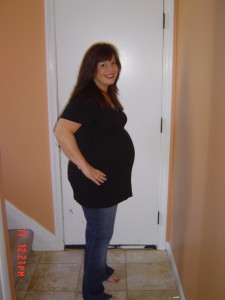 What a difference a year makes.
Last year, I was hugely pregnant. My belly was so big my legs looked supermodel thin in comparison. I was only allowed to waddle around sparingly, as I was on mandatory bed rest due to elevated blood pressure. All I wanted was to hold my baby boy, but he chose to send me a message instead.
It didn't come in the form of one of those trippy pregnancy-induced dreams. It wasn't spelled out in the bowl when I caved to a random craving for Alpha-Bits cereal.  It was printed on a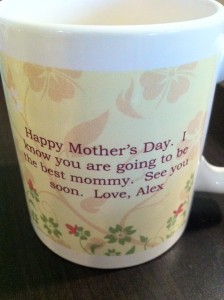 mug…one that was custom made by my Mom.
It read, "Happy Mother's Day. I know you are going to be the best Mommy. See you soon. Love, Alex." I don't know if it was the frustration of being held hostage in my home, or the overload of pregnancy hormones, or the beautifully simple message (or a combination of the three), but that mug made me cry. And it immediately became one of my most treasured possessions.
Today, I purposely pulled it out of the cabinet to use it for my morning coffee. The difference was my son and my Mom were right next to me, happily playing in celebration of Mother's Day. A smile involuntarily crept on to my face. I have the best Mommy for a role model, so there's hope I will one day live up to the message on that mug.
Happy Mother's Day!
***This year, I chose to prepare brunch at home (no more hostage situation over here!). Pistachio Bundt cake is always in demand, but it's not demanding to make…perfect for Mommies who are supposed to take a day off once in awhile.***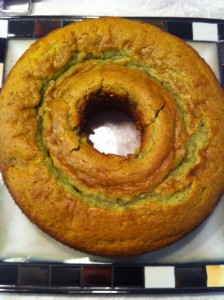 Pistachio Bundt Cake
1 box yellow cake mix
1 package pistachio pudding mix
1 cup club soda
3 eggs
1/2 cup walnuts, chopped
1 cup vegetable oil
Method
Combine all of the ingredients, and mix until well blended. Transfer into a prepared bundt pan, and bake in a 350 oven for about 50 minutes. Enjoy!
Last modified on 2011-05-05 15:17:29 GMT. 8 comments. Top.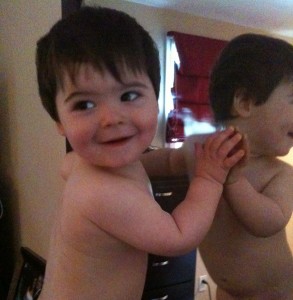 Is it just me, or do Daddies have a unique way of doing everything Mommies wouldn't do–during the time it takes for an environmentally-friendly seven-minute shower?
This morning I found my son standing on our bedroom dresser, stark naked, laughing hysterically at his reflection in the mirror. I almost dropped my towel in shock (I tend to have a firmer grip on it post-pregnancy). If he fell forward, he'd clunk his head on glass; if he fell backward, he'd hopefully fall into my husband's arms instead of the unforgiving wood. Not the safest game, wouldn't you agree?
I stifled my inner worry wart and chuckled right along with my hubby until it was clear Alex was ready for the next act of entertainment. He was diapered, clothed, and moved safely to a carpeted area of our home before I decided to finish getting ready. I have a blink-and-you'll-miss-it way of pampering myself after a rare morning shower–drying my hair to a point that it is still damp, but acceptable for scurrying to Gymboree, followed by a two-minute makeup routine. I try to not look like an overworked, overburdened, and overtired Mommy, even though I feel like one every single day of my life.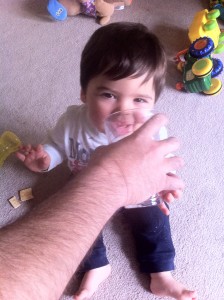 Refreshed, dressed, and ready, I went to get my little man so my husband could go to work. This time, I found Alex drinking sugary CranApple Juice out of a glass (he usually gets organic sugar-free juice in a sippy cup once a day), with half-eaten, empty-calorie crackers strewn all around him. I stumbled on quite the Cinco De Mayo fiesta…if only tortilla chips were substituted for the crackers. Next time, Daddy, next time.
I know I am so fortunate to have a husband who makes a point of parenting in his own special way (nothing is cuter than witnessing him say, "I am going to get you!" to my son who immediately laughs and takes off). He is truly a wonderful Daddy; he adores my kids, and my kids adore him. But sometimes I wish he'd get a little of that Mommy control freak blood running through his veins. You know, the kind that reads baby books, frequents baby boards, and consults baby doctors if there's any question whatsoever. Just a little bit of that would be great. Are you with me on this one?
At least our party house is fitting for Cinco De Mayo–a day to celebrate Mexican heritage and pride (and a good excuse for me to eat delicious Mexican food). In honor of my never-ending diet, I made Texas Caviar…a healthy dish that's nothing short of a fiesta in your mouth. Olé!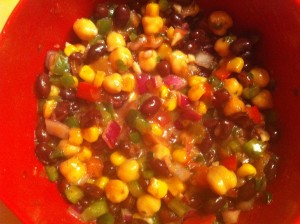 Texas Caviar
Ingredients
1/4 red onion, chopped
1/2 green bell pepper, plus 1/2 red pepper, chopped
1/4 bunch green onions, chopped
1/2-1 jalapeno pepper, de-seeded and chopped (adjust according to your preferred heat level–I use a whole pepper)
1/2 cup cooked corn
4 cloves garlic, chopped
1/4 (8 ounce) bottle Zesty Italian dressing OR Red Wine and Olive Oil dressing–your choice (I mix the two together!)
1/2 can black beans, drained well (Mommy Dish note: you can add all of the beans if you want to up the protein–it will just dilute the spice a bit)
1/2 can chick peas, drained well
1/4 teaspoon ground coriander
1/4 bunch chopped fresh cilantro
Dash of cumin 
Hot sauce, if desired
Method
Mix all ingredients together, pour dressing over it, and mix again. Marinade for several hours or overnight. Mommy Dish note–cherry tomatoes, salsa, or lemon juice are all delectable additions to this dish. It's a fiesta–basically anything goes, and it will be good!
Last modified on 2011-05-04 12:02:33 GMT. 4 comments. Top.
Guess what sidelined me last night? One achy breaky tooth in desperate need of a filling. I whined, self-medicated, and Mommy juiced it up to try curb the pain. Admittedly, I was in full drama mama mode. It wasn't pretty.
Meanwhile, my son cut a tooth through his gums sans Tylenol, tears, or tossing and turning. I feel like such a wuss. Is it possible my 11-month-old is already tougher than I am?
It began with a raging headache in the early evening . My tooth suddenly started pulsating to techno music at a club that turned me away at the door. Two rounds of over-the-counter pain relievers later it was still throbbing to the beat, and I couldn't find an exit. I was desperate to get some sleep.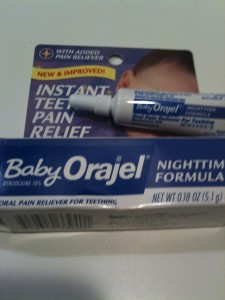 In Mommyhood, you do what you gotta do to get some rest. Even if that means busting open a tube of Baby Orajel at 1:30 a.m.
I bought the gum numbing good stuff for Alex long ago–before I realized it was as taboo as putting an infant in a forward-facing car seat. After consulting my Mommy Maven, Mom, and pediatrician (in that order), I decided against giving it to him and stuck the unopened box in the back of my medicine cabinet just in case. I never thought I'd be the one who needed it!
My son battles his teething wars with no meds, sleeps on a mattress that rivals a wooden plank with no pillow, and falls on his butt every day of the week without a whimper. No doubt about it…he's tough…much tougher than I am, and I have only gotten a glimpse into what he is really made of.
This week's Rachipe (Rachael Ray recipe) isn't tough, which is good news for the rest of us. Stovetop Macaroni and Cheese is simple, satisfying, and soft on the gums. It's a must for a wuss Mommy like me, and my little toughie liked it, too.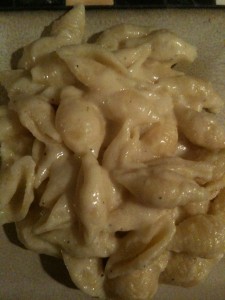 Stovetop Macaroni and Cheese
(Mommy Dish note: I made some modifications to cut calories–i.e. substituting low-fat milk for half and half–and added a pinch of nutmeg and some pepper to put my own stamp on the Rachipe).
Ingredients
2 cups elbow macaroni (I used shells because I had them in my pantry)
2 tablespoons butter
2 tablespoons flour
2 cups half-and-half, warmed
One 8-ounce bag (2 cups) of shredded extra-sharp cheddar cheese
Salt, to taste
Method
In a large saucepan of boiling, salted water, cook the macaroni until al dente; drain in a colander.
In the same saucepan, melt the butter over medium heat. Whisk in the flour and cook for 1 minute. Gradually whisk in the warmed half-and-half and cook, whisking constantly, until the mixture is steaming hot and thick, about 4 minutes. Remove from the heat and stir in the cheddar until melted. Stir in the cooked macaroni and season to taste with salt.
Last modified on 2011-04-30 13:12:55 GMT. 10 comments. Top.
I would be remiss if I didn't dish about the royal wedding, right? Whether you thought it was a royal treat or a royal pain in the arse everyone is talking about it.
I, for one, was happy to have some adult company at the crack of dawn for a change. It's not everyday I can call almost anyone I know at 5:00 a.m. without them panicking, swearing, or hanging up on me.
Likes:
– Royal pajama and tiara parties starting at 4:30 a.m. (I made Roasted Parsnip Bread Pudding because it seemed more regal than the average breakfast dish–recipe below).
– Kate's dress was understated and elegant, befitting of a Princess.
– British women rocking some choice hats. I want to wear one without people laughing at me!
– Will's balancing act of trying to maintain his monarchical composure before seeing his bride for the first time was endearing. It was cute how Prince Harry kept peeking, too.
– Will mouthing, "You look beautiful" when he finally saw Kate. I think he was able to block everyone else out for that moment…or maybe I've seen too many chick flicks (I am not sure).
– The proper way they held hands.
– They broke tradition and kissed twice on the balcony. Nothing beats trendsetters with a naughty streak.
– The entire country participated in a giant group hug today.
Dishlikes:
– Kate's sister was white hot. Pippa was pimpin' that dress. Kate should have put her in another color and toned down her sexiness a notch… or two.
– American news reporters trying to rock the British hats. The Fashion Police should confiscate them before they're allowed to return to The States.
– The first kiss on the balcony reminded me of two 12-year-olds. It was like they were playing Spin the Bottle and were nervous about their parents coming downstairs and ruining the fun. The second kiss was a must after the first one.
– Princess Diana wasn't there to witness her beloved baby boy get married. It's an honor every Mommy deserves (I have every intention of being there for Alex). You were missed, Lady Di.
What did you think of the royal wedding?
Roasted Parsnip Bread Pudding
Ingredients
1 pound parsnips, peeled and chopped into 1/2-inch pieces
Extra virgin olive oil, for drizzling
Salt and pepper
2 tablespoons unsalted butter, plus 3 tablespoons melted, plus more for dish
2 large leeks, halved lengthwise, thinly sliced, and rinsed well
1/3 cup dry white wine
2 tablespoons fresh thyme, chopped
5 eggs
1 cup Parmesan cheese, grated
1 loaf brioche, crust removed and cut into 1-inch cubes.
Method
Preheat oven to 425 degrees. Drizzle parsnips with oil, and season with salt and pepper. Roast until carmelized and tender–about 25 minutes. Let cool. Reduce oven temperature to 375.
Heat 2 tablespoons of butter in a skilet until melted. Add leeks and cook until tender, about 5 minutes. Remove from heat, and add the wine, then return to heat. Let simmer until reduced for one minute, add the thyme and parsnips, and remove from the heat.
Whisk together melted butter, heavy cream, eggs, and Parmesan in a large bowl. Season with salt and pepper. Add leek-parsnip mixture and bread (can refrigerate overnight at this point).
Butter a shallow casserole dish and pour the mixture in. Cover loosely with parchment paper, then foil, and bake until golden brown and puffed, about 50 minutes. Remove parchment paper and foil, and sprinkle more Parmesan on top. Bake for another 10 minutes, and let stand 5 minutes before serving. This dish is a royal treat!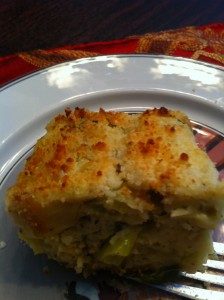 Last modified on 2011-04-28 02:42:44 GMT. 13 comments. Top.
Every time I make my stepdaughter's lunch–peanut butter and jelly–I subsequently morph into a surgeon in pre-op mode, meticulously scrubbing my hands at every angle. I have watched Grey's Anatomy for years, so my technique is quite good.
No, I am not suffering from Obsessive Compulsive Disorder (one can look at the cyclone of shoes strewn all over my closet as confirmation of that fact); as a Mommybot, I am pre-programmed to fear peanut butter. It's on par with poison for babies.
Until they turn one, that is.
What am I supposed to do in a few weeks? Introduce potential peanut poison with one hand on the spoon and the other on my cell phone pre-set to dial 9-1-1? The thought of it is driving me nuts.
One of the first recipes I perfected as a young girl was peanut butter cookies. And I am still a peanut butter affecianado. Peanut butter pie, peanut noodles, peanut brittle, peanut sauce…you name it, I'll make it. I love to cook with it so much I pray to the peanut G-ds my son will be spared the scary-as-hell allergy. I hope they listen.
Do any other Mommies feel the way I do? How did you introduce peanut butter to your babies?
After Hours Peanut Butter Cookies
(Mommy Dish note: I am not using my recipe from childhood because I now avoid shortening at all costs. The following recipe is from Cathy Lowe at The Food Network.)
Ingredients
1 cup sugar, 1/4 cup additional to roll cookies (Mommy Dish note: I do not roll the cookies in sugar, as you can probably tell by the photograph; personal preference).
1 stick butter, at room temperature
1 egg
1 cup smooth peanut butter
1 teaspoon vanilla
1/2 teaspoon salt
1/2 teaspoon baking soda
1 1/2 cups flour
Method
Preheat oven to 375 degrees. Grease a baking sheet. In a large bowl, cream together sugar and butter. Beat in egg to mixture. Mix in peanut butter and vanilla until smooth and creamy. Stir in salt, baking soda and flour until well combined. Roll dough into 1 inch balls and then roll in sugar. Place on baking sheet and flatten with fork. Bake for 12-15 minutes (Mommy Dish note: mine baked in about 11 minutes–just keep an eye on them).
Last modified on 2011-04-26 18:54:50 GMT. 16 comments. Top.
Ovarian cancer sucks. I hate it so much I'd elevate cellulite to frenemy status in comparison. It's pure evil.
Surgeries, chemotherapy treatments, and doctor's appointments drain an ovarian cancer patient's reserve. Choosing hope over scary statistics tests her psyche. Believe me, I know. I have winced in pain at the infusions, prayed throughout the operations, and slept on stiff chairs in countless waiting areas as my Mom's primary caregiver for the past 9 years. And there was nowhere I'd rather be…until my son was born.
Even though I am a SuperMommy, I don't yet have the ability to split myself in half to be two places at the same time. I have intense DaughterGuilt–which rivals the dreaded MommyGuilt–over missing a few of my brave Mom's doctor's appointments to care for my son, but she is as adamant as I am about protecting him. We both want to shield him from her disease.
Today was a big appointment though. Sadly, her cancer is back (like a stalker ex-boyfriend it never really left) and she needed to go in to discuss her options. I wanted to be there for her as she has always been there for me. This time, I had to take Alex along.
There is nothing funny about cancer. But there is something funny about bringing an innocent, happy, go-lucky infant to a cancer center. The kid had everyone in stitches–the good kind!–all day. He flashed all of the nurses his mismatched toothy grin, flirted with patients as they waited to get their vital signs, and got so excited about playing with my Mom's scarf he shrieked at the top of his lungs. I have never made as many people smile as he did today. Alex intuitively knew he was needed.
When my Mom's oncologist was explaining the cruel side-effects of her upcoming treatment, my son wrapped his tiny hand around her finger, unprompted, at that very moment. My Mom said, "You can take Grammy's hand, but you already have her heart." There was a reason why I had to bring him today. Turns out he was just what the doctor ordered.
***As promised, the Rachipe (Rachael Ray recipe) of the week is the Almond Joy Layer Cupcakes. I made them for Easter, and they were a delicious treat after a long day at the hospital, too. ***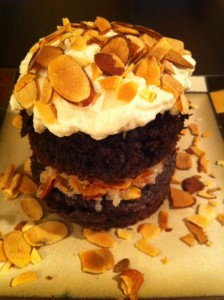 Almond Joy Layer Cupcakes
Ingredients
For the Cake: 1/2 cup natural unsweetened cocoa powder
1 cup lukewarm water, divided
1/2 cup buttermilk
1 1/2 cups cake flour
3/4 teaspoon baking soda
1/4 teaspoon salt
1 cup sugar
1/2 cup light brown sugar
1/2 cup (1 stick) unsalted butter
2 large eggs, at room temp, beaten to blend
For the Coconut-Almond Filling:
1 1/2 cups slivered almonds (reserve 1/2 cup for garnish)
3/4 cup cream
3/4 cups sugar
Pinch salt
2 teaspoons vanilla extract
3 cups sweetened shredded coconut
For the Frosting:
1 cup heavy cream
2 tablespoons confectioner's sugar
1/2 teaspoon almond extract
Preheat oven to 350 degrees. For the cake, prepare 2 cookie sheets by buttering the pans. Whisk cocoa and 1/2 cup lukewarm water in a small bowl. Whisk the remaining 1/2 cup of the lukewarm water with the buttermilk in another small bowl. Sift flour, baking soda and salt into a medium bowl.
Using electric mixer, beat both sugars and butter in large bowl until pale yellow and fluffy (mixture will appear granular), about 5 minutes. With mixer running, gradually add beaten eggs, and then beat until smooth and fluffy, about 15 seconds. Add cocoa mixture; beat to blend. Add flour mixture in 3 additions alternately with buttermilk in 3 additions, beating to blend after each addition. Divide batter among the 2 cookie sheets (about 2 ½ cups batter per pan)
Bake cakes until tester inserted into center comes out clean, turning pans halfway through baking, about 10 minutes. Cool pans completely in pans on racks.
While cake is cooling spread the almonds for the filling on a baking sheet and toast in oven until golden in color. In a saucepan, combine the cream, sugar and pinch of salt, and simmer until sugar dissolved, about 3 minutes. Remove from heat and stir in the vanilla extract and shredded coconut. When cool, fold in the 1 1/2 cups toasted almonds.
For the frosting, in a large bowl, using a mixer whisk the heavy cream on medium speed until soft peaks, about 2 minutes. Add the confectioners' sugar and almond extract, and whisk until smooth and hold firm peaks.
For building the mini layer cake, you will need a 2 1/2-inch round cookie cutter. Each layer of cake will give you 12 rounds, for a total of 24 cake rounds. Top 8 cake rounds with about 1 tablespoon coconut almond filling, then top with another cake round. Top the second layers of each mini cake with about 1 more tablespoon of the coconut-almond filling. Top each mini cake with the last layer and gently press down to even out the filling in the mini cakes. Dollop each mini cake with 2 tablespoons of the frosting, then sprinkle with reserved toasted almond for garnish.
Mommy Dish note: I opted for two layer cupcakes instead of three as a personal preference. They were delectable!
Last modified on 2011-04-23 12:59:40 GMT. 2 comments. Top.
Remember how I told you a couple of weeks ago I ran out of excuses to skip work-outs? Well, it turns out I am more clever than I thought.
True confession: I ponied up the plastic to join a posh gym and didn't go…until today. And that's despite my public promise to become reacquainted with my inner gym rat. Shame on me.
Sure, I had some pretty good excuses. Taking care of Alex as he battled a virus as ruthless as the British tabloids are about Kate Middleton losing weight before her nerve-wracking nuptials was my main reason (Sidebar: I am stressed everyday and never shed one pound without sacrifice, being the commoner that I am). Staying up all night due to the appearance of another top tooth, running around like a lunatic during school vacation week, never-ending party planning, and cooking for Passover are all excuses in a supporting role. You see? I am good at excuses. Too good for my own good.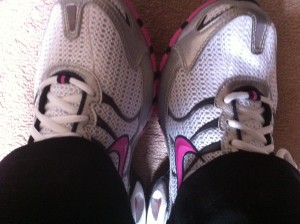 Today, I received a few unexpected hours of babysitting from my mother-in-law. Any Mommy will tell you bonus baby-free hours over and above napping is like winning $50 on a scratch ticket you buy on a whim…a welcome surprise! I could have easily filled my time with work, laundry, or grocery shopping, but decided to break my new Nikes out of the box and Just Do It.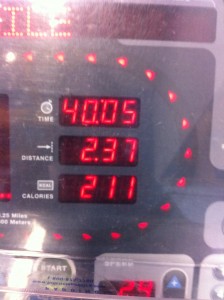 It felt as if my butt was running two paces behind me on the treadmill, but I am proud of myself for going. I clocked 40 minutes for cardio, did some strength training, and drank the fresh lemon water. I feel good.
Dessert tonight will be a low-fat treat to underscore my real commitment to coaxing my inner gym rat out of hiding. My Lemon Yogurt Citrus Cake won't cancel out all of the calories I burned today, so there's really no excuse not to have a small sliver. Don't you think?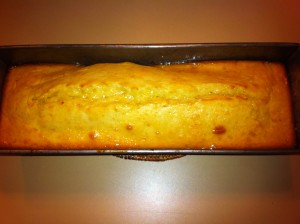 Lemon Yogurt Citrus Cake
1 1/2 cups flour
2 teaspoons baking powder
1/2 salt
1 cup fat-free Greek style yogurt
3/4 cup sugar
3 large eggs, room temperature
2 small lemons, zested and juiced (Mommy Dish note: you can substitute oranges if desired)
1/2 teaspoon vanilla
1/2 cup canola oil
Confectioner's sugar, to taste (optional)
Sift together flour, baking powder, and salt, and set aside. Whisk together yogurt, sugar, eggs, zest, and vanilla in another bowl. Sowly whisk in dry ingredients, and add oil. Pour into a loaf pan prepared with cooking spray and bake 50-60 minutes, until tester is clean. Cool in pan for 10 minutes. Mix lemon juice with confectioner's sugar to taste to make a glaze and pour over cake. This cake is good…for a low-fat cake (I don't remember where I got the recipe, but it's not my own)! Stay tuned for a sinful dessert in my next post.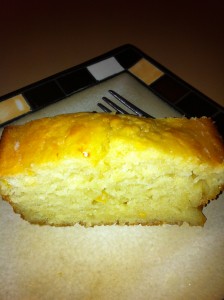 Last modified on 2011-04-20 00:57:41 GMT. 7 comments. Top.
I am a firm believer in the mantra "Fake It 'Til You Make It." I once bought a designer handbag to help me land a job worthy of paying for it, am able to artfully apply mascara to appear as though I get 8-hours of sleep, and can whip up distinctive dishes in 15 minutes flat that give the impression I live in my kitchen. It's a skill all Mommies should perfect.
Tonight is Passover, a holiday that celebrates the escape of the Israelites from Egypt. It's a major holiday, and it comes with its own unique cooking hurdle: When Pharaoh freed the Israelites, they left in such a hurry that they could not wait for bread dough to rise. In commemoration, I can only use unleavened bread–matzo–during the Seder. It's no easy task for a true carb addict, believe me.
I am spending the day making traditional favorites that take hours to prepare–brisket, potato latkes, matzo ball soup–with my son tugging at my feet, but there is one sweet recipe I finished during his cat nap. Chocolate Caramel Matzo Crunch will rock your Seder, and you still have time to pull it off. If you want to look like a cool chocolatier tonight, make this dish. Fake It 'Til You Make It, Mommies!
Chocolate Caramel Matzo Crunch
4-5 pieces of Matzo
1 cup firmly paced dark brown sugar
1 cup (2 sticks) unsalted butter
1 cup chopped bittersweet chocolate, or semi-sweet chocolate chip pieces
Toppings (as desired) can chop of pecans or walnuts to add after putting on chocolate pieces
Line a baking sheet with aluminum foil (I used jelly roll pan) or parchment paper. Place matzo in one layer on the baking sheet breaking when necessary to be sure that it covers the whole bottom. Set aside.
In a large sauce pan, melt the butter and brown sugar over medium heat, stirring constantly. Once the mixture reaches a boil, continue to cook for an additional three minutes, still stirring, until thickened and just starting to pull away from the side of the pan. Remove from heat and pour over prepared matzo, spreading it evenly over the matzo with a heat proof spatula.
Put the pan in a 350 oven and immediately t. Bake for 15 minutes, watching to make sue it does not burn. If it looks like it is starting to burn, turn the oven down to 325 degrees.
After 15 minutes the toe should have bubbled up and turned a rich golden brown. Remove from oven.
Immediately sprinkle on the chocolate pieces over the toffee/matzo.. Let it sit for five minutes then spread it over the matzo. At this point, you can sprinkle on chopped nuts if desired.
Let it cool completely (can put it in the fridge). Break it into smaller pieces and store in an air tight container in the refrigerator.
Last modified on 2011-04-19 13:40:27 GMT. 6 comments. Top.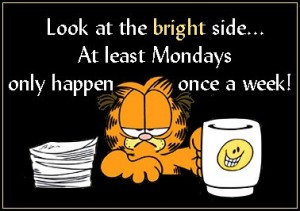 I know I am not alone when I say I detest Mondays, right? Well, Mondays during school vacation week add 10 pounds of water weight to my hatred of the beginning of the work week. Friday seems as far away as me getting into my skinny pre-pregnancy jeans buried deep in an airtight storage container in the corner of my cedar closet.
How am I going to make it through this week?
School vacation week translates into several trips to the mall with giggling teenage girls who often text each other the dirt in the backseat instead of airing it, giving up the rights to my radio during said car rides, and making multiple stops at ATMs for mad money. The carpooling always coincides with rush hour traffic and my son's dinner time because it's much cooler to be seen at night than during the day. Bonus.
While my stepdaughter's nightlife is full speed ahead this week, my son is suddenly the lonely kid on the playground. All of his activities were canceled due to the fact that it's school vacation week. My 11-month-old's entire life is a vacation, so I don't really understand why he needs a designated week, but, apparently, he does.
So, I have a bored infant and teenager all day, every day this week. My son's entertainment program begins at 6:00 a.m., and my stepdaughter's starts between 11:00 a.m. and noon (lucky girl!), but they're both looking to me to orchestrate something good to pass the time.
Vacation week is understandably preoccupying my thoughts, so I had to serve up an easy Rachipe (Rachel Ray recipe) for dinner tonight. Tangy and sweet Sticky Orange Chicken  is quick and delicious, and brought me one meal closer to a Friday night out. Yay me!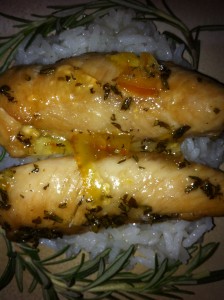 Sticky Orange Chicken
2 tablespoons extra virgin olive oil (EVOO)
4 pieces boneless, skinless chicken breasts (Mommy Dish note: I used chicken tenders instead because I had them on-hand)
2 tablespoons white balsamic or cider vinegar
1/3 cup orange marmalade
1 1/2 cups chicken stock
1 tablespoon fresh rosemary, finely chopped
2 tablespoons fresh thyme, finely chopped
Heat the EVOO in a cast-iron or stainless steel skillet. Add the chicken to the hot pan and cook for 10 minutes, turning once. Transfer the chicken to a plate and deglaze the pan with vinegar. Whisk in the marmalade, stock and herbs. Add the chicken back to the skillet and turn in the sauce. Let thicken for 1-2 minutes, and serve with Jasmine rice or Rachael's Sweet Potatoes with Cider. Visit http://www.rachaelray.com/recipe.php?recipe_id=3023 for the Rachipe.
Last modified on 2011-04-15 12:56:30 GMT. 13 comments. Top.
Mommy Maven. Every Mommy needs at least one. Maven is derived from the Yiddish word mevin, which means understanding. Tell me, do you know of a Mommy who doesn't need an empathetic friend who lets her brag about her baby and bitch about her stretchmarks in the same sentence?
My Mommy Maven is my best friend Carrie, who had three kids in quick succession before I even had one. Like caffeine, Carrie is an addictive drug who helps me function. I get the withdrawal shakes if we don't communicate for a day or two. Our friendship is unfiltered, unparalleled, and unwavering–she has been steadfastly by my side for 20 years.
As my Mommy Maven, Carrie was the first person to confirm my pregnancy before I peed on the stick. She made her husband lug huge boxes of maternity clothes to the Post Office to ensure my bump would win a "Best Dressed" contest. She talked me through every symptom, every fit of anxiety, and every medical milestone at every hour of the day with her trademark Hallmark style (like a perfect card, she always knows what to say). When I was 8 months' pregnant watching my Mommy as she was wheeled in for another surgery in her ongoing cancer fight, she called me at that very moment, and her voice enveloped me like a much-needed hug.
A Mommy Maven becomes even more important after you deliver. Carrie drove her mini-van–overstuffed with toys, books, and enough clothes to outfit my son for his first year of life–from New Jersey to surprise me at the hospital. She gave me beautiful flowers and a Swarovski baby carriage, and made me a promise that I would not only be as good of a Mommy as she is, but also as my own Mommy is (I told you–she's a walking Hallmark card).
My son has directly benefited from my Mommy Maven, too. Alex has incredible upper-body strength because Carrie was adamant about tummy time from the outset. He's been happily sleeping in his crib since he was three-months-old due to the pep talk she gave me to move him from the bassinet into his own room. He was introduced to his favorite food–pizza–before I thought I could give it to him because she said it was okay. I trust her unconditionally.
Finding a Mommy Maven is one of the greatest gifts you can give yourself during your Mommyhood journey. Look for a Mommy like Carrie–someone with a beautiful soul that radiates positivity who can also deliver a healthy shot of sarcasm to keep it fun. I'd offer her to you, but I am not sharing. I know I am supposed to encourage sharing as a parent, but she's my Mommy Maven…she's my gift.
Do you have a Mommy Maven?
***In honor of my Mommy Maven, I am sharing a dish she passed along to me: Asian Cole Slaw. It's distinctive and delicious–the perfect dish to celebrate spring weather!***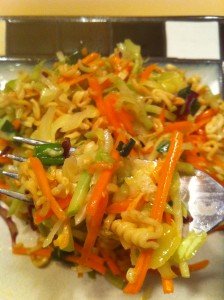 Asian Cole Slaw
Ingredients
2-3 packages of cole slaw mix
6 scallions, chopped
2 packages Oriental style Ramen Noodles
3/4 cup vegetable oil
1/4 cup sesame oil
1/2 cup sugar
1/2 cup apple cider vinegar
1/2 a bag of a small bag of slivered almonds (about 4 oz.)
Mandarin oranges, optional
Sesame seeds, optional
2 tablespoons butter, melted
Method
Preheat oven to 350. Remove Ramen Noodles from packages, and break them up in a baking pan. Add slivered almonds and pour melted butter over the top. Mix together and bake until toasted. Set aside.
Pour coleslaw mix into a large bowl and toss in the scallions. In a separate bowl, whisk together seasoning packets from the Ramen Noodles, vegetable oil, sesame oil, sugar, and apple cider vinegar. Pour over coleslaw and mix together. Let it marinade overnight, or for a minimum of six hours. Toss in Ramen Noodles and slivered almonds just before serving. Add mandarin oranges and sesame seeds, if desired. Enjoy!
Last modified on 2011-04-08 16:27:58 GMT. 4 comments. Top.
Did you know Alex is already a die-hard Red Sox fan? If you're born in Red Sox nation, it's simply part of your DNA. Hating the Yankees–ahem, Spankees–is also written in his genetic code. And today is Opening Day at home for our beloved Red Sox against the Spankees.
The season has gotten off to a rough 0-6 start, but we're holding out hope the Sox will put their first W in the Win column today. If anything will inspire them to right their season-opening slump, it will be the opportunity to beat their rivals in front of the Fenway faithful.
This week's Rachipe(Rachael Ray recipe) will get you in the mood for the matchup. The Pretzel and Peanut-Crusted chicken makes your house smell like the ball park, and the side of Smashed Sweet Potatoes just may encourage our first sweet victory. Go Sox!
Pretzel and Peanut-Crusted Chicken
Ingredients
1/2 cup coarsely chopped honey-roasted peanuts
1 bag of salted prtzels, any shape
3 sprigs fresh thyme, leaves removed
Salt and pepper
2 eggs
16 chicken tenders or 2 pounds boneless, skinless chicken breasts, cut into strips half an inch thick
1/4 cup EVOO – Extra Virgin Olive Oil (eyeball it)
Honey mustard or barbeque sauce, for drizzling
Method
Place pretzels and peanuts in a food processor or blender and grind until fine. Transfer to a shallow dish, add thyme, season with salt and pepper, and mix to combine. Crack and beat 2 eggs in a second shallow dish with a splash of water.
Coat the chicken in the ground pretzels and peanuts, then the egg, then the pretzels again.
Preheat a large skillet with EVOO, enough to go 1/4 inch up the sides of the skillet, over medium-high heat. Add coated chicken pieces to the hot oil. Cook in a single layer, in two batches if necessary, about 3-4 minutes on each side, until cutlets' juices run clear and the breading is evenly browned. Transfer finished chicken strips to the oven to keep warm as you cook remaining strips.
Serve topped with a drizzle of honey mustard or barbecue sauce and with Smashed Sweet Potatoes with Honey alongside.
Smashed Sweet Potatoes
Ingredients
21/2 pounds sweet potatoes, peeled and sliced into bite-sized pieces
Salt and pepper
1/2 cup warm chicken stock (Mommy Dish note: I used vegetable stock )11 teaspoon orange zest
Juice of 1/2 orange
A pinch cayenne pepper
2 tablespoons butter
A drizzle of honey
Method
Drain and return potatoes to the warm pot. Mash with stock, orange zest and juice, cayenne, butter, honey, salt and pepper. Serve warm.
Last modified on 2011-04-06 02:26:09 GMT. 2 comments. Top.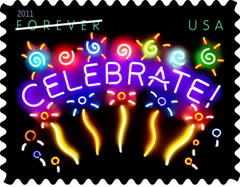 Doesn't it amaze you how much you do for your kids on any given day? It's enough to make me dizzy–no drinks required. I am accustomed to the usual–feeding, clothing, bathing, playing, lunch-making, chauffeuring, tutoring, mentoring, cleaning–but the unusual issues that arise sometimes make me feel like I am running in circles.
Today, I went to several post offices to get the perfect stamp for my stepdaughter's Bat Mitzvah invitations. A side profile of Ronald Reagan simply does not spell party in my neck of the woods, so I was forced to embark on an exhausting door-to-door campaign for hundreds of Celebrate stamps. It took up so much of my time it required a pit stop for overpriced gas.
Once I tracked enough of them down, I stamped, stuffed, and sealed all of the envelopes, and drove back to the closest post office to send them off in style. When I asked the postmaster to hand cancel the envelopes to ensure they arrive looking smashing, he stifled his laughter, informed me they no longer provide that service (no wonder why the US Postal Service is broke), and handed me the device to do it myself. So, I carved out a little spot in the midst of a myriad of pissed off patrons and personally hand canceled all of her invitations.
The only real reward of my crazy day was that I was so busy I skipped lunch and didn't even realize it–which is really unusual. And may be the reason I am feeling dizzy, come to think of it.
It's a good thing my Creamy Apple Squares are really easy to make, even lightheaded. I whip them up after an insane day with the kids to remind my husband I think of him, too (he has a major after-hours sweet tooth). And I have a few calories to spare after skipping lunch, right?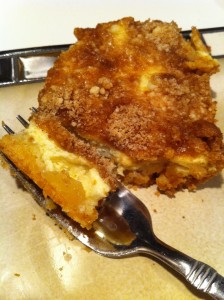 Creamy Apple Squares
Ingredients
1 package of yellow cake mix
1/2 cup butter, softened
1/4 cup firmly packed brown sugar
1/2 teaspoon cinnamon
2 large apples, thinly sliced
1 cup sour cream
1 egg
Method
Combine yellow cake mix and butter and mix until crumbly. Reserve 2/3 cup for the topping. Add brown sugar and cinnamon to reserved topping, mix well, and set aside. Combine sour cream and egg in another bowl and set aside.
Press yellow cake/butter mixture into a crust in an ungreased 9 x 11 glass pan. Cover with a layer of sliced apples. Spread sour cream mixture evenly over the apples. Sprinkle reserved topping all over the sour cream layer. Bake at 350 for about 25 minutes, until top is golden brown.
Last modified on 2011-03-30 14:00:29 GMT. 6 comments. Top.
Being Mommy to both an infant and a teenager does have its perks. If my son's teething woes force me to stay up and party like it's 1999, I think of my teenager who not only sleeps through the night, but also through her alarm. If my teenager rolls her eyes when I tell her it's time to detox from Facebook and go to bed, I peek in on my early bird special of a son who hits his sleep sack no later than 7:00 p.m. Raising them together reminds me that everything comes in stages.
Everything…except for their major milestones. My son's first birthday party and my stepdaughter's Bat Mitzvah are just three weeks apart. Talk about party planner pressure!
I am knee-deep in Elmo impersonators and breakdancers; high chair banners and letter balloons; cakes and mocktails; "I am One" outfits and glittery dresses; goody bags and custom t-shirt giveaways. Ensuring two coming-of-age celebrations are as special as my kids is no small task. I am the Mommy equivalent of Mindy Weiss (Hollywood event planner to the stars) for the next few months.
The fast pace and attention-to-detail required to pull off my parties makes me want to cook something slow and mindless for dinner. For me, that dish is Butternut Squash Risotto. It's easy to prepare, and I find the constant stirring to be a stress reliever. Better yet, it's a dish kids who like little singalongs and Lil Wayne agree on. Now that's something to celebrate!
Butternut Squash Risotto
1 large onion, diced
1/2 of a butternut squash, cut length-wise–roasted and diced
1 cup arborio rice
2 tablespoons butter
2 tablespoons olive oil
1 large vegetarian stock in a box
Salt and pepper
Garlic powder
1 large palm full of Parmesan cheese
Half-and-half, if desired
Method
Preheat oven to 350 degrees. Coat butternut squash with olive oil and season with salt, pepper, and garlic powder. Roast for about a half hour, until soft and the edges are brown. Dice butternut squash.
Saute onion in butter and olive oil unil soft and translucent. Add rice and saute for a minute or two. Add one cup of stock and stir until liquid is absorbed. Continue until you use all of the liquid, or until risotto is cooked to al dente. Mix in butternut squash, add Parmesan cheese, and salt and pepper to taste. Add a splash of half-and-half, if desired, to make it extra creamy. Sprinkle each serving with Parmesan cheese. Serve warm.
Last modified on 2014-06-07 19:48:53 GMT. 1 comment. Top.
Have you ever had one of those days when you wish you could just crawl back under your cozy covers and dream it never happened? Yeah, I had one of those days today. Two hours and counting until it's officially over.
Guess who didn't care that my day completely sucked from start to finish? My insatiably curious, sweet-natured, laughter-loving masterpiece of a little man. Today, I had to rise to the occasion of being his Mommy. And I am so grateful.
Before I had my son, I would find solace by taking a long walk along the beach, watching a solo matinee, or a ingesting piping hot pizza (or all three, depending on how bad it was).  Since Mommyhood pretty much makes "me" time obsolete, I had to grapple with today's sh*tstorm with him in tow. Lucky for me, he turned out to be the best bad day band-aid ever created.
I can't help but smile when he comes at me with his mouth wide open trying to imitate a kiss, or giggles in anticipation of me reading his favorite book, or looks to me for encouragement in his quest to master new skills. Add to that a few unexpected "I love you" text messages from my darling stepdaughter (who had no idea of my bad day), and I am one hopeful Mommy…on any given day.
My eagerness for a new day inspired me to try a new dish. I made this Rachipe (Rachael Ray recipe) tonight, and it was a winner! Here's hoping tomorrow will be, too.
Sloppy Joes
Ingredients
1 tablespoon extra-virgin olive oil
2 pounds lean ground sirloin or ground turkey (Mommy Dish note:I made a vegetarian batch of Sloppy Joes as well; just substituted the Morningstar veggie crumbles for beef and it was delish!)
1 packages beef or pork hot dogs, sliced 1/2-inch thick (Mommy Dish note:I was reluctant to incorporate these, so I only used one half of a package; family loved this unorthodox addition to traditional Sloppy Joes.)
1 onion, chopped
1 tablespoon steak seasoning (recommended: Montreal Steak Seasoning by McCormick)
1 tablespoon chili powder
3 tablespoons dark brown sugar
3 tablespoons Worcestershire sauce
1 (14.5-ounce) can tomato sauce
9 soft burger rolls – like at the ballpark
Method
Heat the extra-virgin olive oil, a turn of the pan, in a deep skillet over medium-high heat. Add meat and crumble as it browns. Add chopped hot dogs and chopped onions after 3 to 4 minutes then cook 3 to 4 minutes more. Scoop mixture into your Crock-Pot. In a bowl mix the spices, sugar, Worcestershire, and tomato sauce. Pour sauce over the meat and simmer on low for a 2 hours. Slop onto buns and serve.
Last modified on 2011-03-21 00:18:23 GMT. 6 comments. Top.
We had a baby naming ceremony for Alex today. According to Jewish custom, we were supposed to host it on his eighth day of life. We're 9 months and 23 days late. But who's counting?
I am a bad, bad Mommy, I know. But I did have my reasons for bucking tradition on this one. For those of you unfamiliar with a Jewish bris, I offer the CliffsNotes version: one participates in a meaningful naming ceremony in which a baby boy is circumcised, and then breaks out bagels and cream cheese in celebration. I am simplifying, of course, but it does require a public procedure, and we had some stage fright about putting on that show. So, our precious baby boy was circumcised in a sterile hospital, and had to wait awhile to get his Jewish name because life is nothing short of insane with an infant and a teenager.
I secretly thanked G-d for waterproof mascara during the ceremony. It was so beautiful it moved everyone to tears. I got especially choked up when my son reached out and held the officiant's hand as she recited a blessing in his honor, and when my husband spoke about his beloved grandfather (who we named our son after). Parents give Jewish names to their children to keep the deceased's name alive, to form a metaphysical connection between the two souls, and to use in all life cycle ceremonies. It's like you buy one name at birth and get one free at the bris.
Since we didn't witness the circumcision, everyone was hungry for brunch. I served the ultimate comfort food–potato casserole–as one of my main dishes. It made people come back for seconds, but, as good as it was, it didn't steal the spotlight from my son for even one minute. After all, there is nothing more delicious than my sweet Avigdor Yasef (Alex James).
Name that Potato Casserole
Ingredients
2-3 good-sized  onions, diced
One bag of frozen Ore Ida hash brown potatoes with peppers, thawed to room temperature
One can of Cream of Mushroom Soup
One container of sour cream
1/4 teaspoon of cayenne pepper (or to taste; I use more when I make it for my family because we can handle some heat)
Salt and pepper, to taste
3 cups of Corn Flakes
One stick of butter
Method
Saute onions in 3/4 of a stick of butter, until soft and brown. Set aside to cool.
Mix potatoes, sour cream, soup, cayenne pepper, and salt and pepper in a bowl. Add onions. Pour into a greased casserole dish. Melt the remaining butter and coat the corn flakes (they should not be soggy…just coated). Sprinkle cornflakes over the potato mixture so it is completely covered. Bake in a 350 oven for about an hour. Serve warm.
Last modified on 2011-03-15 01:14:44 GMT. 2 comments. Top.
I've got a girl crush on Rachael Ray. There, I said it.
A girl crush, of course, is defined as feelings of admiration and adoration a girl has for another girl, without wanting to shag said girl. And that's exactly how I feel about Rach. The girl is a phenom!
Who else could make 'Yum-o!" (delicious), sammie (sandwich), EVOO (extra virgin olive oil), and stoup (thicker than a soup but not quite a stew) part of our vocabulary? And write best-selling cookbooks, host numerous television shows, and oversee two charities–in stilletos? Rachael. She gave home cooks credibility, and I love her for it.
One of my favorite Rachipes (my own attempt at her clever vocab) is Pasta alla Ce Ce, or pasta with chick peas. This hearty meal is a good stand-by for Sunday night dinner, and it's equally appealing to vegetarians and meat-eaters. I made some adjustments to the original Rachipe, but she inspired this dish (sidebar: I will be featuring weekly Rachipes on my blog). Maybe my girl crush will invite me on her talk show to Mommy Dish sometime. A girl can dream, right?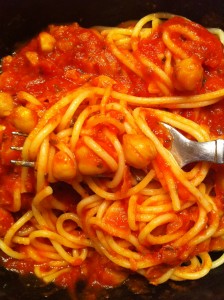 Sunday Night Spaghetti
Ingredients
1 box spaghetti
Salt
3 tablespoons EVOO
1/2 teaspoon crushed red pepper flakes, or to taste
4 garlic cloves, minced
1 (14 ounce) can chick peas, drained
1 (14 ounce) can crushed tomatoes
1 jar pasta sauce (or homemade sauce is even better!)
Freshly grated parmigiano-reggiano cheese 
Method
In a large pot, boil the water for pasta, salt it, and cook spaghetti according to package directions to al dente.
While the pasta cooks, drain the canned chick peas, and rough chop (I prefer a mix of some chopped, some whole; if you want them all chopped use a food processor). Heat a large skillet over medium heat and add the EVOO, crushed red pepper flakes, and garlic. Cook for a minute or so. Add the chopped garbanzos to the pan and season with salt and freshly ground black pepper. Sauté for 4 to 5 minutes.
Add the crushed tomatoes and store-bought or homemade sauce. Cook until tomatoes are heated through, then adjust seasoning to taste. Add in a good palm-full of parmigiano-reggiano cheese, and stir the sauce.
Drain pasta (do not rinse), and pour onto serving dish. Top with the sauce and toss with tongs. Top with more of the grated Parmigiano Reggiano cheese. Yum-o!!
Here's a link to Rachael's version:
http://www.foodnetwork.com/recipes/rachael-ray/spaghetti-alla-ceci-recipe/index.html
Last modified on 2011-03-09 13:47:11 GMT. 8 comments. Top.
Do you know where I have been shacking up the past couple of nights? My Mommy's. Don't worry, my husband didn't trade me in for two Goddesses a la Charlie Sheen (even though he may like to, I am still "winning" as I go to press), but my son did wind up catching the ruthless cold that has plagued my whole family. And it caught me again, too.
So, off to Grammy's we went.  It's not like I am looking to spread our germy love, but I had to figure out a way to fumigate my house (my husband and stepdaughter are still Purell-protected). I am so sick of my whole house being so sick. And there's no better place than Chateau Grammy.
Chateau Grammy is a resort where a Mommy does not have to start tickling Elmo at 5:30 a.m, or be the cause of all of the daily crying fits incited by providing nourishment, clean clothing, and fresh diapers.  It's a magical place where a Mommy spontaneously grows an extra set of capable hands that tackle the grocery shopping, laundry, and meal planning. It's where a Mommy's favorite mini muffins from childhood (recipe below) are served with a steaming mug of healing tea. One enters as a Mommy, but stays as a guest registered under the name "Daughter."
How could I not be feeling better already?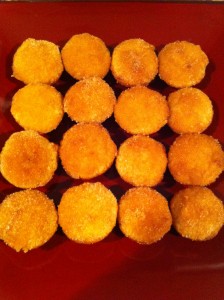 Little Love Muffins
1/2 cup butter, softened
1/2 cup sugar
2 eggs
3/4 cup applesauce
1 3/4 cups flour
1 tablespoon baking powder
1/2 teaspoon salt
Topping
1/4 cup butter, melted
1/2 cup ugar mixed with 1/4 teaspoon cinnamon
Method
Cream butter and sugar until fluffy. Beat in eggs, one at a time, and add applesauce. Stir together flour, baking powder, and salt. Add to wet mixture, and stir just enough to moisten. Spoon into 36 tea-size muffin cups. Bake in a 425 oven for about 10 minutes, until golden brown. While warm, dip muffin tops in butter, and then dredge in the cinnamon and sugar mixture. Serve warm.
Last modified on 2011-03-05 15:42:24 GMT. 2 comments. Top.
I thought the biggest news today would be me voluntarily stuffing myself into a bathing suit 3 months early for a Mommy-and-Me swim class, but my little man had other plans. He's officially on the move!
What got him crawling? The lure of a piece of a banned broken toy. My mischievous boy has a few forms of kryptonite. He simply can't resist black power cords, remote controls, and illicit toys. I saw him spot the bad boy toy out of the corner of his eye, and just decided to go with it. I put it in front of him to urge him to crawl, and he took off!
I am in trouble. Not only does my son reach a major milestone in a quest for forbidden fruit, but he was also labeled Class Flirt at swimming (the kid has eyelashes longer than most falsies and knows how to use them). All in the same day.
So, when I came home tonight I wanted to celebrate (so proud of him!) and comfort (so unprepared for the mobile version of him!). My Twice-Baked Simply Sweet Potato–for One matched my mood. The rich orange flesh is festive, and the filling nourishes the soul. Sweet potatoes are the best vegetable one can eat–they're packed with vitamin c, potassium, and fiber–and the sweet stuff I add make them as irresistible as a banned toy. Maybe my son gets his mischievous streak from me.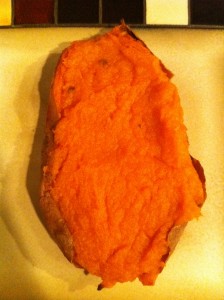 Twice-Baked Simply Sweet Potato–for One
(Please note the measurements below are to taste and depend on the size of the sweet potato…adjust as needed).
One sweet potato
One tablespoon of butter
One splash of freshly squeezed orange juice
One teaspoon of brown sugar
One squirt of maple syrup
Wrap sweet potato in tin fo a 400 degree oven for one hour, until soft. Split potato in half, scoop out the insides, and put it in a bowl. Add butter, brown sugar, freshly-squeezed orange juice, and maple syrup, and mash thoroughly. Put mixture back into the potato, and bake in a 350 oven for about 25 minutes. Enjoy.
Last modified on 2011-03-11 01:37:54 GMT. 6 comments. Top.
It's finally March. Hallelujah! It's almost time to stop hibernating.
Almost…but not quite.
Still, a new month brings a new grasp on my sanity. I know my days of schlepping my son and his entourage–coat, snowsuit, hat, gloves–to people-watch at the mall are numbered. And he will no longer feel compelled to repeatedly say "Aaaaaahhhh" during the ride home on pot hole-littered streets because he likes the sound of his vibrating voice (Tylenol, anyone?). Yes, pretty soon we will trade the pot holes for pavement, the snowsuits for sunlight, and the stale mall air for fresh air. The Big Freeze will become The Big Sneeze (though I, for one, am prepared to roll out the red carpet for seasonal allergies this year). It's happening. Soon. I promise. By the end of this month sunset will be 7:00 p.m.!
It's just 30 more days, people. We can make it.
Until then, it's all about comfort in the kitchen. You have one more month to hide extra calories under bulky sweaters. This March, Mommy Dish will be serving up some soothing dishes to get you through the last stretch of hell winter. Together, we can make it until spring without going mad. 
March Madness Meatloaf
Ingredients
1 1/2 pounds of ground beef
2 eggs, beaten
3/4 cup Italian bread crumbs
1/4 cup ketchup
1/2 teaspoon dried oregano
1 teaspoon basil
1 teaspoon of garlic salt
1 14.5 ounce can of diced tomatoes, thoroughly drained (tip: you can use the kind with green chiles for an extra kick)
1 1/2 cups of shredded mozzarella or Italian blend cheese
One palm full of Parmesan cheese
Method
In a large bowl, mix together ground beef, eggs, bread crumbs, and 1/4  cup of ketchup. Season with oregano, basil, garlic salt, diced tomatoes, and cheeses. Add extra ketchup to the top of the meatloaf and spread evenly, if desired. Press into a 9×5 inch loaf pan, and cover loosely with foil.
Bake in the preheated 350 degree oven approximately 1 hour. Mangia!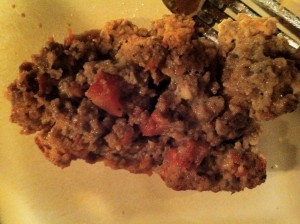 Last modified on 2011-02-26 21:16:12 GMT. 0 comments. Top.
Mommyhood is a full-time job with no time off. Mommyhood while fighting a virus that makes one want to take lots of over-the-counter meds, crawl in to a hole, and curl up in the fetal position is a full-time job–on steroids.
A nasty bug has bitten everyone in my home–husband, stepdaughter, and myself–except for my son. It could be because I encourage him to play with antibacterial wipes (supervised, of course!), ensure he's throughly de-germed after visiting suspect areas, and squirt saline up his nose on a regular basis. I do not give myself the same consideration because I am his Mommy first, and that's a full-time job, remember?
So, my little man is rearing to go, while I wish I could injest enough cold medicine to make me fall into a deep slumber and snore like a lumberjack. Instead, I am fighting this thing on my Quick Sick Matzoh Ball soup (recipe below) while tossing and turning, coughing, sneezing, hacking, and silently pleading for relief all night long. My husband is right there with me, angling me for the tissue box and a clear path to the bathroom night after night. And the show must go on, as usual, at 5:00 a.m.
My Mommy–who I hope I can one day measure up to–is the only one who braved the trail of tissues to give me a break for a few hours. I have never been so thankful to see her beautiful face through the haze of Lysol. I am sure Alex was thrilled, too, not only because he loves his Grammy, but also because I sound like Fran Drescher after a banger (not the most pleasant voice for talking, singing, or storytelling). I don't remember her ever being sick while I was growing up. How is that possible?
Do you have any coping skills for a Sick Mommy who still has to be Super Mommy?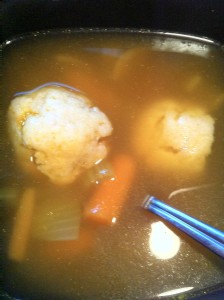 Quick Sick Matzoh Ball Soup
(Mommy Dish note: I know most would serve up Campbells while sick, but I find this fairly easy and always prefer at least semi-homemade dishes. Believe it or not, my son already loves it!)
Ingredients
1 package Matzoh Ball mix, prepared to box directions (combine mix with 2 eggs and 2 tablespoons of vegetable oil, let it rest for fifteen minutes in the fridge, and form into 1″ balls).
3 large containers of vegetable stock
2-3 cubes of vegetable bullion (or to taste)
1 large onion, chopped
2 stalks celery, chopped, plus a handful of celery leaves, chopped
3 large carrots, cut into chunks, or an overflowing handful of baby carrots cut in half
Method
Pour stock and bullion into a soup pot. Add carrots, celery, celery leaves, and onions, and bring to a boil. Add matzoh balls, dial the heat back to the lowest setting, and simmer for 20 minutes, covered. Taste the broth and season with garlic powder and pepper as needed. Serve hot.
Last modified on 2011-02-26 21:52:32 GMT. 4 comments. Top.
While the teenager's away, the parents shall play. And it's not one moment too soon; she walked in the kitchen while my husband was whispering sweet somethings in my ear (it was early this morning; long before her usual 11:00 a.m. weekend wake-up time). Did she have a little more pep in her step to get out the door to her friend's house for a few nights? Uh-huh.
She may want to wash her eyes and ears out with bleach, but sometimes we can't help but act like a love-drunk teenagers. Ultimately, we're setting a good example of marriage, and it's G-rated during kid hours–most of the time.
When anyone in my family goes away it inspires my dishes. As we've clearly established, I am a dieting vegetarian. My son is on a restrictive nutritional regimen that favors homemade mush until he turns one. My stepdaughter eats chicken and beef, and beef and chicken. My husband consumes everything, so long as it's well-done and the sauce is on the side. You got that? I have a full plate for a family of four!
So, a vacation from one person's dietary preferences is indeed a vacation. Tonight I whipped up one of my Greatest Hits that's the equivalent of elevator music to my stepdaughter (seafood, onions, and Mommyjuice), but it's rock 'n 'roll to my husband's palette. After eating this dish, his sweet somethings turn into a song, and it's a teen-free party from that point on.
Teen-Free Shrimp
Ingredients
1 pound of shrimp, peeled and devained
3 tablespoons butter
3 tablespoons olive oil (enough to coat the pan you're using)
1 teaspoon oregano, dried
1 teaspoon basil, dried
1 teaspoon parsley, fresh
1/4 teaspoon of red pepper flakes (or to taste)
Salt and pepper to taste
1 onion, chopped
3 garlic cloves, minced
1/2 cup of white wine
Juice from one half of a lemon
2 tablespoons of vegetable broth or chicken broth
Saute the onion in olive oil until it becomes translucent, and then add the garlic, oregano, basil, red pepper, and shrimp and cook until they're done. Deglaze with the white wine, and add in lemon juice, stock, and butter. Salt and pepper to taste. Toss in the fresh parsley, sprinkle with Parmesan cheese, and serve over pasta.
Last modified on 2011-02-11 23:02:04 GMT. 9 comments. Top.
It's D-Day for V-Day. Are you ready for the love fest?
That's if you even consider Valentine's Day a holiday. The day for lovers has an awful lot of haters. Some call it a Hallmark holiday, designed to guilt us into spending money on heart jewelry, seductive lingerie, decadent chocolates, prix fixe restaurant menus, and flowers that must suddenly grow gold stems because they're so damn expensive. They're even more ticked off this year by the V-Day Double Whammy–it requires a Saturday night celebration and an acknowledgement on Monday. Haters.
Others spend hours looking for the perfect card to express their love. They plan elaborate home-cooked meals, buy red hot outfits, make reservations months in advance, book overnight hotel stays, agonize over the perfect gift, dust off their arts and crafts skills to create their own love coupons, and announce their V-Day intentions on Facebook to generate some buzz. They giddily anticipate their spouse's response to their tireless efforts with butterflies in their stomachs and champagne glasses in their hands. Lovers.
Are you a lover or a hater?
I am a…lover. Most of the days of my life are a hot mess of drool, teen drama, meal preparation, confrontation, laundry, work, dishes, bottles, Justin Bieber, quickies, tears, 5:00 a.m. wake-up calls, and dieting. Valentine's Day is all about S's…hiring a sitter, savoring your spouse, splurging on each other, and indulging in sweets. What's not to like about that? Even if you're single, or wish you were single, you can still eat sweets sans MommyGuilt. It is a holiday!
Haters, if I haven't convinced you to give Valentine's a little love this year, the winner of Mommy Dish's Superbowl Swap will. Kudos to Kathy Sullivan for her simply sinful Mudd Pie recipe. It's easy to prepare, so you have time to concentrate on the aforementioned S's. Serve it up in the obligatory heart-shaped dish and this cool dessert will get a hot response. Happy Valentine's Day!
Kathy's Mudd Pie
Ingredients
22-25 Oreos, smashed thoroughly 
3 tablespoons butter, melted
Coffee ice cream (1 large container)
Hot fudge (one jar)
 
Kathy's Method:
"Crush the heck out of the Oreos.  I put them in large Ziplock and pound them; it's much easier than any other way.  Put them in a bowl and add melted butter. Stir together. Pour into glass pie dish (Mommy Dish tip–take the time to find a heart-shaped one for Valentine's Day!) and use your hands to press into a crust.  Spread the ice cream over the crust evenly.  Top with a layer of hot fudge and freeze until you're ready to devour.  Enjoy!" (Mommy Dish tip–add an extra layer of crumbled Oreos on the top and anything goes!).
Last modified on 2011-02-09 00:11:00 GMT. 8 comments. Top.
To feed, or not to feed: that is the question. When do you stop trying to make an infant eat his breakfast?
Sometimes my little man shuts his mouth as tight as a pair of Jeggings so early in a meal that he can't possibly be full. I know one Mommy who would simply stop feeding him at that point, and more than one who will break out the following tactics to force feed:
The Bait and Switch: My son won't refuse his sippy cup, so I will hold it close to his mouth until he opens his steel trap enough for me to sneak in a spoonful. I reward him with a gratifying slurp as soon as the food disappears.
The Song and Dance: I reserve some of my best material and most outrageous dance moves for the kitchen floor. My son will break out into a belly laugh, and I ruin the moment by sliding in another mouthful of mush.
The Helpful Hand: My son is always eager to feed himself Cheerios, teething biscuits, toast, and fruit. He will be squirming in his chair and bellyaching in protest of his meal until I shake a Cheerios box. His face instantly brightens, his little fingers grab one out of my hand, and he opens right up. I will let him enjoy a few before getting down to business with the real food.
The Distraction: When all else fails, I will use a toy to capture his interest enough to beg cooperation. I use this tactic in particular very sparingly, as I do not want him to become accustomed to toys at mealtime.
What am I doing wrong? Should I stop feeding him when he says so, or when I say so? Do I need to try something new?
If only feeding my son was as easy as feeding my family. I recently created a chicken meatball recipe that they tried without hesitation or objection–and they didn't spit them back at me, either! They really loved these chicken meatballs…with or without sauce.
Chicken Meatballs
Ingredients
1 pound of ground chicken
1/2 cup Italian breadcrumbs
1 onion sauteed in olive oil and one pat of butter
3/4 teaspoon poultry seasoning
1/4 teaspoon garlic powder
1 egg
1 teaspoon Worchesterchire
2 tablespoons parmesan cheese
Mix all ingredients together and form small meatballs by hand. Pan fry meatballs in a skillet generously covered with olive oil until golden brown. Transfer on to paper towels to absorb any excess oil.
Serve chicken meatballs plain over buttered egg noodles, or with store-bought peanut sauce, or with the holy trinity of Campbells soups as a sauce (Cream of Mushroom, Cream of Chicken, and Cream of Celery thinned out with some milk. Adding some Worchesterchire and some pepper and garlic powder to jazz it up). This is a very versatile recipe. The peanut sauce was my stepdaughter's favorite, but my husband couldn't choose between the two sauces. Enjoy!
Last modified on 2011-02-16 02:24:23 GMT. 12 comments. Top.
I may wind up being a Mommy who averts her eyes and puts on her best fake smile while visiting her son at a nudist colony when he gets older. Is my little dude the only one who prefers his birthday suit?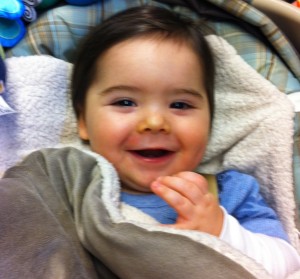 I am fortunate to have a son who is inherently happy. He's always flashing a dazzling smile (with two new bottom teeth!) that shows off his dimples, and he easily breaks out into an infectious belly laugh. He has the sweetest disposition–except when it comes to getting dressed. Sometimes I feel like I'd have better luck wrestling a wild animal than clothing my baby.
Sure, some of the issue is him showing off his new skills. He is thisclose to crawling, so he is constantly flipping over on to his stomach and pushing up on all fours to rock back and forth. The fact that the changing table is so high and so small only adds excitement to his acrobatics. Maybe he'll be a nude trapeze artist in Vegas when he grows up?
My son's affinity for nakedness makes 8-10 diaper changes and several wardrobe replacements eat up much more of my day than they should. When I am pressed for time, and have to get something tasty on the table for dinner for the rest of my family, I make Two Minute Chicken. Two ingredients, two minute preparation, two hour marinade (if you can swing it; otherwise, marinading for two minutes is sufficient). Add two quick sides–baked beans and salad–and I am good to go…back to the changing table.
Two-Minute Chicken
Ingredients
One package of boneless chicken breasts
One package of Lipton Onion Soup
One bottle of Catalina salad dressing
Method
Mix onion soup with Catalina salad dressing, and pour over chicken breasts. Marinade for two hours if possible. Transfer into a pan and bake at 350 for a half hour or so (depending on the thickness of the chicken breasts). That's it!
Last modified on 2011-02-07 13:36:26 GMT. 4 comments. Top.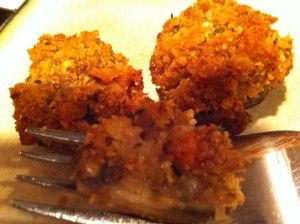 So, what did you dish out to please your crowd today? Yeah, there's a big game on, but we all know food takes center-stage no matter what you're rooting for–the Packers, the Steelers, or the $3 million dollar commercials. Home cooks need to bring it on Superbowl Sunday.
I didn't host the Superbowl soiree this year, but I did make my delectable stuffed mushrooms. Let's swap winning Superbowl dishes!
Please send your MVP dishes to mommydish@gmail.com. I will make all of the submissions, and choose my favorite dish to feature on a future Mommy Dish post. Game on!
Stuffed Mushrooms
Ingredients
One large box of small mushrooms, cleaned, with stems removed
One bag of cheese and garlic croutons
2 cloves garlic, minced
Pinch of parsley
One teaspoon oregano
1/3 cup pecorrino romano OR parmigiano reggiano cheese (the pecorrino romano cheese is pungent…use whichever cheese you prefer).
Method
Thoroughly crush croutons either by hand (I put them in a large plastic bag and use a rolling pin to smash them) or by food processor. Add remaining ingredients. Chop the mushroom stems and add them to the mix. Moisten the stuffing with a generous amount of olive oil. Spray a cookie sheet with olive oil and place mushrooms on the pan. Stuff all of the mushrooms with the mixture. Bake in a 350 oven for about 20 minutes–until the top is crispy.
Last modified on 2011-02-02 14:31:34 GMT. 8 comments. Top.
Am I a horrible Mommy for even considering leaving my baby for a 3-night tropical getaway?
My husband has visions of clear turquoise water, bottomless drinks, and me doing my best imitation of Bo Derek's slow motion run  in "10" floating in his head (in that order–alcohol is needed before I mimic Bo post-pregnancy). He knows I won't even consider leaving my main little man for 7 nights, but feels a quick escape to a warm climate would do wonders for our psyche.
It's been a relentlessly long, bitterly cold winter, and we still have 49 days to go until spring. Our teenager has already had 5 snow days (and we just got the call she has yet another one tomorrow). Combine them with her December and February vacations, holidays, and scheduled half days, and it feels like she's a middle school drop-out. I swear she is never in school.
My son's budding social life has taken a drastic hit, too. Story time at the library was canceled today, so we braved the elements to drop off Shepherd's Pie leftovers to my in-laws just to get out of the house (recipe below). We watched the plow trucks clear our street and make our driveway impassable in the process from a prime seat in our bow window when we got home. I can't make this stuff up.
Yes, I could really use a vacation, but feel intense MommyGuilt even entertaining the idea. What do you think on a scale of 1 to 10 (10, of course, being Bo circa 1979)? How would you rate me as a Mommy if I decide to go?
Shepherd's Pie
Ingredients
1 pound lean ground beef (90 percent)
2 teaspoons of olive oil plus 2 pats of butter
1 good sized onion, chopped
3 medium carrots, diced (about 1 1/2 cups)
1/2 pound white mushrooms, sliced
2 garlic cloves
2 teaspoons chopped fresh thyme leaves or 1 teaspoon dried
2 tablespoons all-purpose flour
1 cup beef broth
1 teaspoon Worcestershire
1 teaspoon salt
Freshly ground black pepper, to taste
Paprika, to taste
1 cup frozen peas
1 1/2 pounds Yukon gold potatoes
2/3 cup of milk
4 tablespoons of butter
2 cups of cheddar cheese
Method
In a large nonstick skillet cook the meat over medium heat, stirring occasionally, until brown, about 5 minutes. Transfer the meat to a plate. Drain any fat remaining in the skillet.
Coat the skillet with olive oil and two pats of butter over a medium heat. Add the onions and carrots and cook, covered, until the vegetables begin to soften, about 8 minutes. Raise the heat to moderately-high. Add the mushrooms and thyme and cook, uncovered and stirring occasionally, until the mushrooms are soft and their liquid has evaporated, about 8 minutes longer. Return the meat to the pan. Add the flour and cook, stirring, for 2 minutes. Stir in the broth, Worcestershire, salt and pepper to taste and bring to a simmer being sure to scrape up any brown bits from the bottom of the pan. Stir in the peas. Pour the mixture into a casserole dish.
Boil a pot of salted water. Peel the potatoes and cut into 2-inch pieces. Add in two garlic cloves. Boil the potatoes and garlic until tender, and drain. Return to the pot, and add milk, butter, salt, and pepper, to taste. Mash until desired consistency for mashed potatoes. (Measurements are tough when it comes to mashed potatoes; if you need more milk, add it. If you like less butter, omit some. It's not a perfect science.). Spread the potato mixture on top of the meat, and sprinkle with paprika. Add a layer of cheddar cheese, if desired, over the potatoes (it is good with or without the cheese), and bake in a 350 oven until heated through, about 30 minutes.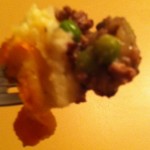 Last modified on 2011-02-04 13:29:29 GMT. 10 comments. Top.
Did you know the nine months on, nine months off rule does not apply to a c-section Mommy? It's not wishful shrinking; a Mommy maven informed me today that I legitimately get three extra months to regain my pre-pregnancy frame.
How come no one passed me that note in Mommy-and-Me class? Three more months changes everything.
Personally, I believe I earned it. I endured butchery by an incompetent IV nurse, a failed epidural, 45-hours of labor, and nearly 3-hours of pushing before I was wheeled in for my c-section. I was given 2.2 seconds to recuperate from major abdominal surgery before caring for my son 24/7. Yeah, I deserve a few more months.
My method for reclaiming my Yummy Mummy status? Reverse psychology. I satisfy my cravings by baking for my husband. For example, he  had no idea he wanted homemade miniature chocolate chip cookies tonight (if you spent a good portion of your day imitating Cookie Monster singing "C is for cookie, that's good enough for me" you might want one, too), but he happily ate a plate-full. My dieting method makes him feel loved, and allows me to reward myself with one cookie that will taste yummy (there is nothing worse than wasting cheat calories on a crappy cookie). How bad can one cookie be, really? Especially now that I have three more months?
Chocolate Chip Cookies
Ingredients
2 cups of semi-sweet chocolate chips (use a quality brand; it makes a difference)
2 1/4 cups unsifted flour
1 teaspoon baking soda
1/2 teaspoon salt
1 cup (2 sticks) butter, softened
3/4 cup sugar
3/4 cup packed brown sugar
2 eggs
1 teaspoon vanilla (again, invest in good quality vanilla; it is worth it)
Method
Stir flour with baking soda and salt; set aside. In large mixer bowl, cream butter with sugar, brown sugar, eggs, and vanilla. Gradually blend dry mixture into creamed mixture. Stir in chocolate chips by hand. Drop 1 teaspoon of dough per cookie onto ungreased cookie sheets. Bake at 375ºF for 9 to 11 minutes or until golden brown.
Last modified on 2011-01-24 13:59:46 GMT. 0 comments. Top.
Do you have a few go to dishes? Go to dishes are like little black dresses; every Mommy should have at least one.
If you're like me, you need a go to dish more than a little black dress. Mine hangs in my closet, serving as a silent but ruthless tormentor, daring me to try it on (if it doesn't zip I must acquit;  it's not my dress's fault I started my calorie crackdown 6 months post-partum). If I can lie down at just the right angle, suck my stomach in, and stop breathing for a few moments before losing consciousness, I might be able to wiggle into it again. But then I would have to find a sitter.
Yes, I am home on Saturday nights. Go to recipe in hand.
Chicken Piccata over pasta is a good go to date night dish for my mixed breed marriage (hubby is a meat-eater and I am a vegetarian). He loves the tangy sauce drizzled over perfectly-browned chicken cutlets, and I adore all carbs (hence my little black dress issue). The recipe calls for 1/2 cup of Mommyjuice, leaving the remainder of the bottle for some after-hours indulgence. No little black dress required.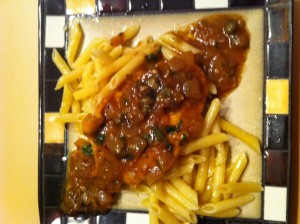 Chicken Piccata
Ingredients
4 boneless, skinless chicken breast filets pounded thin
1 large 8 onion, peeled and chopped
2 cloves garlic, peeled and crushed
2 Tbsp olive oil
½ cup all-purpose flour
2 Tbsp butter
½ cup dry white wine or dry sherry
2 lemons
2 tablespoons capers
1 cup chicken stock
2 tablespoons Italian parsley, finely chopped
Kosher salt to taste
Pasta of choice, cooked and drained
Method
Squeeze the juice out of one of the lemons and set the juice aside. From the other lemon, slice four very thin slices from the center (the widest part), and set those aside, too.
Stretch a piece of plastic wrap across your work surface, place the chicken breast filets on it, and lay another piece of plastic wrap on top. Then, using a meat mallet, rolling pin or similar object, flatten the chicken breasts between the layers of plastic wrap until they are about ¼ inch thick.
In a shallow baking dish or even a plate, combine the flour and salt.
Heat a heavy-bottomed sauté pan over medium-high heat for a minute, then add the olive oil and heat for another 30 seconds or so. Add the onion and garlic to the pan and sauté until the onion is slightly translucent, about 3 minutes. Remove the onion and garlic from the pan and set them aside.
Add the butter to the pan and let it heat until it turns foamy.
Now dredge both sides of the chicken breast filets in the flour mixture, shake off any excess flour and add them, one at a time, to the hot pan. Cook 2 to 3 minutes per side or until they are nicely browned. Remove them from the pan and set aside on a plate, covered with foil, while you make the sauce.
Add the stock or broth, white wine/sherry, lemon juice, and capers to the pan and scrape off any flavorful bits from the bottom of the pan. Then return the onion-garlic mixture to the pan and heat it through, adding a bit more oil or butter if necessary.
Return the chicken to the pan, bring the liquid to a boil, then lower it to a simmer and cook for about 3 minutes or until the mixture has reduced by about one-third. Add the chopped parsley just at the end of the cooking.
With a pair of tongs, remove the chicken breasts and plate them. Adjust the seasoning on the sauce with Kosher salt and lemon juice. Sauce generously, top each portion with a lemon slice and serve immediately over your pasta of choice.
Last modified on 2011-01-21 03:04:59 GMT. 2 comments. Top.
What's The Big Story? The Big Winter, at least where I live. In Mommyland, it's already referred to as The Big Mess, on par with the stuck on gunk deep in the crevices of a baby's high chair.
One of my friends is relying on her "Mommy's little helpers"–anti-anxiety meds–to stay sane during our 4:30 p.m. sunsets. Another is resorting to her new label maker for indoor fun. Some have become Purell-addicts held hostage in their germ-infested homes with their sick kids–who catch colds all at once for intense misery or successively for prolonged misery. Another on the brink of divorce swears all of this forced togetherness will make her file as soon as she can get out of her driveway.
Like I said, it's really bad out there.
The only home remedy I can think of for The Big Winter is The Big Soup. Minestrone means The Big Soup in Italian, and my favorite recipe delivers warmth, comfort, and a full belly in one bowl.
Be forewarned–If you're desperately seeking some alone time, don't make The Big Soup. Its savory broth emits a fragrant aroma that will lure anyone within walking distance to the kitchen. You might want to try making some liver and onions to help your cause.
Conversely, if you're looking for a reminder of why you chose to live with your family in the first place, The Big Soup is your Mommy Dish of choice on a snowy day. Serve it up with some crusty bread and Big Smiles are guaranteed.
The Big Soup
(Bonus: it's small on calories!)
8 cups vegetable broth (two box containers)
2 tablespoons extra-virgin olive oil
1 large onion, diced
4 cloves garlic, minced
2 stalks celery, diced
1 large carrot, diced
1 1/2 cups of green  beans (fresh or frozen)
1 teaspoon dried oregano
1 teaspoon dried basil
1 28-ounce diced tomatoes
1 14-ounce can crushed tomatoes
1 15-ounce can of kidney beans, drained and rinsed
1 cup of ditali pasta (cooked al dente and drained–make separately)
1/3 cup finely grated parmesan cheese, or more to taste
3/4 teaspoon Kosher salt
Freshly ground pepper, to taste
Method
Heat the olive oil in a large pot over medium-high heat. Add the onion and cook until translucent, about 4 minutes, and then add the garlic. Add the celery and carrot and cook until they begin to soften, about 5 minutes. Stir in the green beans, dried oregano and basil, 3/4 teaspoon salt, and pepper to taste; cook 3 more minutes.
Add the diced and crushed tomatoes and the vegetable broth to the pot and bring to a boil. Reduce the heat to medium low and simmer 10 minutes. Stir in the kidney beans and cook for about 20 minutes. Add in pasta. Season with salt. Ladle into bowls and top generously with parmesan cheese.
Last modified on 2011-01-14 19:17:31 GMT. 1 comment. Top.
Do you ever buy your baby new toys to preserve your own sanity? Or get your teenager iTunes gift cards in an attempt to spare yourself from another Justin Bieber replay?
Come on, we're all friends here. 
My baby has more toys than the average eight-month-old, but I am still sick of them all. The "Head, Shoulders, Knees, and Toes" song, for example, stalks me with the fury of a serial killer who chases a bikini-clad woman in a horror film. My son still shakes with delight when his crazed-looking puppy sings his beloved song; I shake in fear it will creep into my mind during my shower scene (if I am lucky enough to squeeze one in during a nap).
I now visit Target with the same level of excitement as Bloomingdale's pre-pregnancy. I thoroughly test all age-appropriate toys to gauge the short-and long-term annoyance factor with the stamina I used to reserve for selecting my perfect designer handbag. I am far more excited about a new toy than my son is when we return home. Just like the bikini-clad woman, I know my days are numbered before I learn every word to every song on every setting.
Likewise, I cringe every time I hear Bieber whine–oops, sing–"Baby, Baby, Baby…Oooooh!" My teenager must have listened to this song one thousand times in a row, and now I hear Bieber screeching his sequels, too. I give her iTunes gift cards regularly (birthday, Hanukkah, Flag Day, whatever) to encourage a Bieber-free zone, but I often hear his voice instead of my husband's before I fall asleep at night.
Thankfully, a repeat offender in cooking is often referred to as a favorite. One of my go-to dishes is my Parmesan Paprika  (aka orange you glad to eat me again) Chicken. This is one dish that will drive them crazy in a good way…again and again.
Parmesan Paprika Chicken
1/4 cup flour
1/2 cup Parmesan cheese
2 teaspoons paprika
1/2 teaspoon salt
1/2 teaspoon black pepper
1 egg, beaten
                                                             2 tablespoons milk
                                                             4 skinless, boneless chicken breasts
                                                             1/4 cup butter, melted
Method:
Combine flour, Parmesan, paprika, salt, and pepper in a bowl. In a separate bowl, whisk together the egg and milk.
Dip chicken in egg/milk mixture, and then dredge it in the dry mixture. Place in shallow baking dish coated with butter-flavored cooking spray. Pour butter evenly over the top of the chicken. Bake in a 350 oven for 30-40 minutes (depending on the thickness of your chicken breasts; my family prefers them thin).
Last modified on 2011-01-13 11:40:49 GMT. 4 comments. Top.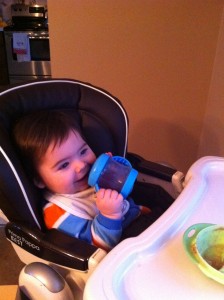 Today began like a typical day. My resident rooster got me up at the crack of dawn and greeted me with his irresistible toothless grin that instantly silences my internal voice pleading for more sleep. I scooped him out of his crib, showered him with affection, gave him his bottle, changed his diaper, and played with him for awhile before making him his morning oatmeal and mashed banana. As a special treat, I pulled his high chair in front of a window to watch the falling snow cling to the trees in our backyard over his breakfast and mine (coffee, of course).
 The only atypical thing about my morning was the lack of noise that usually surrounds my teenager. Her iPod wasn't blaring, her hair dryer wasn't humming, and she wasn't yelling for us to make her lunch before chauffeuring her to school. She went to bed at midnight with a perma-grin on her face because today was a snow day that didn't even require her to get up early to watch the school cancellations crawl across the television screen. Bonus.
 I was thinking about how lucky I was in my warm, cozy home, with my whole family present for a mid-week snow day. My son wasn't even blowing his usual raspberries with a mouth full of mush and getting it all over the place because he was completely mesmerized by the snow. It was beautiful.
 Then the lights started to flicker. They went on and off four times. Alex was digging the sudden laser lights show, but I wasn't. Losing power is the only thing that can make a beautiful snow day turn ugly. Losing power is like dirt and dog pee on pure, white snow. And we lost power…for seven long hours.
 The only consolation to sitting in our home that was getting colder by the minute (electric heat) without modern conveniences (no Internet access or television can be especially devastating for a teenager) was the fact that I made my ugly apple cake the night before. Ugly apple cake is a comfort food from my childhood snow days, and my Mom always made it at my request. The confectioners sugar you sprinkle on the top to mask the ugliness looks like falling snow, and can re-focus your attention back to the beauty of a snow day…even if you lose power.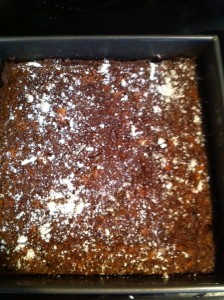 Ugly Apple Cake
 (It's delicious and low-fat, too!)
Ingredients 2 cups finely diced apples (peeled and raw)
1 cup sugar
1/4 cup vegetable oil
1 egg, beaten
1 cup flour
1 teaspoon baking soda
                                                             
                                                              1 teaspoon cinnamon
                                                              1/4 teaspoon salt
                                                              1 teaspoon vanilla
 
Method:
Place diced apples and sugar in bowl, and mix together.  Let stand 1/2 hour (stirring occasionally).  Add the egg, oil, and vanilla, and mix well.  
 
Sift together the dry ingredients (flour, baking soda, salt, and cinnamon), and add them to the apple mixture.
 Pour cake batter into a well greased and floured 8″ square cake pan.  Bake at 350 for 30-40 minutes, or until a cake tester comes out clean. When cool dust with confectioners sugar.  Can be served with whipped cream or ice cream.
Last modified on 2011-01-10 02:10:22 GMT. 2 comments. Top.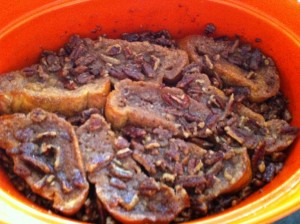 There are some recipes that make me want to squeeze my eyes shut and click my heels together to mentally escape as I add the sinful ingredients.  They're so bad, yet so good. Naughty recipes like these are the equivalent of a drunk dial in college; one has to be in the right state of mind to make them.
If you watch The Food Network, you know Southern cook Paula Deen is known for her distinct recipe style: butter with a side of butter. I usually avoid her concoctions, but I simply can't resist her French Toast Casserole.
Eater beware: if you consume too much French Toast Casserole you will regain the Freshmen fifteen, but the occasional hook up won't do you any harm.
New Year's resolution (bikini ready by June) be damned; I just had to eat some this morning after my in-bed-before-midnight New Year's Eve snoozabration. I am sure it was still December 31, 2010 somewhere in the world when I gave in to temptation, right?
Happy New Year!
French Toast Casserole
 Ingredients
1 loaf French bread (13 to 16 ounces)
8 large eggs
2 cups half-and-half
1 cup milk
2 tablespoons granulated sugar
1 teaspoon vanilla extract 
1/4 teaspoon ground cinnamon
1/4 teaspoon ground nutmeg
Dash salt
Praline Topping, recipe follows
Maple syrup
Method
Slice French bread into 20 slices, 1-inch each. Arrange slices in a generously buttered 9 by 13-inch flat baking or casserole dish in 2 rows, overlapping the slices. In a large bowl, combine the eggs, half-and-half, milk, sugar, vanilla, cinnamon, nutmeg, and salt and whisk until blended but not too bubbly. Pour mixture over the bread slices, making sure all are covered evenly with the milk-egg mixture. Spoon some of the mixture in between the slices. Cover with foil and refrigerate overnight.
The next day, preheat oven to 350 degrees.
Spread Praline Topping evenly over the bread and bake for 40 minutes, until puffed and lightly golden. Serve with maple syrup (though you don't really need it with this recipe because it stands on its own, some people like it).
 Praline Topping:
1/2 pound (2 sticks) butter
1 cup packed light brown sugar
1 cup chopped pecans
2 tablespoons light corn syrup 
1/2 teaspoon ground cinnamon
1/2 teaspoon ground nutmeg
Combine all ingredients in a medium bowl and blend well.
Last modified on 2010-12-22 02:27:52 GMT. 5 comments. Top.
I've hit a new low trying to cram too many things in a 24 hour period. Today, I filed my baby's nails on the "Daddy's scratchy face" page of his Pat the Bunny book.
While I am not proud, I do think it's pretty genius. Feel free to copy the idea in the privacy of your own home. Why should my son merely feel "Daddy's scratchy face" when it can give him a much-needed manicure at the same time?
Multitasking is a prerequisite for Mommyhood. Most women I know–with or without kids–do the work of a team of people on any given day, and still manage to remember the small stuff–tickling their babies chins with their scarves for a laugh, placing a note of encouragement in their child's lunch boxes, picking up an extra pair of pajama pants for their husbands because they notice they're running low.
Tonight, I made the filling for my baked ziti while holding my son in the crook of my right arm, despite the fact that I am a righty. I somehow managed to add a blend of cheeses–including ricotta, mozzarella, parmesan, provolone, and fontina– Italian seasoning, garlic, and breadcrumbs and crack two eggs to mix in and bind it together–all with my left hand. I felt proud of myself in a sick, overtired way, standing in my kitchen balancing my 23-pound son on my right and an oversized serving spoon on my left with finesse. Truth be told, I felt like I should be wearing a superhero cape instead of an apron.
Are you a master multitasker?
Lefty Baked Ziti
Ingredients
1 box of ziti or rigatoni with lines
1 container of ricotta cheese
1 package of shredded Italian 6-cheese blend
1/3 cup of Parmesan cheese
 1 cup of Mozarella cheese
1 teaspoon of Italian seasoning
1/2 teaspoon of garlic powder (or to taste)
2 eggs
Palm full (2 T) of Italian breadcrumbs
1 extra-large jar of store-bought sauce (homemade is always better if you have it, but this is meant to be a quick week night meal)
Method:
Prepare ziti/rigatoni with lines using the package directions, but take it out when it is just al dente (usually one minute before the minimum cooking time). The pasta will continue to cook in the casserole dish; overcooked pasta is a no-no. Drain pasta, and put it back in the pot you boiled it in.
Meanwhile , mix ricotta cheese, parmesan cheese, 3/4 of a bag of the Italian 6-cheese blend, garlic powder, Italian seasoning, and eggs in a bowl.  Add in the breadcrumbs. Mix the cheeses with the pasta, and add in some sauce (until it's a very light pink).
Coat the bottom of a casserole dish with a generous layer of sauce. Pour the ziti/rigatoni mixture over the first layer of sauce, and then top with another layer of sauce. Sprinkle the remaining 6-cheese Italian blend plus the mozzarella over the top. Bake at 350 degrees for 30-40 minutes, or until brown and bubbly (hint: if you need a little help making the top brown and bubbly, pop it under the broiler for one minute). Enjoy.
Last modified on 2010-12-13 02:04:13 GMT. 0 comments. Top.
I know what you're thinking. Get your mind out of the gutter.
I recently got my hair cut and colored so I can be presentable at holiday parties. Someone complimented my new coif at last night's festivities and innocently asked, "Is your hair just highlighted? Is your base your natural hair color?"
Honey, I couldn't pick my natural hair color out in a line up.
I have been a brunette, blonde, and redhead, and every version in-between. I actually had to think about my natural hair color when she inquired. Sure, I know it's brown, but is it light- or medium-brown? Does it have any dimension, or is it just a solid color? When was the last time I sported my natural hair color? 1985?
My motto has always been it's much easier to change my hair color than the size of my butt. My hair has been fake for so long I don't know what's real.
I believe in faking it when it comes to cooking, too. If I can get away with slashing a few calories without compromising flavor, why not? After my late night last night (if you must know it was midnight, but that's late for a woman with a six-month-old), I felt like making a lazy brunch. And my go to dish is something I call "fake quiche." It's fake because there's no crust, but you won't miss it. Fake quiche is real delicious.
Fake Quiche
Ingredients
1 onion, chopped
2 small zucchini, grated
1/2 cup of vegetable oil
3 eggs
1/2 cup of parmesan, grated
1 cup of cheddar jack cheese, shredded
1 cup of Bisquick
1/2 teaspoon of Italian seasoning
Fresh ground pepper, to taste
Method
Beat eggs in a large bowl, and mix with Italian seasoning, pepper, and vegetable oil until combined. Add zucchini, onion, Bisquick, and cheeses, and mix together. Pour into an 8 x 8 pan coated with butter flavored cooking spray. Bake in a 350 oven for one hour, or until the top is golden brown. Allow some time to cool before serving.
Last modified on 2010-12-08 02:55:31 GMT. 3 comments. Top.
I grew up with a magnet prominently displayed on my refrigerator that read, "Nothing tastes as good as skinny feels." The mini scale magnet was designed as a major scare tactic; one had to contemplate if the craving was worth risking cankles.
That magnet most often made me pause, but I would open the fridge with wild abandon during the holidays. I shut my inner thin woman up with my Mom's famous Christmas confections. It is the most wonderful time of the year after all.
Until this year. The year I decided to publicly declare I am going on a diet during Thanksgiving week.
For the record, I have lost 4.3 pounds so far–my desperation is on display by the use of decimal points–but I feel like I have sacrificed enough to lose 43 pounds. I have sat stoically beside candy bowls filled to the brim with gooey caramels, lush chocolates, and crisp candy canes; I have passed on hearty helpings of choice crudités; I have eaten frozen meals instead of freshly prepared macaroni and cheese. Still, I am just 4.3 pounds lighter.
I could eat one big piece of cake tomorrow and gain those 4.3 pounds right back. And they would undoubtedly cling to the hot post c-section Mommy pouch I am sporting right now. What's up with that?
I do have a few recipes to keep me focused on my husband's threat of whisking the family off to Florida this winter. I find myself making the following split pea soup recipe at least once a week because it is so deliciously satisfying and surprisingly low-fat. This one does taste as good being as thin will feel.
Parker's Split Pea Soup
Courtesy Ina Garten (with a few minor revisions of my own)
Ingredients
1 yellow onion, chopped 
2 cloves garlic, minced
1/8 cup good olive oil (enough to thoroughly coat your soup pot)
1/2 teaspoon dried oregano
1-1/2 teaspoons kosher salt 
1 teaspoon freshly ground black pepper
2 cups medium-diced carrots (3 to 4 carrots)
1 cup medium-diced red boiling potatoes, unpeeled (3 small)
1 pound dried split green peas
8-10 cups vegetable stock (2 large containers plus one can)
Method
In a 4-quart stockpot on medium heat, saute the onions and garlic with the olive oil, oregano, salt, and pepper until the onions are translucent, 10 to 15 minutes. Add the carrots, potatoes, split peas, and vegetable stock. Bring to a boil, then simmer uncovered for about an hour and a half, or until the peas are soft. Skim off the foam while cooking. Stir frequently to keep the solids from burning on the bottom. Taste for salt and pepper. Serve hot.
Last modified on 2010-12-05 04:18:08 GMT. 1 comment. Top.
If you're part of the small but mighty audience reading my blog, you've learned I am the least likely to succeed in teaching a Hanukkah history lesson (I should've been sent straight to detention for flaking on the first night), but I have learned this much: Hanukkah literally means dedication. And I have the most dedicated friends.
For the Macabees, a band of Jewish patriots who conquered the Greeks and restored religious freedom, the miracle of Hanukkah came in the form of one night of oil that inexplicably burned for eight nights. For me, the miracle of Hanukkah came in the form of a United States Postal Service box from my friend Melissa.
Who knew the Postal Service could actually deliver Hanukkah on time?
I was in the process of lugging in the never-ending bags of groceries needed to prepare a Hanukkah feast for my family tomorrow night when I stumbled on the package. It was addressed to my son, but he can't take his hands out of his mouth long enough to open it, so I did the honors.
The package contained a customized onesie, the story of Hanukkah, and his very own plush dreidel. (She technically threw in 80s lullabies for him, but that one is more for me; I can't seem to let the decade of decadence go). She read my "Surprise! It's the Festival of Lights!" blog post, and took it upon herself to help me deliver the miracle of Hanukkah to Alex. Like I said, Hanukkah means dedication.
If you want to show your dedication at your Hanukkah feast, put individual vegetable kugels on the menu. There's something about serving a dish in individual portions that makes dinner guests feel special…
Individual Vegetable Kugels
Ingredients:
1 medium onion, chopped well
3 carrots, grated
1/4 cup red pepper, chopped well
1/3 cup green pepper, chopped well
1 10-ounce package of spinach, chopped and very well-drained
3 eggs, beaten
2/3 cup of matzo meal
3 tablespoons of butter
Freshly grated pepper, to taste
Method:
Preheat oven to 375 degrees, and spray a muffin tin with cooking spray. Heat butter in a frying pan and sauté onion, carrots, and peppers until the onion is translucent. In a bowl, mix the well-drained spinach, eggs, matzo meal, and pepper together. Add the sautéed vegetables to the mix. Spoon into the muffin tins, and bake for about 30-35 minutes. Cool for 15 minutes before removing from the muffin tin.
Last modified on 2010-12-01 03:13:10 GMT. 8 comments. Top.
 Somehow I missed the memo from the tribe that Hanukkah starts tomorrow. That's right, the Jewish equivalent to Christmas is less than 24 hours away. Six days after Thanksgiving. Really?
I just purged my refrigerator of the last of the Thanksgiving leftovers yesterday, and now I have to fill it back up with matzo ball soup, potato latkes, and vegetable kugel. Tomorrow?
My Hebrew school dropout status is still plaguing me at age 37, apparently.
In addition to being unprepared, I have the added pressure that it's my son's first Hanukkah. As of now, I have nothing for him. No cute "It's my First Hanukkah" onesie, no special menorah, no gifts. Yeah, I am feeling like a rock star Mommy right about now. Thank G-d I have 8 nights to get this right.
This would never happen during Christmas. The decorations go up right after Halloween, the teary "home again" commercials start airing, and the radio stations begin playing holiday music exclusively months in advance. Jews have one Hanukkah song by Adam Sandler in rotation. It's easier to forget when it starts, you know?
Hanukkah is anyone's guess. I hope it falls around December 25 so I have time to prepare, but there are years when it sneaks up on me like thong underwear post pregnancy.
Thankfully, I can fall back on tradition when it comes to cooking some Hanukkah favorites. There are certain dishes we make each year–both Idaho and sweet potato latkes, for example. Jew or non-Jew, one cannot help but love handmade pillows of potatoes fried to perfection in small batches. And my "to do" list for tomorrow just got a little shorter because I always have the ingredients in the house. Maybe I can pull off a Hanukkah miracle for my son during my lunch break after all.
Old Fashioned Potato Latkes
Ingredients:
3 cups of grated potatoes (Idaho or sweet)
1 onion, grated
3 scallions, chopped fine
2 eggs, beaten well
1/2 cup matzo meal
1 1/2 teaspoons of salt, or to taste
Freshly ground black pepper to taste
Oil for frying
Method:
Grate the potatoes by hand in a medium grater, or by food processor with a medium blade. Drain the potatoes of excess liquid. Grate the onion and add it with the scallions into the potatoes. Add matzo meal, beaten eggs, salt, and pepper. Mix well.
Pour a good amount of oil into a frying pan (enough to generously coat the pan for frying). Heat the oil until hot, and drop the potato latke mixture in by the tablespoonful. Fry until they turn brown, and then flip it over. Drain well on paper towels. Serve immediately with applesauce or sour cream.
Last modified on 2010-11-26 05:50:43 GMT. 0 comments. Top.
When I was younger, I had Thanksgiving-induced Obsessive Compulsive Disorder. I would check and re-check the bird's nether regions, terrorized by the fear that I would miss a once vital organ during preparation. I researched countless recipes and painstakingly followed the directions, but still had major turkey anxiety as I slid it into the oven to roast. I basted the bird with wild abandon, spilling precious pan juices all over the place.  Novice mistakes.
Today, I prepared my own custom rub for the turkey with confidence, basted it with precision, and relied on instinct to pull it out of the oven when my meat thermometer went as haywire as Mel Gibson.  And it came out perfect.
Not bad for a vegetarian of nearly twenty years, huh? Happy Thanksgiving!
Last modified on 2010-11-25 03:01:59 GMT. 0 comments. Top.
My six month old baby is hosting all night parties, and I am first on his guest list. He truly doesn't understand Thanksgiving is nothing short of the Superbowl for Mommys who love to cook. If he did, he would surely let me tackle the preparation of my feast with some reserves instead of making me feel like I have just been sacked.
I am exhausted. The wine I am sampling while making onion gratin probably isn't helping my cause, but it is delicious. And it's making me a little buzzed. Touchdown.
As you know, a newborn baby requires constant attention. One is lucky to get some sleep for two-hour stretches, and this phase lasts for at least three months. One reaches a higher plane after a while, where the body remarkably adjusts to very little sleep. Sleep–along with showers, square meals, and "me time"–is a luxury. One becomes a walking "before" picture during this phase.
In my case, my son executed a perfect play fake. He started sleeping through the night– 7:00 p.m.-7:00 a.m.–and I began to feel like a real human being a few months ago. I let my defensive guard down, and started relying on him to sleep for twelve hours a night.  Yes, I am a rookie Mommy.
Teething and cold season has brought us back to the minor league, and I feel like I am at the bottom of the pile. I am hoping I can pull Thanksgiving off without passing out at the table. I know my son will sleep through the meal (he's good for two- to three-hour naps during the day), and that's all that matters, right?
Onion Gratin
Recipe from Closet Cooking (with a few adjustments):
2 large yellow onions (peeled and sliced into 1/4 inch slices) plus one half of a bag of thawed frozen pearl onions
1 1/2 tablespoons olive oil
salt and pepper to taste
1 1/2 tablespoons thyme, chopped
1 cup heavy cream
1/4 cup white wine
Topping: 1/4 cup parmigiano reggiano or gruyere plus 1/4 cup of plain panko breadcrumbs moistened with a teaspoon of melted butter
Method:
Preheat the oven to 375 degrees. Carefully spread the onions onto a baking sheet keeping the rings intact. Drizzle them with olive oil and season with salt, pepper and thyme. Place the onions in the oven and bake for 15 minutes. While the onions are baking, heat cream and wine in a small saucepan until the mixture bubbles around the edges. (If your cream mixture separates, remove from heat and whisk vigorously until the mixture comes back together.) Remove the onions from the oven and transfer to a baking dish. Pour the cream mixture over the onions. Cover the baking dish with foil and bake another 35 minutes. Remove the foil, sprinkle the top of the onions with cheese and panko breadcrumbs moistened with butter. Increase the oven temperature to 450 degrees, return the baking dish to the oven and bake until golden brown, about 5 minutes.
Last modified on 2010-11-24 02:14:46 GMT. 0 comments. Top.
They say it takes nine months to gain all of your pregnancy weight, and nine months to take it off. That is for most women, not the Gisele Bundchens of the world who strut their post-baby bodies on the cat walk weeks after delivering, or for the fortunate few who claim they lose their mommy pouches naturally by caring for their baby kangaroos. I don't know any women who fall into the aforementioned categories, by the way, but I swear at them when I see them on TV.
 Given the nine months on, nine months off scenario, I am seriously behind on whittling my behind. My little one turned six months old this week, and I am still plagued with 20 pounds of pregnancy pudge. And carrying around my 20-pound bruiser of a boy simply does nothing but get him from point a to point b. Chasing after my teenage stepdaughter to turn down her iPod  so she doesn't wake the baby does nothing, either.
 So, I decided to start a diet (PC term: lifestyle change) during Thanksgiving week. Brilliant. Especially for a woman who watches the Food Network religiously, plans her Thanksgiving menu weeks in advance, and looks forward to preparing the meal a little too much (some have workout soundtracks; I have one for cooking). Sure, I already have my cheat day scheduled (Thursday, of course), but I am otherwise committed to regaining some of my pre-pregnancy mojo. Is launching a post-pregnancy diet during the holidays a recipe for failure? We shall see. In the meantime, I will share my simple but outrageously good sweet potato recipe. It's one of many lovers I will be entertaining on Thursday—for one night only.
 Candied Sweet Potatoes 
Ingredients:
5-6 sweet potatoes, peeled and cut into chunks (they should look like half moons–cut potato lengthwise down the middle, then slice)
1 large box of dark brown sugar
1 large orange, quartered
1-1 1/2 sticks of butter, melted
Method:
Place cut potatoes in baking pan. Squeeze the juice of the entire orange over the potatoes, and place the remaining orange slices in all four corners.
Drizzle entire box of dark brown sugar over all of the potatoes.
Pour melted butter over potatoes/brown sugar mixture.
Bake in a 350 oven, for an hour minimum. You should continually baste the potatoes to heighten the infusion of flavor. You might need to dump some of the marinade out halfway through cooking…but not too much. My family requests this dish every Thanksgiving (and during self-indulgent phases throughout the year). Enjoy!