Spring has sprung in suburbia. Shirtless middle-aged men with two-pack abs chug beers while they mow their lawns. Bikini-clad teenage girls sprawl out on black-top driveways to attract pre-prom tans. The sounds of incessant sneezing echo through the air. Spring is a beautiful thing, isn't it?
Despite people who bare way too much belly on windy 62-degree days, I have always welcomed spring. I prefer waking up to a little bird singing over a snow plow humming, you know? But I didn't realize just how much I adore the season until I became a Mommy.
Today, my husband set up our spare pack-and-play in our front yard. Brilliant move. There was no need for my song-and-dance, or paddy cake, or even one toy; my son pulled himself up and stood in awe of the mature trees hovering over his head, the flowers in bloom, and my neighbor's renegade plumber's crack as he tended to his neglected garden. Alex was so content in his little piece of paradise. It was incredibly liberating…for both of us…even though we were confined to our front yard.
A long winter affair makes a spring fling all the more beautiful (the last snowstorm in Boston was exactly one month ago today!). Spring frees us of homes that became indoor prisons, winter layers, saline spray, long walks through the mall, and short naps (fresh air is the key to Mommy-friendly naps, FYI). And it inspires some healthy dishes, too.
There's nothing like a spring fling (well, except maybe a hot summer romp, but I can't get too far ahead of myself here). Are you as happy as I am that it finally feels like spring?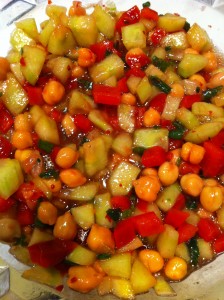 Spring Fling Salad
1 large red pepper, chopped
1 small bunch of scallions–about 6 or 7, chopped (or to taste)
2 seedless cucumbers, chopped
One can of garbanzo beans, drained
1/2 bottle of Ken's Steakhouse Red Wine Vinaigrette salad dressing (easiest route for Mommies) or make your own vinaigrette with the following ingredients:
1/3 cup red wine vinegar
2/3 cup extra virgin olive oil
1 clove crushed garlic
1/2 teaspoon dijon mustard
Salt and pepper
Method
Toss pepper, cucumbers, scallions, and garbanzo beans in a glass bowl (this is a beautiful spring confetti salad, so you want to show it off), and pour 1/2 bottle of salad dressing or whisk all of the ingredients of your homemade recipe together, pour it all over the salad, and toss. Marinade overnight, or for at least a few hours. You may have to drain some dressing and season with salt and pepper before serving. Enjoy!