Guess what sidelined me last night? One achy breaky tooth in desperate need of a filling. I whined, self-medicated, and Mommy juiced it up to try curb the pain. Admittedly, I was in full drama mama mode. It wasn't pretty.
Meanwhile, my son cut a tooth through his gums sans Tylenol, tears, or tossing and turning. I feel like such a wuss. Is it possible my 11-month-old is already tougher than I am?
It began with a raging headache in the early evening . My tooth suddenly started pulsating to techno music at a club that turned me away at the door. Two rounds of over-the-counter pain relievers later it was still throbbing to the beat, and I couldn't find an exit. I was desperate to get some sleep.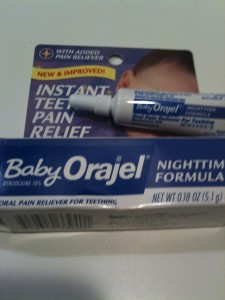 In Mommyhood, you do what you gotta do to get some rest. Even if that means busting open a tube of Baby Orajel at 1:30 a.m.
I bought the gum numbing good stuff for Alex long ago–before I realized it was as taboo as putting an infant in a forward-facing car seat. After consulting my Mommy Maven, Mom, and pediatrician (in that order), I decided against giving it to him and stuck the unopened box in the back of my medicine cabinet just in case. I never thought I'd be the one who needed it!
My son battles his teething wars with no meds, sleeps on a mattress that rivals a wooden plank with no pillow, and falls on his butt every day of the week without a whimper. No doubt about it…he's tough…much tougher than I am, and I have only gotten a glimpse into what he is really made of.
This week's Rachipe (Rachael Ray recipe) isn't tough, which is good news for the rest of us. Stovetop Macaroni and Cheese is simple, satisfying, and soft on the gums. It's a must for a wuss Mommy like me, and my little toughie liked it, too.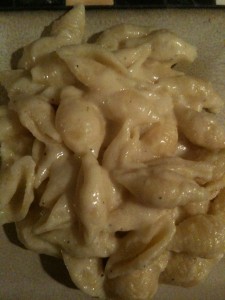 Stovetop Macaroni and Cheese
(Mommy Dish note: I made some modifications to cut calories–i.e. substituting low-fat milk for half and half–and added a pinch of nutmeg and some pepper to put my own stamp on the Rachipe).
Ingredients
2 cups elbow macaroni (I used shells because I had them in my pantry)
2 tablespoons butter
2 tablespoons flour
2 cups half-and-half, warmed
One 8-ounce bag (2 cups) of shredded extra-sharp cheddar cheese
Salt, to taste
Method
In a large saucepan of boiling, salted water, cook the macaroni until al dente; drain in a colander.
In the same saucepan, melt the butter over medium heat. Whisk in the flour and cook for 1 minute. Gradually whisk in the warmed half-and-half and cook, whisking constantly, until the mixture is steaming hot and thick, about 4 minutes. Remove from the heat and stir in the cheddar until melted. Stir in the cooked macaroni and season to taste with salt.