freaking traitor of a
door in Alex's room? Well, those days are over.
This time, I am not posing like Angelina's scary skinny leg on the red carpet (seriously, what was that about?). I am relinquishing my baby clothes hoarder crown. Tears. It's a done deal…and I am already having a hard time dealing with it.
Today, I lugged Alex's lifetime wardrobe–from his sweet newborn onesies to his outgrown toddler outfits–into my car and left them in the care of my Mom. I tried to wade through the bags to set some special clothes aside so Alex can make fun of me one day ("No, Mom, I don't really want to breathe in the baby smell on my going-home outfit"), but I just couldn't do it. I tried, but I got distracted by my blubbering and wound up burning an english muffin in the toaster that set the fire alarm off during naptime. And that was that.
No more calorie-burning cardio beating the bags of clothes into submission. Now I definitely have to goto the gym, and create a sad soundtrack to mark the occasion. I miss them as much as my pre-pregnancy body already.
I know you're wondering…why am I giving up Alex's clothes if I am so torn up? It's because a little boy who will be born in April needs them. My brother's long-time girlfriend/should-be-wife/amazing baby mama's sister (you got that?) asked, and I couldn't refuse. Alex is paying it forward by making a little Costa Rican boy fashion forward. He will be the best dressed in the rainforest, hands down.
My Mom promised to take over where I left off, and will lovingly set outfits aside. I can wait for the day I will go through them with Alex–his life is going too fast for me already–but I know it will come, and, because of her, I will be ready. Thanks, Mom.
***Yeah, tonight required some comfort food. Eff the diet on the day I said goodbye to Alex's baby clothes! It was all about French Onion Soup, baby, and it's vegetarian–and delicious.***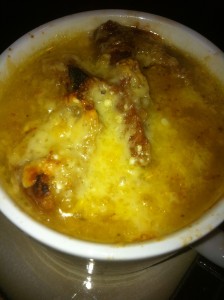 French Onion Soup

Ingredients

1/2 cup unsalted butter
5 onions, sliced
2 garlic cloves, chopped
2 bay leaves
3 fresh thyme sprigs
Kosher salt and freshly ground black pepper
1 cup Sherry wine
3 heaping tablespoons all-purpose flour
2 quarts vegetable broth
1 baguette, sliced
1/2 pound grated Gruyere cheese

Method

Melt the stick of butter in a large pot over medium heat. Add the onions, garlic, bay leaves, thyme, and salt and pepper and cook until the onions are very soft and caramelized, about 25 minutes. Add the wine, bring to a boil, reduce the heat and simmer until the wine has evaporated and the onions are dry, about 5 minutes. Discard the bay leaves and thyme sprigs. Dust the onions with the flour and give them a stir. Turn the heat down to medium low so the flour doesn't burn, and cook for 10 minutes to cook out the raw flour taste. Now add the vegetable broth, bring the soup back to a simmer, and cook for 10 minutes. Season, to taste, with salt and pepper.

When you're ready to eat, preheat the broiler. Arrange the baguette slices on a baking sheet in a single layer. Sprinkle the slices with the Gruyere and broil until bubbly and golden brown, 3 to 5 minutes. Ladle the soup in bowls and float several of the Gruyere croutons on top. Alternatively, you can ladle soup in oven-safe bowls, place toasted baguette with cheese on top and brown under the broiler. Either way, it's incredible comfort food.

Remember how I confessed to you that I've become a wee bit of a hoarder since the birth of my son? And how I was reluctantly forced out of my overstuffed closet when my husband stumbled in on me trying to shut the