Do you ever buy your baby new toys to preserve your own sanity? Or get your teenager iTunes gift cards in an attempt to spare yourself from another Justin Bieber replay?
Come on, we're all friends here. 
My baby has more toys than the average eight-month-old, but I am still sick of them all. The "Head, Shoulders, Knees, and Toes" song, for example, stalks me with the fury of a serial killer who chases a bikini-clad woman in a horror film. My son still shakes with delight when his crazed-looking puppy sings his beloved song; I shake in fear it will creep into my mind during my shower scene (if I am lucky enough to squeeze one in during a nap).
I now visit Target with the same level of excitement as Bloomingdale's pre-pregnancy. I thoroughly test all age-appropriate toys to gauge the short-and long-term annoyance factor with the stamina I used to reserve for selecting my perfect designer handbag. I am far more excited about a new toy than my son is when we return home. Just like the bikini-clad woman, I know my days are numbered before I learn every word to every song on every setting.
Likewise, I cringe every time I hear Bieber whine–oops, sing–"Baby, Baby, Baby…Oooooh!" My teenager must have listened to this song one thousand times in a row, and now I hear Bieber screeching his sequels, too. I give her iTunes gift cards regularly (birthday, Hanukkah, Flag Day, whatever) to encourage a Bieber-free zone, but I often hear his voice instead of my husband's before I fall asleep at night.
Thankfully, a repeat offender in cooking is often referred to as a favorite. One of my go-to dishes is my Parmesan Paprika  (aka orange you glad to eat me again) Chicken. This is one dish that will drive them crazy in a good way…again and again.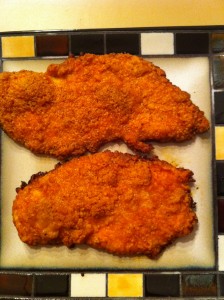 Parmesan Paprika Chicken
1/4 cup flour
1/2 cup Parmesan cheese
2 teaspoons paprika
1/2 teaspoon salt
1/2 teaspoon black pepper
1 egg, beaten
                                                             2 tablespoons milk
                                                             4 skinless, boneless chicken breasts
                                                             1/4 cup butter, melted
Method:
Combine flour, Parmesan, paprika, salt, and pepper in a bowl. In a separate bowl, whisk together the egg and milk.
Dip chicken in egg/milk mixture, and then dredge it in the dry mixture. Place in shallow baking dish coated with butter-flavored cooking spray. Pour butter evenly over the top of the chicken. Bake in a 350 oven for 30-40 minutes (depending on the thickness of your chicken breasts; my family prefers them thin).