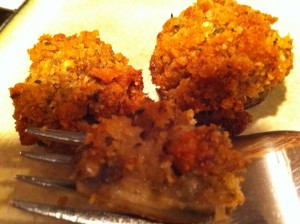 So, what did you dish out to please your crowd today? Yeah, there's a big game on, but we all know food takes center-stage no matter what you're rooting for–the Packers, the Steelers, or the $3 million dollar commercials. Home cooks need to bring it on Superbowl Sunday.
I didn't host the Superbowl soiree this year, but I did make my delectable stuffed mushrooms. Let's swap winning Superbowl dishes!
Please send your MVP dishes to [email protected]. I will make all of the submissions, and choose my favorite dish to feature on a future Mommy Dish post. Game on!
Stuffed Mushrooms
Ingredients
One large box of small mushrooms, cleaned, with stems removed
One bag of cheese and garlic croutons
2 cloves garlic, minced
Pinch of parsley
One teaspoon oregano
1/3 cup pecorrino romano OR parmigiano reggiano cheese (the pecorrino romano cheese is pungent…use whichever cheese you prefer).
Method
Thoroughly crush croutons either by hand (I put them in a large plastic bag and use a rolling pin to smash them) or by food processor. Add remaining ingredients. Chop the mushroom stems and add them to the mix. Moisten the stuffing with a generous amount of olive oil. Spray a cookie sheet with olive oil and place mushrooms on the pan. Stuff all of the mushrooms with the mixture. Bake in a 350 oven for about 20 minutes–until the top is crispy.