I've got a girl crush on Rachael Ray. There, I said it.
A girl crush, of course, is defined as feelings of admiration and adoration a girl has for another girl, without wanting to shag said girl. And that's exactly how I feel about Rach. The girl is a phenom!
Who else could make 'Yum-o!" (delicious), sammie (sandwich), EVOO (extra virgin olive oil), and stoup (thicker than a soup but not quite a stew) part of our vocabulary? And write best-selling cookbooks, host numerous television shows, and oversee two charities–in stilletos? Rachael. She gave home cooks credibility, and I love her for it.
One of my favorite Rachipes (my own attempt at her clever vocab) is Pasta alla Ce Ce, or pasta with chick peas. This hearty meal is a good stand-by for Sunday night dinner, and it's equally appealing to vegetarians and meat-eaters. I made some adjustments to the original Rachipe, but she inspired this dish (sidebar: I will be featuring weekly Rachipes on my blog). Maybe my girl crush will invite me on her talk show to Mommy Dish sometime. A girl can dream, right?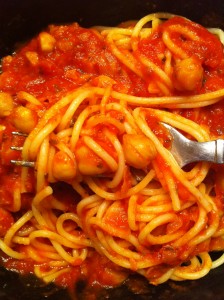 Sunday Night Spaghetti
Ingredients
1 box spaghetti
Salt
3 tablespoons EVOO
1/2 teaspoon crushed red pepper flakes, or to taste
4 garlic cloves, minced
1 (14 ounce) can chick peas, drained
1 (14 ounce) can crushed tomatoes
1 jar pasta sauce (or homemade sauce is even better!)
Freshly grated parmigiano-reggiano cheese 
Method
In a large pot, boil the water for pasta, salt it, and cook spaghetti according to package directions to al dente.
While the pasta cooks, drain the canned chick peas, and rough chop (I prefer a mix of some chopped, some whole; if you want them all chopped use a food processor). Heat a large skillet over medium heat and add the EVOO, crushed red pepper flakes, and garlic. Cook for a minute or so. Add the chopped garbanzos to the pan and season with salt and freshly ground black pepper. Sauté for 4 to 5 minutes.
Add the crushed tomatoes and store-bought or homemade sauce. Cook until tomatoes are heated through, then adjust seasoning to taste. Add in a good palm-full of parmigiano-reggiano cheese, and stir the sauce.
Drain pasta (do not rinse), and pour onto serving dish. Top with the sauce and toss with tongs. Top with more of the grated Parmigiano Reggiano cheese. Yum-o!!
Here's a link to Rachael's version:
http://www.foodnetwork.com/recipes/rachael-ray/spaghetti-alla-ceci-recipe/index.html