We had a baby naming ceremony for Alex today. According to Jewish custom, we were supposed to host it on his eighth day of life. We're 9 months and 23 days late. But who's counting?
I am a bad, bad Mommy, I know. But I did have my reasons for bucking tradition on this one. For those of you unfamiliar with a Jewish bris, I offer the CliffsNotes version: one participates in a meaningful naming ceremony in which a baby boy is circumcised, and then breaks out bagels and cream cheese in celebration. I am simplifying, of course, but it does require a public procedure, and we had some stage fright about putting on that show. So, our precious baby boy was circumcised in a sterile hospital, and had to wait awhile to get his Jewish name because life is nothing short of insane with an infant and a teenager.
I secretly thanked G-d for waterproof mascara during the ceremony. It was so beautiful it moved everyone to tears. I got especially choked up when my son reached out and held the officiant's hand as she recited a blessing in his honor, and when my husband spoke about his beloved grandfather (who we named our son after). Parents give Jewish names to their children to keep the deceased's name alive, to form a metaphysical connection between the two souls, and to use in all life cycle ceremonies. It's like you buy one name at birth and get one free at the bris.
Since we didn't witness the circumcision, everyone was hungry for brunch. I served the ultimate comfort food–potato casserole–as one of my main dishes. It made people come back for seconds, but, as good as it was, it didn't steal the spotlight from my son for even one minute. After all, there is nothing more delicious than my sweet Avigdor Yasef (Alex James).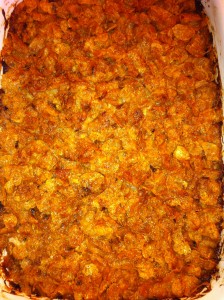 Name that Potato Casserole
Ingredients
2-3 good-sized  onions, diced
One bag of frozen Ore Ida hash brown potatoes with peppers, thawed to room temperature
One can of Cream of Mushroom Soup
One container of sour cream
1/4 teaspoon of cayenne pepper (or to taste; I use more when I make it for my family because we can handle some heat)
Salt and pepper, to taste
3 cups of Corn Flakes
One stick of butter
Method
Saute onions in 3/4 of a stick of butter, until soft and brown. Set aside to cool.
Mix potatoes, sour cream, soup, cayenne pepper, and salt and pepper in a bowl. Add onions. Pour into a greased casserole dish. Melt the remaining butter and coat the corn flakes (they should not be soggy…just coated). Sprinkle cornflakes over the potato mixture so it is completely covered. Bake in a 350 oven for about an hour. Serve warm.