Guess who bumped into a family friend who happens to own a posh clothing boutique in town, chatted away with wild abandon, and noticed her shirt was on inside out after she got home? Yup. That would be me. And I only realized my fashion faux paus because I had to change out of my shirt after my toddler chucked his lunch on it.
To say this has been a whirlwind of a week would be an understatement.
I thoroughly enjoy laughing at myself (good thing because I am constantly generating material), so I giggled my way through telling my tale to my teenager when she got home from school. Embarrassed, I tried to make myself feel better by saying I didn't remember what our friend was wearing, so she probably didn't see the seams and stark white tags sticking out of my black shirt. Ashley's response? "How are you comparing yourself to the average person? I mean…people who get sleep and aren't planning everything would notice something like that."
Thanks, Ashley. I'd give you the (inside out) shirt off my back. Remember that, kid.
Even though I am so deliriously busy I have regressed back to four-year-old girl wardrobe malfunctions, I am still making dinner. And, miraculously, it's still good. My family freaked about a marinade I created this morning (exhaustion hurts my appearance but helps my dishes, apparently). I'll take any positive double takes I can get at this point.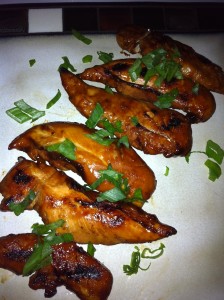 Mitzvah Mayhem Marinade
Mommy Dish note: I always keep fresh garlic, ginger (which stores beautifully in the freezer), and lemons in my house because I use them so much. They can jazz up a store bought marinade and make it homemade, or be used as a base to create your own. Playing around with your own creations is half the fun of cooking!
Ingredients
3 tablespoons sesame oil
1 tablespoon fresh ginger, minced or grated
2 cloves garlic, minced
1 lemon, squeezed (use all of the juice)
1 cup Teriyaki sauce (Mommy Dish note: make sure you try the Teriyaki sauce before you use it; I have purchased some brands that I have hated)
1 tablespoon brown sugar
4-5 scallions, chopped, plus more for garnish (if desired)
4 chicken breasts or one package of chicken tenderloins (I used the latter because it's what I had in the fridge)
Method
Combine all of the ingredients together (except for the chicken) in a large plastic bag. Add chicken. Marinade for at least four hours. Throw the chicken on the grill or in the oven; it will taste good either way (though I think the grill is better, especially this time of year). Enjoy!