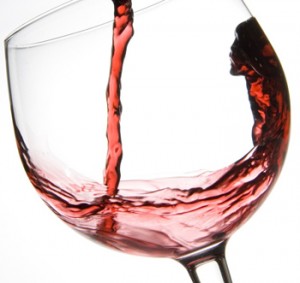 "Do you ever get a break?" asked a fellow Mommy at Alex's Gymboree class today, looking at me with sympathetic eyes as my son, once again, escaped my grasp and made a mad dash for a red ball across the room (her daughter was sitting peacefully on her lap at the time). "He's so active! You look like you need a cocktail."
Uh, yeah. What gave it away? My smeared eyeliner? Sweaty lip? Hanging bra strap? Keeping up with my insanely active toddler is so exhausting it could drive me to drink–but I wouldn't feel comfortable having a glass of Mommyjuice during Mommy hours–not yet, anyway.
Apparently, Mommy Mixers–playdates that feature cocktails–are all the rage. I haven't received an invite to Mommy-and-Me Happy Hour just yet, but don't keep me off the guest list. I am not against the idea–so long as no one gets drunk, drives, or makes dumb decisions. Just because I am not talented enough to balance a wine glass in one hand and my squirmy son in the other doesn't mean it can't be done. Some Mommies can likely enjoy one drink, hors d'oeuvres, and adult conversation while their children play…I am just not one of them.
A story on Good Morning America (link below) about Mommy and Me Happy Hours this week ignited a firestorm of controversy. Some believe they're a great way to keep stressed out Mommies drenched in spit up and sippy cups sane. They argue Mommies are master multitaskers who are responsible for their children every day, and are capable of enjoying some adult time while kids enjoy playtime. Others feel alcohol and kids never mix–that it sets a bad example to drink in front of kids (even though most don't think twice when they see a Dad enjoying a beer at the ball game or in the front yard while watching the children), and that it could lead to trouble.
How do you feel about Mommy Mixers? Have you been to one?  Would you go to one?
Here's the link to the GMA story: http://abcnews.go.com/US/moms-enjoy-cocktail-parties-kids-play-dates/story?id=14208921
If I were invited to a Mommy Mixer, I'd bring a Panzanella Salad. It's a dish everyone can agree on!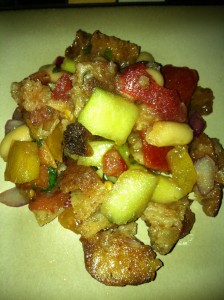 Panzanella Salad
Ingredients
Bread mixture:
Rustic day-old Italian bread, cut into bite-sized pieces
1/3 cup good-quality olive oil
Salt and pepper, to taste
2 cloves garlic, minced
Salad mixture:
3-4 large heirloom tomatoes, cut into pieces (use different colors to add color to the dish)
1/2 red onion, chopped
1/2 seedless cucumber, chopped
1/4 cup basil leaves, shredded
1/2- 2/3 can cannelini beans, drained
1/4 cup olive oil
2 tablespoons balsamic vinegar
Method
Preheat oven to 400 degrees. Place bread in a bowl, and toss with 1/3 cup olive oil, garlic, salt, and pepper. Place on a baking sheet and bake until crisp–about 10 minutes. Set bread mixture aside.
Combine tomatoes, cucumber, cannelini beans, basil, and red onion. Add 1/4 cup olive oil and 2 tablespoons of balsamic vinegar. Let it sit in the fridge for a little while–20 minutes–so the juices have time to blend together. Toss in the bread and mix thoroughly. Let it sit for a few minutes (so the bread can soak up the excess liquid), and serve.