Ssshhhhhh…I've been keeping a secret. I only do it in the cloak of night because I haven't hit my stride–not yet, anyway.
I am running again. Really.
Pre-baby, running was no big deal, but post-baby I feel like people should line my driveway to congratulate me Boston Marathon-style. A few paper cups of water to stay hydrated, some signs of encouragement (even one "Jodi Rocks!" would suffice), a rush of cheers to get me across the finish line. Yeah, that would keep an out-of-shape Mommy on-track.
Instead, I grab a Gatorade from our 90s chic refrigerator that was downgraded to the garage, pretend the crickets are my fan base, and take the fact that I can run a little longer without feeling like I am going to keel over as a good sign.
And it's working…mostly because I have a running buddy.
After I put Alex to bed, baby preparation for the next day is complete, and the dinner dishes are washed and loaded, Ashley joins me for a run several nights a week. We talk as long as we can breathe (we get a lot of gossiping in at the beginning, truth be told), set distance goals, and sprint at the end to show our strength before our cool down lap (where we can resume gossiping where we left off). We're building our endurance under the street lights of our safe neighborhood–where no one is watching. No one, except for the two of us–and we will keep each other going.
How long did it take you to get your stamina back post-pregnancy, or are you still working on it?
***In recognition of our new commitment to running, I am sharing Chef Julie's delectable Tilapia with Corn Puree and Mushroom Risotto dishes. Who says healthy can't be sinfully good?***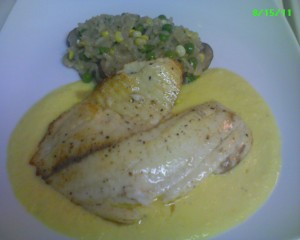 Tilapia with Corn Puree and Mushroom Risotto
Tilapia Ingredients
Tilapia (one piece per person)
1 tablespoon butter
2 tablespoons olive oil
Salt and pepper (or use cajun seasoning if you prefer)
Method
Season tilapia with salt and pepper or cajun seasoning on both sides. Pan sear in olive oil and butter, 3-4 minutes on each side. Tilapia cooks quickly and easily. You can tell when it's done if there's resistance when you touch the fish; if it's soft to the touch it needs more time.
Chef Julie's Tilapia Tip:
– Cook in olive oil because it can handle the heat, and butter because it adds more flavor.
Corn Puree Ingredients
2-3 ears of corn
Low-fat milk
Salt and pepper
Method
Cut the corn off the cob and put in a sauce pan. In addition, use some force with the back of your knife to get the extra corn and juice off the cob over the pan. Cover completely with milk. Put on a medium-low heat and simmer for 10-15 minutes, until corn is cooked. Puree mixture in a blender until smooth, and season with salt and pepper to taste. You can used canned corn or frozen corn if you have to. This sauce also works great with chicken.
Put a bed of corn puree on a plate, and lay the tilapia on top of it for a nice presentation.
Mushroom Risotto (with corn and peas)
1/2 cup arborio rice
1 tablespoon olive oil
1 tablespoon butter
1/4 onion, small dice
8 crimini or button mushrooms, sliced
2 ounces white wine
1 container low-sodium chicken or vegetable stock
3 tablespoons Parmesan cheese
1 tablespoon fresh thyme, chopped
Salt and pepper
Method
Heat chicken or vegetable stock in a sauce pan. Don't boil; jet get it hot, and turn off the heat. Add oil and butter to a large sauté pan on medium heat. Add onions, garlic, and a pinch of salt. Sweat onions slowly until they're translucent (3-5 minutes); lower the heat if you have to. Add mushrooms. Cook on medium-high heat to soften, about 3 minutes. Add rice. Cook about 2 minutes to toast, and make sure each piece is covered in the oil/butter mixture. Add white wine and keep stirring until it's evaporated. Add in a ladleful of stock. Keep it at a nice simmer–don't boil–and stir constantly. When liquid is absorbed, add in another ladle of stock. Continue repetition until rice is cooked and creamy, about 15-20 minutes. When finished add a tablespoon of butter, Parmesan cheese, and thyme, plus salt and pepper to taste.
Chef Julie's Tips:
– Make sure you constantly stir the risotto to keep it creamy. If you don't stir, it will stick to the pan.
– You can add any vegetables you want; just do so halfway through the cooking process. Corn, peas, roasted butternut squash, zucchini, summer squash, asparagus, lemon juice and zest work well with this dish.
– If you use asparagus, put in the ends of the stalk you cut off into the stock to intensify the asparagus flavor.
– If you like saffron, you can add it into stock as well.
– You can use chicken instead of mushrooms.
Did you enjoy this post? Please support me and vote for Mommy Dish in Parents Magazine's Best Mom Blog (Funniest) competition. Every vote truly matters! I am currently in third place :(. Here's the link: http://blog-awards.parents.com/blog-awards/mom_blogs/241-mommy-dish