Am I the only Mommy who is a complete and total sucker for her kids?
Let's recap the past 48-hours.
Last night, I was bamboozled into hosting a "night-before-the-biggest-day-of-my-teenage-life" sleepover complete with a nervous gigglefest, last-minute wardrobe consult, new episode of Keeping Up with the Kardashians, and homemade birthday cake. On the very first school night.
I wrote the playbook on playing parents. And, despite a textbook case of Mommybrain, I haven't forgotten one fake-out. Ashley returned home from getting her mandatory back to school mani/pedi yesterday with a classic divide-and-conquer maneuver, asking Scott and I separately if her BFF could sleepover. She knew I'd be the one to tackle my husband into submission if necessary.
How good will I feel when Ashley recounts her first day of High School with a smile on her face someday because I inconvenienced myself a little bit (okay, a lot) on a Monday night? I am an absolute sucker for making memories.
And my son? At 15-months-old he already plays me like a favorite lovey. All he has to do is whimper when he is not feeling well and I create a makeshift bed from couch cushions (if the initial cry is before midnight) or camp out crib side on the bare floor to cater to his every need. I don't simply listen to him on my baby monitor from the comfort of my king-sized bed under my cozy covers. Oh no, no, no. A sleepover in Alex's room was required the night before the teenager sleepover.
What's the big deal if my neck doesn't move for a week afterwards? Who cares if I lay there wide awake with Lionel Ritchie's "All Night Long" on instant replay in my head (I tend to gravitate towards 80s hits in the wee hours of the morning)? So what if I spend more money on K-cups than the average alcoholic does on bar tabs? All Alex has to do is turn over in his sleep and I am there with open arms, a sippy cup, and Children's Advil. I am a sucker for first ear infections.
Really, I am just a sucker for my kids. Are you a sucker for yours? Fess up, Mommies.
***Ashley's BFF celebrated her 15th Birthday over the weekend so I had to surprise her with a cake. I prepared a chocolate cake–my favorite recipe from Ina Garten–and drizzled it with my own icing. The cake did not last 24-hours in my house.***
Chocolate Bundt Cake with Vanilla Drizzle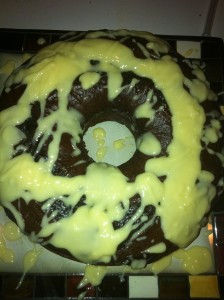 Cake Ingredients
Butter, for greasing the pan
1 3/4 cups flour, plus more for the pan
2 cups sugar
3/4 cups good cocoa powder
2 teaspoons baking soda
1 teaspoon baking powder
1 teaspoon kosher salt
1 cup buttermilk, shaken
1/2 cup vegetable oil
2 extra-large eggs, at room temperature
1 teaspoon pure vanilla extract
1 cup freshly brewed hot coffee
Icing ingredients
1 stick of butter softened
Confectioner's sugar, to taste (start out with 3-4 tablespoons and add to your desired level of sweetness)
1 teaspoon good-quality vanilla
Milk–just a little bit to thin it out
Method
Combine the first three ingredients together using a whisk. Taste for sweetness and add more sugar, if desired. Add milk to thin it out. Set aside.
Method
Preheat the oven to 350 degrees F. Butter and flour a bundt pan.
Sift the flour, sugar, cocoa, baking soda, baking powder, and salt into the bowl of an electric mixer fitted with a paddle attachment and mix on low speed until combined. In another bowl, combine the buttermilk, oil, eggs, and vanilla. With the mixer on low speed, slowly add the wet ingredients to the dry. With mixer still on low, add the coffee and stir just to combine, scraping the bottom of the bowl with a rubber spatula. Pour the batter into the prepared pan and bake for 45-50 minutes, until a cake tester comes out clean. Cool in the pan for 30 minutes, then transfer onto a cooling rack and cool completely.
Drizzle with icing. Enjoy!