We're Super Bowl bound, baby!
I say this like I actually did something to contribute to the Patriots' AFC Championship victory. In reality, I fumbled my opportunity to "fan up" for the big game. I didn't slip on a smelly red-and-blue outfit that hasn't been washed all season, do a special Tom Brady Twirl 12 times around my livingroom, and plant my butt in the same exact couch imprint its been in for every win. I mean, I didn't even take the obligatory shot of my son dressed in his "Patriots Future Quarterback" garb and post on it Facebook. I watched the nail biter in-between Alex's pleas to go "night night" (his favorite game is making me fake sleep…it's hard to represent in front of the flatscreen with my eyes closed). Still, miraculously, even with me pulling the fan equivalent of a Billy Cundiff left hook, my boys made it.
We're going to the Super Bowl, baby!
Yes, we. I don't care if you hate the Patriots (How could you?!), or the Giants (that I understand), or football. We're going. You like to cook, right? It's a showdown for us, too!
Last year, I introduced the idea of a Mommy Dish Superbowl Swap, inviting you to share your touchdowns in the kitchen. Reader Kathy Sullivan served up the winning dish…a sinfully delicious Mudd Pie that put me in a chocolate-induced time-out: (https://mommydish.net/2011/02/11/is-cupid-stupid/). I am salivating just thinking about it.
Do you have what it takes to win the trophy this year? Email your latest and greatest Super Bowl dishes to [email protected] by January 31. Chef Julie and I will pick the winner (we're collaborating on the dish below–my Caramelized Onion and Mushroom Quesadillas with her Salsa and Guacamole!). I wish I could say I am flying you out to Indianapolis, but, remember, this is a Mommy blog. You get bragging rights. Really, who needs an all-expenses-paid trip when you've got bragging rights on Mommy Dish?!
Game on!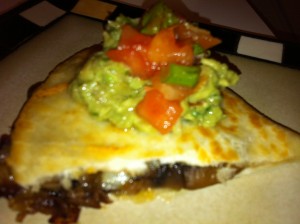 Carmelized Onion and Mushroom Quesadillas with Salsa and Guacamole
Quesadillas
3 tablespoons butter
2 tablespoons plus 1/2 teaspoon EVOO
2-1/2 pounds onions and mushrooms, thinly sliced
Salt and pepper
2 teaspoons sugar
Flour tortillas
Cheddar jack cheese, shredded
Method
In a large cast iron skillet, melt the butter and 2 tablespoons of olive oil over medium-high heat. Add the onions and mushrooms and 1/4 teaspoon each salt and pepper, and cook, stirring constantly, until they begin to soften, about 5 minutes. Stir in the sugar and cook, scraping the browned bits off the bottom of the pan frequently, until the onions and mushrooms are golden brown, about 20 minutes. Set aside.
Add a small amount of oil (about 1/2 teaspoon) and spread it around the bottom of the pan (you could use butter as well). Take one large flour tortilla and place it in the pan. Flip the tortilla over a few times, 10 seconds between flips, to soften.
Add cheese, onions, and mushrooms to taste on one half, fold in half, and cook until cheese is melted and tortilla is golden brown, about 1 to 2 minutes. Repeat for remaining quesadillas. Cut each quesadilla into 4 wedges and serve with salsa and guacamole.
Salsa
Ingredients
5-6 Roma tomatoes, diced
1/2 red onion, very small dice
1/2 red pepper, very small dice
1/2 jalapeño, very small dice (no seeds)
Bunch of cilantro, chopped (to taste)
Juice of one lime
Salt and pepper
Method
Mix all of the ingredients together and store overnight for best flavor. Drain before serving, if needed.
Guacamole
Ingredients
3-4 avocados, mashed
1/4 red onion, very small dice
Juice of one lime
1-2 splashes of Worchesterchire
1-2 splashes of Tobasco
1-2 tablespoons of cilantro, chopped
1 tomato, chopped for garnish
Method
Mix all of the ingredients together. Serve at room temperature.