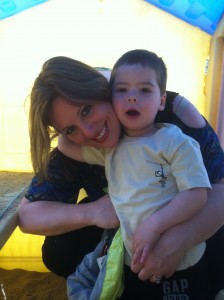 As a Mommy, I'd give my life for my child. No hesitation. That doesn't make me special…ask any Mommy, and I guarantee she'd do the same.
But would you give your life for a total stranger? For your country? Most would say no…maybe we wouldn't openly discuss it at Memorial Day barbeques…but, fact of the matter is, most of us would say no.
This weekend, amid the beach trips, burgers, badmitton, and beer, let's remember those who said yes. I will openly say I am not as brave as the men and women who gave up the opportunity to kiss their kid goodnight to protect my freedom. I buckle my seatbelt, get my annual exams, go to Zumba class when I can get a sitter and the laundry under control, and routinely detox from pizza (oh, how I love it…pathetic me considers that a sacrifice) in the hopes I will live a long, healthy life. I want to be here so bad to share all the smiles, wipe away all the tears, and see all of the milestones that I would literally do anything to protect my role as a Mommy.
So, today, I remember the ones who said yes. I honor them, and I salute them, and I thank them. They are the heroes to Mommies like me, and they are reason why I can kiss my baby goodnight tonight.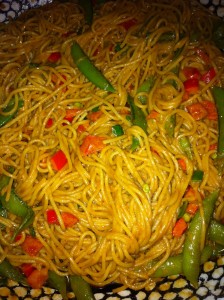 ***Here's my favorite Memorial Day Weekend Dish, Asian Pasta Salad…***
Asian Pasta Salad
Ingredients
1 pound thin spaghetti
1 cup vegetable oil
1/3 cup teriyaki marinade/sauce (I use Ken's Steak House brand)
1/4 cup rice vinegar
1 tablespoon soy sauce
3 tablespoons sesame oil
1 tablespoon honey
2 garlic cloves, minced
1 teaspoon fresh ginger, grated
1 bunch of scallions (5-6), chopped
1 large red bell pepper, chopped
3/4 pound sugar snap peas
3/4 cup smooth peanut butter
Salt and pepper
Method
Cook spaghetti in salted water according to package directions until it's al dente. Add the sugar snap peas into the boiling water during the last few minutes of cooking to save yourself from preparing them separately.
While the pasta is cooking, mix the vegetable oil, vinegar, teriyaki sauce, soy sauce, sesame oil, honey, garlic, ginger, peanut butter, and salt and pepper (to taste) together. Add the red peppers and scallions to the sauce and mix well.
Drain pasta. Put some of the sauce mixture on the bottom of a large serving bowl, add pasta on top, and pour remaining sauce over the pasta. Mix until thoroughly combined. Garnish with toasted sesame seeds or parsley, if desired. Dish can be served immediately or cold (tastes great after it's been in the fridge for a few hours).