Love. Honor. Betrayal. And a catchy theme song.
Are you hooked yet?
I am not a TV addict by any means–I like to watch shows, not just have the thing on. During the summer, I miss my standbys (i.e. The Good Wife) because, despite hundreds of channels, nothing is ever on.
Until now.
Dallas returned to the small screen the way all remakes should–pick up as if the whole made-up melodrama is real and continued when the TV cameras packed up twenty years ago. Keep the oldies but goodies, toss in a few hotties, stir up the still-simmering plot lines, add some some new twists and turns, and you've got me glued on Wednesday nights.
J.R. Ewing now has wiry, old-man eyebrows that make me want to long-distance pluck them, but he is still so devilish I can manage to not go all OCD on his a$$. He's hell-bent on reclaiming Southfork, the family ranch, and will stop at nothing in his quest for power. He drops delicious one-liners: " "Blood may be thicker than water, but oil is thicker than both," and "Son, never pass up a good chance to shut up." The cowboy hats, sex, intrigue, backstabbing, dirty dealing, scheming, blackmail and family secrets are intoxicating. We're only three episodes in and there's brother vs. brother, cousin vs. cousin, a love triangle, a new bride with a dark secret, a shady brother, a cancer diagnosis for a still-good-looking Patrick Duffy (brows are under control), and a long lost relative threatening to throw another wrench in the oil field.
Even if you were still sucking your thumb when the original Dallas debuted, you can still follow along. If you have trouble keeping up, they make Jesse Metcalfe walk around half-naked as much as possible, so you really won't give a sh*t. It's mindless entertainment. Hallefreakinglujah!
So, are you watching or what?
In honor of Dallas, here's my recipe for Texas Caviar…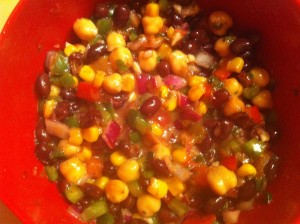 Texas Caviar
Ingredients
1/4 red onion, chopped
1/2 green bell pepper, plus 1/2 red pepper, chopped
1/4 bunch green onions, chopped
1/2-1 jalapeno pepper, de-seeded and chopped (adjust according to your preferred heat level–I use a whole pepper)
1/2 cup cooked corn
4 cloves garlic, chopped
1/4 (8 ounce) bottle Zesty Italian dressing OR Red Wine and Olive Oil dressing–your choice (I mix the two together!)
1/2 can black beans, drained well (Mommy Dish note: you can add all of the beans if you want to up the protein–it will just dilute the spice a bit)
1/2 can chick peas, drained well
1/4 teaspoon ground coriander
1/4 bunch chopped fresh cilantro
A few dashes of cumin (I use more)
Hot sauce, if desired (I use it!)
Method
Mix all ingredients together, pour dressing over it, and mix again. Marinade for several hours or overnight. Mommy Dish note–cherry tomatoes, salsa, or lemon juice are all delectable additions to this dish. Anything goes, and it will be good!
Please click the big brown Top Mommy Blogs sign right below this sentence…it takes one second. One little click will do a lot for me! Thanks, cowgirls (and some cowboys,too)!

Dallas.