The Bangles' Manic Monday
based on the title of this post alone. It's Monday morning, and I am not that clever yet, so I have to offer up some background music as a distraction. You can thank me when it's on Top 40-like rotation in your head before you try to goto sleep tonight.
It's just another Manic Monday…oh oh oh oh…I wish it was Sunday…oh oh oh oh…that's my fun day…oh oh oh oh…my I don't have to run day. It's just another Manic Monday.
Now it should really be stuck in your mind. Maybe it'll drown out your to-do lists and your oh shit replays (Did I pack the towel in the camp bag? Did I reset the dryer? Oh shit I have to go check!) so you can fall asleep faster. You can thank your favorite '80s girl later.
Anyway, I wanted you to know that I have officially made it as a Mommy blogger. Because of you, my fabulous readers,
Mango.org
sent me six mangoes to make some dishes. You'd think I got six pairs of Jimmy Choos hand-delivered by The Bangles themselves if you could have seen my face opening the package. I am just a
super freak and you know it
wee bit too excited about my mangoes! Did that sound dirty?
I am offering up lots of mango goodness this week in celebration of my sweet and succulent shipment. My son has loved mangoes since birth because I ate his weight in them during my pregnancy, and I am not ashamed to admit it (though I may shy away when asked how many ice cream sundaes I consumed, but that's another story).
I made Mango Muffins with Crumb Topping with Alex this morning (he gets up early and baking is a great way to start the day in my house!). Both of my kids wolfed one down before camp, and loved them! Happy Mango Monday!
I know you're sleepy, but, please, rock the vote: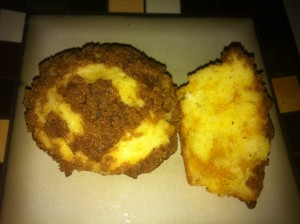 Mango Muffins with Crumb Topping

Muffin Ingredients

2 cups all-purpose flour
3 teaspoons baking powder
1/2 teaspoon salt
3/4 cup white sugar
1 egg
1 cup milk
1/4 cup vegetable oil
1 cup of diced mangoes

Crumb Topping Ingredients

Crumb Topping:

1/2 cup brown sugar

1/3 cup all-purpose flour

1/4 cup butter, cubed

1 1/2 teaspoons ground cinnamon

Method

Preheat oven to 400 degrees.

Stir together the flour, baking powder, salt, and sugar in a large bowl. Make a well in the center. In a small bowl, beat egg with a fork. Stir in milk and oil. Pour all at once into the well in the flour mixture. Mix quickly and lightly with a fork until moistened, but do not beat. The batter will be lumpy. Stir in the mangoes. Pour the batter into paper-lined muffin pan cups.

Prepare the crumb topping by mixing the brown sugar, flour, butter, and cinnamon together with a fork or your hands. It should look like crumbs when thoroughly mixed. Sprinkle over the muffin batter.

Bake for 20-25 minutes, or until a tester comes out clean. Enjoy!

Yes, you should be humming